Recent RotoWire Articles Featuring Sonny Gray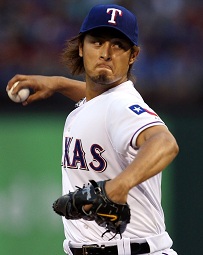 Mound Musings: AL West Spotlight
Published March 13, 2014
Is Yu Darvish a top-five pitcher? Should fantasy owners treat him as such in drafts? Do the walks matter?
2013 Stat Review for Sonny Gray As compared to the top 100 starting pitchers in 2013 (min 140 in)
K/BB/HR Stats
A collection of stats that measure different skills.
Explain This
ERA/WHIP/FIP
A few general measures of a pitcher's effectiveness.
Explain This
BABIP/Strand
Balls in play avg. and % of runners left stranded.
Explain This
2014 Projected Stats Breakdown for Sonny Gray
Overall Ratings
2014 projections compared to top pitchers in 2013.
Career Pitcher vs. Batter Stats (View All Matchup Data)
Worst Matchups for Sonny Gray
Batter
Team

AB

H

HR

RBI

BB

K

SB

AVG

SLG

OPS

No matchup data available.
Best Matchups for Sonny Gray
Batter
Team

AB

H

HR

RBI

BB

K

SB

AVG

SLG

OPS

No matchup data available.
RotoWire's Preseason Outlooks
2014
Subscribe now to see our 2014 outlook.
2013
Gray was selected 18th overall in the 2011 draft out of Vanderbilt. In his first full season in the minors, Gray had some growing pains compiling a 4.26 ERA in 27 starts, all but one of which were in Double-A. He has a live fastball and also possesses a curveball that was ranked as the best in the 2011 draft. Gray's strikeout rate fell way off from his six-start debut in 2011 as he only struck out 5.9 K/9 in 2012. Going into last season, it was assumed that Gray would be in the A's rotation at some point in 2013, but it looks like more seasoning is in order. For his development, 2013 will be a big year for Gray to put some results together to show he was worthy of his first-round selection.
2012
Gray was the A's first-round selection in the June draft and was immediately tasked with facing Double-A hitters following a collegiate career at Vanderbilt. His professional debut went well during a five-start stretch with Double-A Midland. He's not an imposing figure on the mound, but does a nice job of keeping the ball on the ground and figures to spend a good chunk of the season at Triple-A Sacramento after proving that he's solved Midland to begin the year.