Fantasy Basketball Tools, Resources, Rankings & Cheat Sheets
★ ★ ★ ★ ★
– "An amazing resource for fantasy basketball fans!"
Relentlessly Updated Cheat Sheets
If you love the cheat sheet format, we've got you covered in every way for fantasy basketball. Plus, we update them as new information comes in.
Up-To-Date NBA Depth Charts
We make sure our NBA depth charts for fantasy basketball are as useful as possible by updating them every day as news breaks.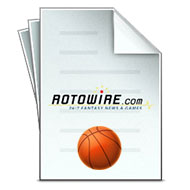 Custom Fantasy Basketball Rankings
If you're in a non-standard league, there's no reason to settle for cookie-cutter rankings ever again. Our tool lets you get rankings for your specific scoring system – complete with projected stats. These rankings can be printed or downloaded into an Excel spreadsheet.
Auction Dollar Values
Get dollar values for each player and use them to rank and compare players. These dollar values (ideal for auction drafts or roto-style leagues) are based on your league's scoring system and downloadable to an Excel spreadsheet.
24/7 Player News w/Optional Email & Text Updates
Check here to read up on all the news, position battles and more. Plus, as a subscriber you'll be able to get news on specific players in your inbox or via text message if you want.

Basketball Draft Software – Included For FREE!
All of the RotoWire projections above are included and automatically updated throughout the preseason in a downloadable PC-based draft software application you can take to your draft. Our fantasy basketball draft software allows you to input the results of your draft as it happens and make adjustments to your strategy on the fly.
Recent Projections Changes
You'll never be stuck with outdated information. When news breaks before the season, check here for where we see the ripple effect in the stats.