2015-16 NBA ROS Projections
2015-16 Fantasy Basketball Outlook
Karasev's first two seasons in the NBA have been underwhelming, but the 22-year-old wing hasn't had a lot of minutes to try and sell his wares. Drafted by the Cavaliers in the 2013 NBA Draft, Karasev was projected to spend more time overseas before coming to the states, but ...
Recent RotoWire Articles Featuring Sergey Karasev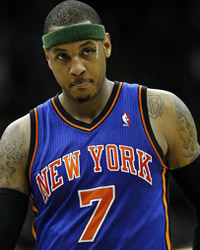 Published October 19, 2015
Carmelo Anthony is back from his knee injury, but RotoWire's Jeff Stotts warns that it's naive to think the Knicks' superstar will play all 82 regular season games.