Get access to RotoWire's 2012 NBA projections and make better picks during your fantasy basketball draft.
Our NBA player projections are a great way to shield yourself from "bad luck" this season.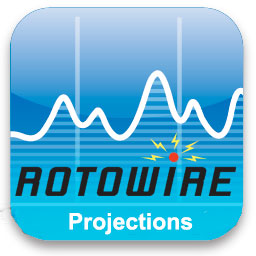 Picking a few players at each position and guessing at their stats is fine if you're okay with letting your place in the standings rise and fall each season based on luck.
But why leave your fate to chance? Especially when access to the right information can unlock the ability to control your own destiny.
To really understand which players you should draft, you need to consider more than just a few players at each position. You need to consider them all.
Most people don't have the time to evaluate everyone, but at RotoWire.com, that's what we do.
Simply take a few minutes to browse our fantasy basketball projections at each position and suddenly you'll find that those sleepers and under-valued gems – who may have eluded you in the past – are now almost screaming at you, "Pick me! Pick me!".
Subscribe to RotoWire today and see our full projections instantly.