Need a cheat sheet that you can hold in your hand?
If so, we've got you covered with our fully customizable, printable cheat sheets.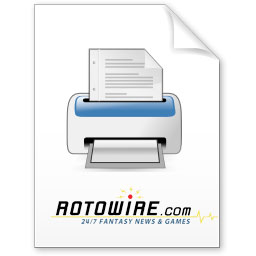 At RotoWire, we're not just satisfied with offering our cheat sheets in multiple formats (including the printable version you're looking for). We're also committed to keeping all of our cheat sheets relentlessly up-to-date.
Playing in a non-standard league? You can use our simple custom cheat sheets tool to create specific rankings that take your league's scoring system into account.
And the truth is that a printable cheat sheet has no value if you can't trust the experts behind the rankings. So if you're looking for someone to help you with your fantasy team, why not trust the same site that ESPN, Fox Sports, Yahoo!, and nearly all of the other top sports companies rely on?
Print out a copy of our 2013 fantasy football cheat sheet today.
Don't get stuck dealing with a "cheat sheet hangover" this year.
You know, when you look at the team you drafted and start to feel a little sick.
The worst part about a bad fantasy football cheat sheet is that you don't realize how much it hurt your chances until after the draft is already over.
You need a cheat sheet that will make you feel like you just ran circles around everyone in your league. You want to feel like everything went according to YOUR plan.
That's just not possible with a free cheat sheet. The second that someone else in your league stumbles on the same free "resource" any advantage you might have had instantly and completely disappears.
Avoid the dreaded "cheat sheet hangover" with a RotoWire subscription.
Interested in more than just our printable cheat sheets?
You won't believe how many different ways we can help you.
At RotoWire.com, we give our subscribers EVERYTHING.
Sign up for our Fantasy Football Special and you'll get full access to our 2013 printable fantasy football cheat sheets and much more:
Customized player rankings based on your league's categories.
Private, one-on-one Q&A with our football experts. Ask questions and get hyper-specific answers about your team.
Stat projections and outlooks for over 500 players.
Email news updates for the players on your team, as they happen.
NFL team depth charts and player updates posted every day.
Updated playing time situations for each team.
Exclusive articles and analysis from the best writers in fantasy football.
It doesn't stop there. Subscribe today and you'll also get these great bonus features:
A free download of our in-draft software that will allow you to track and dominate your draft or auction.
Free multi-sport access to player news, analysis, and fantasy tools for the NBA, NHL, MLB, PGA and NASCAR.
Free access to our 2013 NBA and NHL Fantasy Draft Kits (player projections, depth charts, outlooks, and more).
Get instant access to every feature we have. Subscribe to RotoWire now.