Get access to RotoWire's 2013 fantasy football projections and make better decisions on draft day.
Comprehensive player projections are a great way to shield yourself from "bad luck" this season.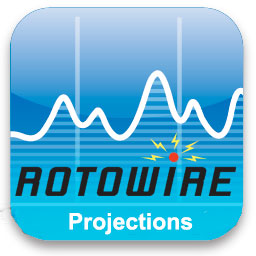 Picking a few players at each position and guessing at their stats is fine if you're okay with letting your place in the standings rise and fall each season based on luck.
But why leave your fate to chance? Especially when access to the right information can unlock the ability to control your own destiny.
To really understand which players you should draft, you need to consider more than just a few players at each position. You need to consider them all.
Most people don't have the time to evaluate everyone, but at RotoWire.com, that's what we do.
Simply take a few minutes to browse our fantasy football projections at each position and suddenly you'll find that those sleepers and under-valued gems – who may have eluded you in the past – are now almost screaming at you, "Pick me! Pick me!".
Subscribe to RotoWire and get full projections for nearly 700 players.
Not sure what to expect from Peyton Manning, Trent Richardson, Andrew Luck, Robert Griffin, and Adrian Peterson?
These players are surrounded by uncertainty, but we have 2013 projections for each one of them.
Players like Manning (on a new team coming off a serious injury), Peterson (will he be the same player?), and rookies like Richardson, Luck and Griffin are among the hardest players to accurately project.
Even if you feel like you have a good idea of what to expect, how sure are you? There's real value in getting a second opinion on a player's true potential. Especially when that second opinion comes from a well-respected source like RotoWire.
We know how to cut through uncertainty and make useful, informed projections. Tap into our experience with a subscription.
Subscribe now and instantly find out what we expect from these players.
IDP Leagues: We've got you covered.
Unlike many other sites, our fantasy football projections include defensive players.
If you play in an IDP league, you know how hard it is to find a site with high-quality projections that are in-depth enough to cover defensive players.
We've gone out of our way to make sure that our site meets the needs of IDP leagues, so if you subscribe, you'll find all the projected stats you're looking for.
Subscribe today and check out our defensive player (IDP) projections.
Interested in more than just our fantasy football projections?
You won't believe how many different ways we can help you.
At RotoWire.com, we give our subscribers EVERYTHING.
Sign up for our Fantasy Football Special and you'll get full access to our 2013 fantasy football projections and much more:
Customized player rankings based on your league's categories.
Comprehensive fantasy football cheat sheets. Cover multiple league formats, printable, and can be exported to Excel spreadsheets.
Private, one-on-one Q&A with our football experts. Ask questions and get hyper-specific answers about your team.
Email news updates for the players on your team, as they happen.
NFL team depth charts and player updates posted every day.
Updated playing time situations for each team.
Exclusive articles and analysis from the best writers in fantasy football.
It doesn't stop there. Subscribe today and you'll also get these great bonus features:
A free copy of RotoWire's 2013 fantasy football magazine mailed directly to your house.
A free download of our in-draft software that will allow you to track and dominate your draft or auction.
Free multi-sport access to player news, analysis, and fantasy tools for the NBA, NHL, MLB, PGA and NASCAR.
Free access to our 2013 NBA and NHL Fantasy Draft Kits (player projections, depth charts, outlooks, and more).
Get instant access to every feature we have. Subscribe to RotoWire now.