RotoWire.com has developed fantasy golf draft/auction software so that you can be on top of your game during your draft/auction. Our software allows you to keep track of your entire draft/auction and provides you with player projections, player rankings, dollar values, player news and more. You can research all of the golfers, sort by categories and much more. Here's the best part - it's absolutely FREE! Every subscriber to RotoWire.com's award winning fantasy news service gets our software for FREE.

Features


Set up and save multiple fantasy golf drafts/auctions
Set up any size draft (snake or basic) or auction
Flexible roster set up
View player rankings or dollar values based on rotowire.com projections
Track each pick during your draft and view all rosters
Track available dollars for each team in your auction
Sort all player lists by value, name, position, and projected earnings
View projected earnings, events played and majors played
View RotoWire.com projections and export them to a spreadsheet
View 2013 outlooks and latest news on all players
Download all rosters, projections and reports to Excel (or other spreadsheet)
Color code players in available players list
Add notes on individual players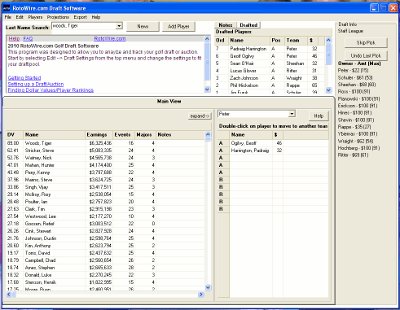 Click to view images of software
Plus, you'll get access to our award winning fantasy service. We provide the detailed fantasy player news, expert analysis and much more. If you subscribe for our software, you'll get all of this absolutely FREE!

You must be a RotoWire.com subscriber in order to get our draft software. Along with the software, you'll also get all of our player news, depth charts, player rankings, customized dollar values, expert analysis and much more.

Click here to register and get access to RotoWire.com and our draft software.