| | |
| --- | --- |
| | |
Join a 2010 RotoWire Fantasy Baseball league!
Commish Baseball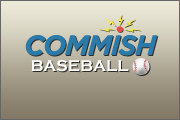 Real-Time Box Scores.
Fully Customizable.
Just $89.99!
Do you have an established league and need an inexpensive service to compile your stats? Our system provides a host of online features...
Learn More
Live Draft Baseball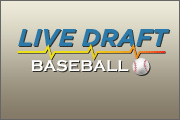 Live Draft. Real People.
No Transaction Fees.
Just $39.99!
Test your skills against the best players in the country in a live draft format. Play in 5x5 Mixed Full-Season Leagues and win $200 or subscriptions to RotoWire.com...
Learn More

Join a Live Draft League
and win $200 or other top prizes



To create or join a league, or to see your current teams, please login with your RotoWire username.
Don't have a RotoWire.com username? Click here to create one.


Any questions? Email us at gamesupport@rotowire.com or call us at 608-310-4278
(We're in during Central time business hours - and you may want to try at other times as well)
Statistics copyright 2010 by STATS LLC. Any commercial use or distribution without the express written consent of STATS LLC is strictly prohibited.