Jim Leyland managed the Detroit Tigers from 2006 to 2013. During his time at the helm the Tigers attempted 737 stolen bases, 54 fewer than any other team in baseball. Tampa Bay, during that same time frame, had more than double the attempts as their 1537 stolen base attempts lead all of baseball over the past eight seasons.
It is no secret why Leyland eschewed the strategy of stealing bases during his tenure with the team. Some of it had to do with the personnel of his roster, but a lot of it had to do with his overall philosophy on offense. As Leyland so eloquently put it to James Schmehl of
mlive.com
in 2012
, "I usually let this club just whack it." Perhaps Leyland is scarred from the time when he
accidentally signaled
for plodding catcher Tom Prince to steal second base down three runs with one out in the ninth inning.
Exit Leyland, enter
Brad Ausmus
. Detroit completed a weather-shortened Grapefruit League and led all teams with 33 stolen bases and 47 attempted steals. The total may have been higher if not for a hamstring injury to
Rajai Davis
or the trade of
Steve Lombardozzi
to Baltimore, who led the team in steals this spring. For comparison sake, Leyland's Tigers attempted just 55 stolen bases in all of 2013, and were caught 20 times. The 2014 Tigers, under Ausmus, have attempted 47 steals this spring in 28 games played. Changes in personnel, most notably the addition of
Rajai Davis
and
Ian Kinsler
, are certainly a part of that equation. The other part of the equation is changing the mindset in Detroit, something Ausmus has been redefining all spring.
Ausmus has given all players
green lights
this spring to steal bases, and to take the extra base when possible. He
expressed
to Shawn Windsor of the Detroit Free Press earlier this month that aggressive baserunning is something that every team in baseball could benefit from. Perhaps Ausmus learned this from observing Joe Maddon, who has long subscribed to the theory of allowing his players to err on the side of aggressiveness on the basepaths.
Carlos Pena
explained
Maddon's philosphy from a player's perspective in 2010 to
Joe Smith
of the Tampa Bay Times:
With the Rays down 7-5 and one out, Peña was already nearly at second when a pop fly dropped over the head of White Sox 2B
Omar Vizquel
. But Vizquel quickly collected the ball and threw Peña out.
"It just bounced to him instead of away from him; it was weird," Peña said. "Joe said he had to make the perfect throw, so it's all right if you take a chance. It's obviously not good to get thrown out. But he always talks about not being afraid to make an aggressive mistake."
Historically, such a shift in team spring training steals totals has been all over the map. Since MLB.com began tracking spring training statistics, the team leaders have been rather poor predictors of regular season performance. 25 teams have finished in the top three in steals over the past seven spring trainings. On the whole, those 25 teams have averaged a 10-steal improvement from year one to year two the regular season after being a leader during the spring.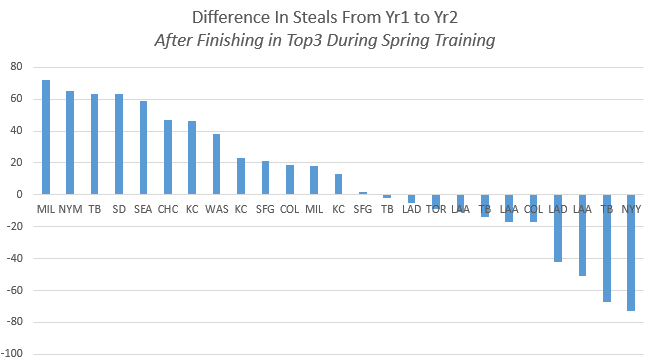 The 2012 Milwaukee Brewers were the biggest gainers, adding 72 more attempts than they had during the previous season. It was not a change in strategy under second-year manager Ron Roenicke as much as it was a change in personnel. That season, they gave a full-time job to
Carlos Gomez
and signed
Norichika Aoki
, who combined to attempt 81 steals whereas Gomez attempted 18 the season before without Aoki around. The 2007 New York Mets were second with 65 more attempts, but are a curious case. They too were not under new management as Willie Randolph was in his third season with the club, and their bump came with nearly the same roster they had the previous season.
It isn't until we get to the 2012 Chicago Cubs that we get a new manager into the fold at the same time of the stolen base bump. The Cubs had the second-highest attempts total that spring at 52, and their stolen base attempt total improved by 47 attempts that regular season. The 2011 team had only three players –
Tony Campana
,
Starlin Castro
and
Darwin Barney
– attempt as many as six steals that season. The 2012 roster had seven players attempt that many as the earlier trio was joined by
David DeJesus
(15),
Alfonso Soriano
(8),
Joe Mather
(7), and
Bryan LaHair
(6).
The 2012 Yankees and the 2013 Rays were the two teams that suffered most in declines after strong spring training showings. The Yankees were hurt by the loss of
Brett Gardner
to an early season injury and that season, were led in steals by the 38-year old
Ichiro Suzuki
was swiped 14 bases in 19 attempts. The 2013 Rays had just five players attempt at least 10 steals, and only two of them converted double-digit steals. When you lose players like
Carl Crawford
and
B.J. Upton
in recent years, team speed is bound to decline but the drop in team steals for the Rays will likely continue as they were not able to do much this offseason to offset the speed bleed. Upton and
Elliot Johnson
accounted for 61 stolen base attempts in 2012 and both players were off the roster before the 2013 season started.
In short, spring training stolen base efforts can be a slight leading indicator of a more aggressive approach, but it has more to do with the change in personnel than it does the change in management. While
Brad Ausmus
would appear to be more aggressive than his predecessor simply by attempting more than two steals a week, the addition of
Rajai Davis
and
Ian Kinsler
on the roster will have more of an impact on the stolen base attempts than the change of skipper. The green light that Ausmus has given everyone this spring
will be going away
for a few players, but it would not be surprising to see Detroit more than double their team stolen base attempts total from 2013.