This article is part of our NBA DFS Breakdown series.
Expected Scores, Spreads and Efficiency

OKC's expected score jumps off the page, and that can partially be contributed to how favored they are over Portland – more so than Toronto is favored over Orlando. The Thunder, from that perspective, is a team worth targeting. On the other hand, if you're looking to deploy players from Indiana, Orlando or Boston, you might have to pick your spots. That's especially the case for Boston and Indiana, as neither team has cracked 100 points in either of the first two games.
Raptors at Magic
Stats Through Game 2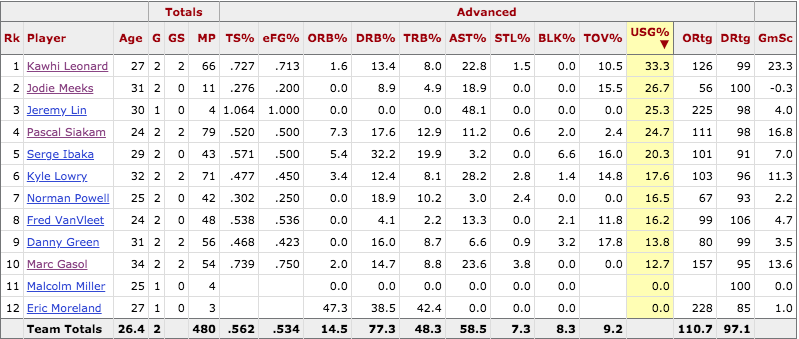 Pascal Siakam and Kawhi Leonard have established themselves as the high-usage players in this series for the Raptors, taking a combined 80 shots. They're undoubtedly the safest bets on the Raptors for DFS purposes. DFS users looking for a low-ownership option could turn to Serge Ibaka, though his 21.5 minutes per game has limited his upside.
For the Magic, five regular rotation players have a usage rate between 20 and 25 percent, making it difficult to target one particular option. I'm still partial to Evan Fournier, who has taken the most shots and has played the most minutes. I don't have much confidence in Nikola Vucevic to break through his struggles, so my lower-ownership option is Terrance Ross, who is 4-for-12 from deep in the series and hasn't seen a shot he doesn't like.
Celtics at Pacers
| Celtics | Pos | Injury | Status | Return |
| --- | --- | --- | --- | --- |
| Marcus Smart | G | Oblique | Out | 5/10/2019 |
Stats Through Game 2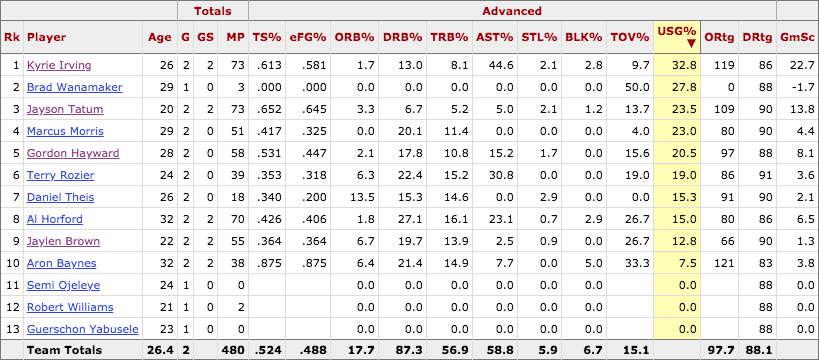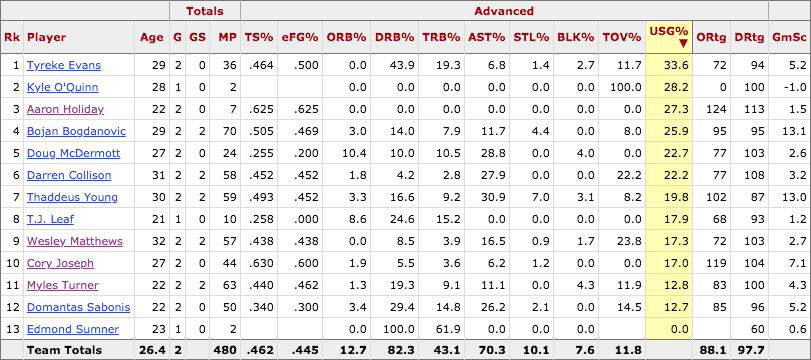 Kyrie Irving has established himself as the go-to option for the Celtics, with team highs in shot attempts and usage rate. Jayson Tatum option B, as he's tied with Irving for minutes played and second in usage rate and shot attempts. In looking for a low-ownership option, Al Horford sticks out as an option. He's shooting below average and it would surprise me if he continued to only garner eight shots per game.
Bojan Bogdanovic is the safe option from Indiana. He's second on the team in usage, first in minutes and first in shot attempts. Tyreke Evans is intriguing as well with his team-high usage rate, but he's played only 36 minutes in the series, limiting his potential. Thaddeus Young is who I'm looking towards as a sleeper. He's tied for the second-most shot attempts on the team and has plenty of upside as a rebounder and defender.
Trail Blazers at Thunder
| Blazers | Pos | Injury | Status | Return |
| --- | --- | --- | --- | --- |
| Jusuf Nurkic | C | Lower Leg | OFS | 9/1/2019 |
Stats Through Game 2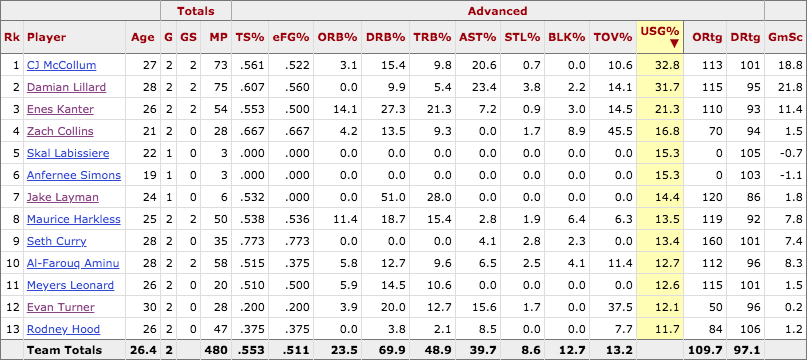 It's surprising that C.J. McCollum has a higher usage rate than Damian Lillard, though the two are putting up similar numbers and are equally worthy of being rostered for Friday's Game 3. Enes Kanter is the only other player on the Blazers with a usage rate over 20.0 percent, and he's averaging a low-end double-double. Maurice Harkless and Al-Farouq Aminu are worth entertaining as filler options.
Unsurprisingly for the Thunder, Russell Westbrook and Paul George are leading the way in terms of usage. That said, both have struggled shooting the ball, and it's possible home court will help fix things. Steven Adams and Dennis Schroder, who have each taken 22 field goals, are worth exploring as low-ownership options, but my confidence level in them hitting value isn't particularly high.
The author(s) of this article may play in daily fantasy contests including – but not limited to – games that they have provided recommendations or advice on in this article. In the course of playing in these games using their personal accounts, it's possible that they will use players in their lineups or other strategies that differ from the recommendations they have provided above. The recommendations in this article do not necessarily reflect the views of RotoWire. Alex Barutha plays in daily fantasy contests using the following accounts: FanDuel Username: unclestosh99, DraftKings Username: Roto_Alex.