This article is part of our NBA DFS Breakdown series.
Trail Blazers at Nuggets
Odds
DEN: -4.0
Over/Under: 219.5
Game 1 Box Score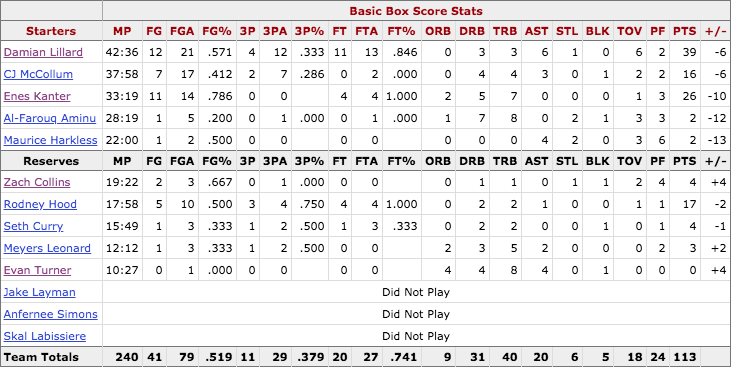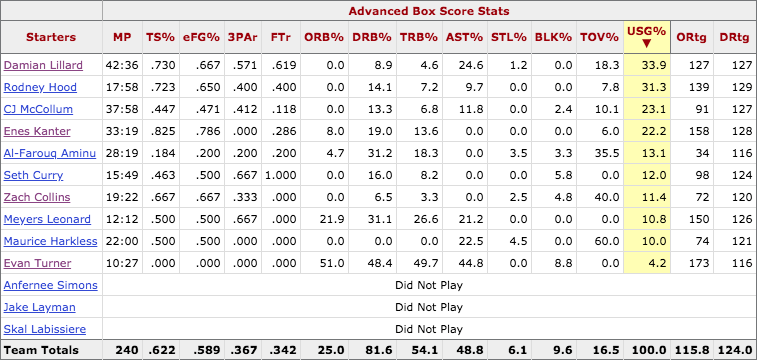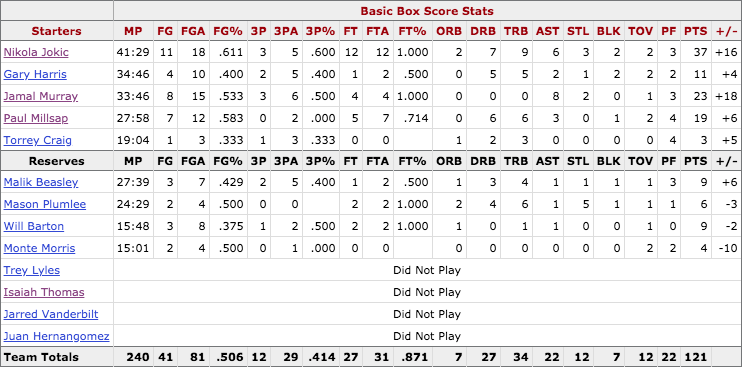 Analysis
A poor 23-point second quarter is what ended up burying the Trail Blazers, who split the Four Factors (eFG%, TOV%, ORB% and FT/FGA) with the Nuggets during Game 1. Damian Lillard was sensational, scoring 39 points on 21 shots while adding six assists, three rebounds and a steal – a statline that makes his six turnovers forgivable. He led the team in usage, though Rodney Hood wasn't far behind. Hood did what he was brought in to do: get hot off the bench. He fired off 10 shots in 18 minutes, posting 17 points, two rebounds and one assist. Enes Kanter, despite his separated shoulder, put in 26 points and seven rebounds. C.J. McCollum had a down game, but his usage remained high, as he took 17 shots in 38 minutes. All four players will be popular DFS options, but I'm actually partial to using McCollum to find value. In these playoffs, he's taking 19.7 shots per game, just three fewer than Damian Lillard, and has the second-highest usage rate on the team by a wide margin.
As expected, Portland didn't have the frontcourt personnel to deal with Nikola Jokic. The big man erupted for 37 points on 18 shots, plus nine rebounds, six assists, three steals and two blocks across 41 minutes while only committing two turnovers. However, he only had the third-highest usage rate on the team. Will Barton, who played 16 minutes and took eight shots, and Paul Millsap, who played 28 minutes and took 12 shots, both had slightly higher marks. Barton's game was relatively uneventful despite the high usage, but Millsap finished with 19 points, six rebounds, three assists and a block. Ultimately, Jamal Murray was the co-star of the game with Jokic. The point guard finished with 23 points on 15 shots, eight assists and two steals with only one turnover. In looking for value on Denver for DFS, I'm not sure I trust Millsap. He's averaging just 9.4 shots per game in the postseason and grabbing only 4.9 boards, giving him relatively low upside. It's difficult for me to stray away from Murray, despite his inconsistencies in the San Antonio series. He's launching 16.0 shots (and 5.1 threes) per game in the playoffs, and he's posted at least six assists in half of eight Nuggets postseason contests.
The author(s) of this article may play in daily fantasy contests including – but not limited to – games that they have provided recommendations or advice on in this article. In the course of playing in these games using their personal accounts, it's possible that they will use players in their lineups or other strategies that differ from the recommendations they have provided above. The recommendations in this article do not necessarily reflect the views of RotoWire. Alex Barutha plays in daily fantasy contests using the following accounts: FanDuel Username: unclestosh99, DraftKings Username: Roto_Alex.