If NCAA tournament bids still relied upon a team winning its conference tournament, a good argument could be made that Championship Week would be more exciting than the NCAA tournament. The teams are sometimes playing four days straight against competition that they've faced earlier in the season. It is plenty exciting, even if season extension is not on the line and nearly half of the power conference teams will be playing in the Big Dance. Let's take a spin through next week's conference tournaments that will set the table for continued March Madness. Some tournaments bids will be on the line and there could be plenty of surprises.
SEC Tournament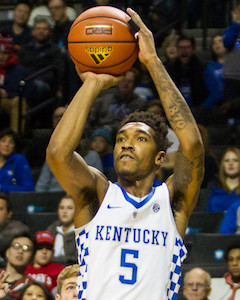 Place: Bridgestone Arena, Nashville
Format: 14 teams, top four teams start in the quarterfinals, bottom four teams play in first round
Top Seed: Kentucky Wildcats – Here we are again. For the third straight season, the Wildcats are the top seed in the SEC and have had another excellent season. The team has won eight straight games, including avenging their last loss against Florida. Freshmen guards Malik Monk and De'Aaron Fox lead the team. Monk is the standout scorer who scored 60 points in wins over Vanderbilt and the Gators before being held to six points in the win over Texas A&M on Saturday. Bam Adebayo leads the legions of forwards with 13.3 points, 7.6 rebounds, and 1.6 blocks. Coach John Calipari's team has defended the top seed in the past two seasons by taking the SEC tournament championship as well.
Dark Horse: Vanderbilt Commodores – Other than the loss to Kentucky on Feb. 28, the Commodores have had a run of impressive games. The team has won five of six, and defeated Texas A&M (who they will face again on Thursday), South Carolina, Tennessee, and Florida in the run. Center Luke Kornet has not quite broken out like many people expected, but he has finished the season on an upswing with 17.0 points, 7.5 rebounds, and 3.0 blocks in his last four games. The team has balanced scoring with guard Matthew Fisher-Davis, forward Jeff Robertson, and point guard Riley LaChance all providing more than 10 points. If the Vandy can beat the Aggies, they will face Florida in the quarterfinals. They swept the Gators in the regular season with both wins coming by two points.
Player to Watch: J.J. Frazier, guard, Georgia Bulldogs – Center Yante Maten is not expected to play in the SEC tournament due to a knee injury. He has missed the last five games and Frazier has taken over in the meanwhile. The 5-10 senior has averaged 29.6 points in those five games and helped the Bulldogs to win three times. Frazier has been attacking the basket relentlessly and has attempted 57 free throws (converting 87.7 percent). Georgia faces Tennessee in the first round, which is a favorable matchup in terms of momentum. The Vols lost three of their last four games to close the season and were beaten by the Bulldogs on Feb. 11 by one point. Georgia would face Kentucky if they can advance to the quarterfinals. Frazier scored a season-high 36 points in the Feb. 18 loss to the Wildcats.
Pac-12 Tournament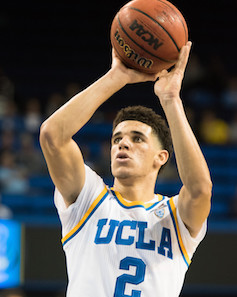 Place: T-Mobile Arena, Las Vegas
Format: 12 teams, top four seeds get bye into quarterfinals
Top Seed: Oregon Ducks – After advancing to the Elite Eight and bringing back the majority of their team, there was plenty of hype surrounding Oregon coming into the season. They have lived up to it by winning the competitive Pac 12 regular season championship (shared with Arizona). Forward Dillon Brooks is the leader of the team and is averaging 16.0 points. He hit a pair of game-winning, buzzer-beating 3-pointers against UCLA and California. Brooks is paired with Chris Boucher (12.1 points, 6.2 rebounds, 2.6 blocks) and Jordan Bell (10.8 points, 7.9 rebounds, 2.1 blocks) in the froutcourt. Sixth-year guard Dylan Ennis and Tyler Dorsey provide perimeter firepower.
Dark Horse: USC Trojans – The Pac 12 is top heavy with three powerhouse teams in Oregon, Arizona, and UCLA, so it is a little hard to pick a darkhorse. The sixth-seeded Trojans qualify because they have had a solid season that includes a Jan. 25 win over the crosstown Bruins, who they will play if they can beat Washington in the first round. After losing four straight (including three straight games against the top three teams), the Trojans closed the season by defending their homecourt against the Washington teams. Forward Bennie Boatwright missed half the season with a knee injury, but scored at least 20 points in four of his eight games since returning. Freshman Chimezie Metu had a nice season (14.4 points, 7.6 rebounds, 1.6 blocks). Guard Jordan McLaughlin and Elijah Stewart combined for 25 points and hit better than 40 percent of their 3-pointers.
Player to Watch: Lonzo Ball, guard, UCLA Bruins – It is rare that a player can join a program laden with upperclassmen and change the entire team. The 6-6 Ball turned the Bruins into an offensive machine by possessing excellent court vision and the ability to make his teammates better offensively. He led the nation with 7.8 assists and provided 14.9 points and 6.2 rebounds. Ball had 11 double-doubles (six with assists, five with rebounds), so he makes for a potential triple-double player in March. The Bruins will face the winner of the USC-Washington game and head into the postseason with a nine-game winning streak.
Big East Tournament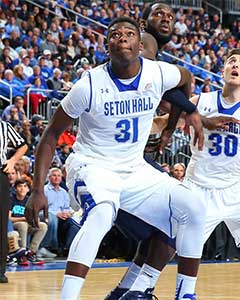 Place: Madison Square Garden, New York City
Format: 10 teams, bottom four seeds play in first round, top two seeds meet the teams that have already played one game
Top Seed: Villanova Wildcats – The defending national champions did not rest on their laurels. The Wildcats have won the regular season title in each of the four seasons since the Big East reformed to a 10-team league. They have only won the Big East tournament title once in that span and were knocked off by Seton Hall in 2014 and 2016. Nova would face the Pirates in the semifinals if the Seton Hall can beat Marquette. Josh Hart has had a National Player of the Year-type season with 18.7 points, 6.5 rebounds, and 3.2 assists with excellent efficiency. The Wildcats only go seven players deep since forward Darryl Reynolds returned in the regular season finale. With a short bench, the tournament format could be tough for Villanova.
Dark Horse: Marquette Golden Eagles – It may be tempting to call Providence the dark horse in the Big East because the Friars have won six straight games, but I have been impressed by the Golden Eagles in the late season. Coach Steve Wojciechowski tinkered with the lineup in the late season and helped Marquette win four of its last five games. The Golden Eagles have the deepest backcourt in the Big East with six guards averaging between 8.7 and 13.1 points. Freshman Markus Howard is the leading scorer and has canned 55.1 percent of his 3-pointers. Center Luke Fischer provides a modicum of balance to the Golden Eagle lineup, but has been limited by fouls. The Indiana transfer has accrued four fouls in each of his last five games and fouled out three times. He will need to stay away from the whistle against Seton Hall in the quarterfinals because of…
Player to Watch: Angel Delgado, forward, Seton Hall – Through his first two seasons, Delgado appeared to be a dependable rebounder who was limited offensively. In his junior season, the 6-10 forward has jumped in production. He leads the country with 13.1 rebounds and has bumped his scoring from the high nines to 15.6 points. Delgado produced 25 double-doubles and helped the Pirates win their last four games of the season. The Pirates play Marquette in the quarterfinals on Thursday and Delgado provided 16.0 points and 15.5 rebounds in the season split with the Golden Eagles.
Big 12 Tournament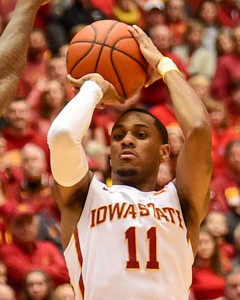 Place: Sprint Center, Kansas City
Format: 10 teams, bottom four seeds play in first round, top two seeds meet the teams that have already played one game
Top Seed: Kansas Jayhawks – Ho hum. Another season, another regular season championship for the Jayhawks; that makes 13 in a row. Coach Bill Self's team has won just two of the last five tournament championships, but should be poised to win their second straight title this season. Kansas features one of the best backcourts in senior Frank Mason (20.5 points, 5.1 assists, 4.2 rebounds, 49.3 percent from 3-point range) and Devonte' Graham (13.2 points, 4.3 assists). Freshman Josh Jackson is a superstar in the making. He averaged 16.4 points, 7.2 rebounds, 3.1 assists, and 1.6 steals. The team is a limited in the frontcourt with Landen Lucas and Carlton Bragg as the only bigs of note.
Dark Horse: Oklahoma Sooners – Call this a deep sleeper or maybe some residual feelings from last year's team. The Sooners actually won three of their six games after leading scorer Jordan Woodard went down with a torn ACL. They also gave Kansas a good game on Monday before failing in the crunch. Freshman Kameron McGusty has bumped his average up to 13.2 points in his last five games. The Sooners have a solid frontcourt in freshman Kristian Doolittle and defensive ace Khadeem Lattin. Oklahoma takes on TCU in the first round, and the Sooners have already beaten the Horned Frogs in the last game of the regular season. Kansas awaits, but coach Lon Kruger's team looks like it is ready to take the fight to the Jayhawks
Player to Watch: Juwan Evans, guard, Oklahoma State Cowboys – The 6-1 guard showed plenty of potential as a freshman before his season was curtailed by a shoulder injury. He has remained healthy as a sophomore and looks like he saved his best for last. In his last five games, Evans has averaged 22.8 points and 9.0 assists. The Cowboys put together a five-game winning streak in February before losing on the road at Iowa State, and the season ended with a loss to Kansas. Evans could see a chance to avenge both losses, as he's slated to go head-to-head with Monte Morris and the Cyclones in the Big 12 quarterfinals. Iowa State swept the season series, but Evans provided 20.5 points and 6.5 assists. If he can lead Oklahoma State to a win, he would likely meet Mason and the Jayhawks in the semifinals.
Big Ten Tournament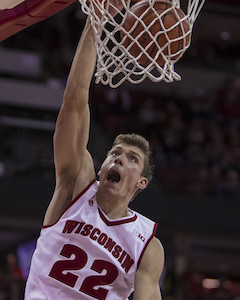 Place: Verizon Center, Washington DC
Format: 14 teams, top two seeds get double byes into the quarterfinals, bottom four seeds play to get into the second round
Top Seed: Purdue Boilermakers – Purdue earned the top seed in the Big 10 tournament on the back of its talented forward Caleb Swanigan. The 6-9 sophomore took a giant leap forward by averaging 18.6 points and 12.5 rebounds. He tended to take too many 3-pointers as a freshman, but improved his outside stroke to 45.5 percent. Swanigan's development sent 7-2 junior Isaac Haas into a reserve role, but he could play a factor. The team is rounded out by Vince Edwards, Carsen Edwards (no relation), and 3-point marksman Dakota Mathias. Purdue plays the winner of the Michigan-Illinois game in the first round. The Boilermakers beat Illinois easily on Jan. 17, but lost at Michigan on Feb. 25.
Dark Horse: Northwestern Wildcats – Although the Big 10 schedule caught up to the Wildcats as the regular season closed, it looks like Northwestern will finally earn a bid to the NCAA tournament. The team lost six of its last nine games, including a damaging sweep at the hands of Illinois, but they highlighted the season with a Feb. 12 win at Wisconsin. Coach Chris Collins' team has plenty of power on the perimeter with wings Bryant McIntosh, Scottie Lindsey, and Vic Law. Dererk Pardon provides interior defense and modest scoring. The Wildcats earned a bye and will face the winner of the Ohio State-Rutgers game, and have had success against both teams this year. They swept the Scarlet Knights and beat the Buckeyes in their lone meeting. Minnesota would then await, and the Golden Gophers took a hard-fought 70-66 win over Northwestern on Jan. 5.
Player to Watch: Melo Trimble, guard, Maryland Terrapins – I had Trimble penciled into this slot before he hit a game-winning 3-pointer on Sunday in the win over Michigan State. The 6-3 junior was the only player of consequence to return from a very talented Terrapin squad, but coach Mark Turgeon's team did not miss a beat. Trimble averaged 16.8 points and hit just 33.5 percent of his 3-pointers. He scored 20 points or more five times in the Big 10 play and helped beat Northwestern on Feb. 15 with a season-high 32. It will help that Trimble gets to play in Washington DC, as the Maryland native will be close to home. The Terrapins earned a double-bye and will play the winner of the Indiana-Iowa game. Maryland split with Iowa and beat Indiana in the team's only meeting.
ACC Tournament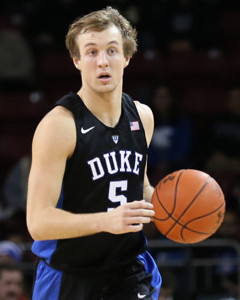 Place: Barclays Center, Brooklyn
Format: 15 teams, top four teams start in the quarterfinals, bottom six teams play in first round
Top Seed: North Carolina Tar Heels – This year's version of the ACC has been called one of the deepest conferences in college basketball history. The conference may get 11 teams into the NCAA tournament, although some things are going to have to break right for that to happen. North Carolina has outlasted the field and last year's national runner up is looking to win the ACC tournament for the second straight season. Junior Justin Jackson has developed into a nice scorer with 18.3 points. The team continues to boast plenty of size with Kennedy Meeks and Isaiah Hicks. Point guard Joel Berry averaged 15.1 points and 3.7 assists, but only provided 11.3 points in the six Tar Heel losses.
Dark Horse: Virginia Cavaliers – The Cavaliers fell precipitously in the ACC standigns with a four-game losing streak, including a 24-point loss to North Carolina. They bounced back to close the season with three straight wins, including a Feb. 27 win over the Tar Heels. Coach Tony Bennett's team was able to make the finals last year before falling to UNC. This year the path includes a game against either Georgia Tech or Pittsburgh, followed by a potential meeting with Notre Dame. As always, the Cavaliers will slow the pace and try to win with defense and timely shooting. Guard London Perrantes is the only UVA player averaging better than 8.7 points. The team does not boast stars, but will be a tough out.
Player to Watch: John Collins, forward, Wake Forest Demon Deacons – While most eyes will be on Duke guard Grayson Allen and his sourpuss, the conference is stocked with excellent players. The Demon Deacons are the 10-seed and need some quality wins to boost their NCAA tournament resume. Collins has closed the regular season with double-doubles in seven of his last nine games and Wake Forest won six games in that span. They beat Louisville on Mar. 1 behind 25 points and 11 boards from Collins. Before being held to 13 points in the win over Virginia Tech on Saturday, the 6-10 sophomore had scored at least 20 points in 11 straight games.