As a writer, one of my favorite things to do is dispel "truisms" that exist within the sport of football. "Never take points off of the board" and "you run to set up the pass" are two long-held beliefs that simply have no basis in reality. There are lots of times you should take points off of the board, and in today's NFL, teams really don't need an effective running game to win. Yeah, I said it.
In fantasy football, there are a plethora of "truisms" that many owners use as a basis for creating their rankings. "Wide receivers tend to break out in their third season" and "you can always wait on a quarterback" are two of the most popular.
Today, I'm going to take a look at the merits of avoiding running backs coming off of seasons with huge workloads. Many fantasy owners believe that, following seasons in which running backs touched the ball often, they tend to break down, often getting injured or seeing a decrease in effectiveness.
I researched the production of all running backs with 350 or more carries in a season, and the results are below.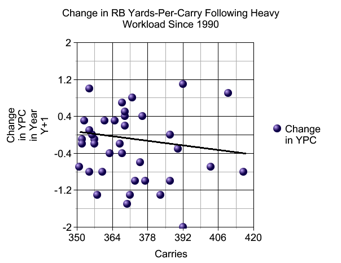 You can see that when running backs record 350-plus carries in Year Y, they generally see a decline in yards-per-carry in Year Y+1. Of the 37 running backs to generate 350 carries since 1990, 24 (64.9 percent) produced a lower YPC number in the following season. The average decline in YPC was 0.26 for all backs, 0.38 for