This article is part of our Best Ball Journal series.
With the regular season fast approaching, I decided to look back on my DRAFT tournament teams and take inventory of my share percentages. I would love my teams if Andrew Luck's leg weren't jeopardizing my substantial investments in his wide receivers, but with that situation going implausibly wrong, I do have some concerns about my portfolio.
I'll in any case list player burbs within one of the following self-explanatory categories: Glad to Own, Wish I Didn't, and Wish I Had More. That's all the creativity you get, sorry.
GLAD TO OWN
Lamar Jackson (27 percent), QB, BAL
I am perhaps the world's premier Jackson truther, so I was obviously pursuing him constantly back when he would fall as far as the 13th round. As much as Jackson is my most-owned quarterback on DRAFT, I very rarely selected him as my QB1. In light of promising preseason and training camp reports, Jackson is more so going in the 9th/10th-round range at this point, and particularly since I already have a lot of shares at lower prices, I'm probably done buying for this year.

Cam Newton (24 percent), QB, CAR
Like Jackson, I value Newton so particularly in DRAFT's best ball tournament because of his nature as a volatile rushing threat. It's not easy to foresee Cam's big games ahead of time, but in best ball you only get the benefits of his explosive weekly upside, and between the 4pt passing touchdown and 0.5PPR scoring, I think rushing production is one of the most plausible ways to find upside in the market.
SPONSORED NOTE
Draft Different with a 2019 Fantasy Draft Board + Player Labels from 360 Fantasy Football Draft Boards! View Top Rated Draft Boards + Draft Kit Add On's. 100% Money Back Guarantee. Promo Code ROTO50 CLICK HERE
Tevin Coleman (34 percent) and Matt Breida (46 percent), RB, SF
I really think there's room for two impact running backs in the San Francisco backfield, and that's in no small part because I think Coleman and Breida are simply good players. They're also both dangerous pass-catching threats, and if everyone is so sour on Dante Pettis and Marquise Goodwin these days, then they might want to consider the pass-catching upside of these two runners in a Kyle Shanahan offense that synthesizes fantasy value with unique tempo. I typically bought Coleman in the sixth or seventh rounds and Breida in the 14th or so, so I'm psyched to have so many shares of them at what I consider error pricing – Jerick McKinnon was always a full fade for me but he went ahead of Breida for most of the offseason.
Nick Chubb (29 percent), RB, CLE
Have you heard the good news? Duke Johnson was traded to Houston, and now the haters will have no choice but to writhe in agony as Chubb demonstrates his above-average pass-catching talent in one of the league's best passing games. Chubb is an arguable top-five player to me in standard scoring, so I'm glad to have lots of second-round shares.
Tyler Boyd (32 percent), WR, CIN
There was briefly a push of Boyd skepticism in fantasy media, but it rightfully dissolved in recent weeks as people more thoroughly engaged the details. First Boyd was named as a fade because He Was Only Good Because A.J. Green Was Hurt. Then Green hurt his ankle and, hilariously, some tried to advance the idea that this too was a negative for Boyd, because his splits were better when Green was healthy in 2018. So it's bad for Boyd if Green is hypothetically present, and it's bad for Boyd if Green is hypothetically absent. Get it? Me neither, so I bought in the sixth round the whole time.
Chris Godwin (24 percent), WR, TB
Godwin never came at much of a discount, but I firmly believe he'll often be a second-round pick in 2020 drafts, so I have no problem buying in bulk in the fourth round in 2019. It's reasonable to doubt Godwin if you doubt Jameis Winston, but I'm fascinated by the fact that few in fantasy media are critical of the Tampa Bay passing game this year at the same time that there's a healthy amount of Godwin skepticism. Do you think Winston has a big season? Then so likely will Godwin. Unless you mean to predict big seasons for Breshad Perriman or Justin Watson, two clearly inferior players to Godwin.
Juju Smith-Schuster (20 percent), WR PIT
The Pittsburgh passing game stack was one of the most affordable all offseason, and I hammered a lot of stacks between JSS, Ben Roethlisberger, Donte Moncrief, and Vance McDonald as a result. I'd take JSS in the first or second, get McDonald in the seventh or eighth, Roethlisberger in the 11th or 12th, then Moncrief in the 13th or 14th. Now McDonald often goes in the sixth, and Moncrief often goes in the ninth. As far as JSS specifically goes, I have him projected higher than Davante Adams and Michael Thomas, who I think are overpriced slightly.
O.J. Howard (27 percent), TE, TB
I like Howard a lot in a vacuum, but I specifically targeted him many times while pursuing stacks of the Tampa Bay passing game, most often pairing him with Godwin but sometimes Mike Evans, or even all three. Howard is an All-Decade talent and he would go nuts if the target volume would just accommodate him.
Jordan Thomas (27 percent), TE, HOU
Thomas will either be my George Kittle of 2019 or my Luke Willson. I'm becoming increasingly convinced that the second scenario is not a possibility. Even with Hopkins, Will Fuller, Keke Coutee, and now Duke Johnson present, the starting tight end role in Houston looks like a meaningful one, as Ryan Griffin got substantial usage there even as a talent far inferior to Thomas. You have a big margin of error in the 18th round, so Thomas' yardage cap in the offense is more than fully accounted for, but I can't say the same for Thomas' substantial touchdown upside. Nine of his 27 targets last year occurred in the red zone, and at 6-foot-6, 280 pounds Thomas is a hulking target with massive hands. Not only that, but he logged one of the fastest top speeds of tight ends league-wide last year!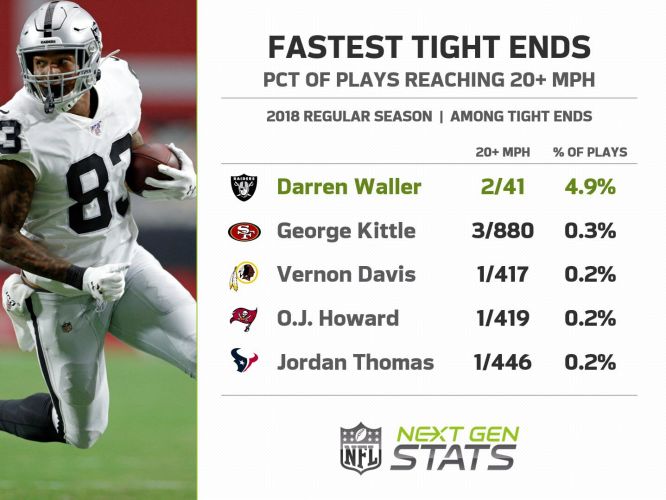 So help me out with this: we have a starting tight end who's one of the fastest in the league even though he's also the biggest one, his quarterback is a star, and yet people still have minimal interest in the final rounds of drafts. I'm going with this ship one way or another, that's for sure.
Vance McDonald (22 percent), TE, PIT
Like I mentioned with JSS, I have quite a few stacks of the Pittsburgh passing game. As much as I more or less believe in Moncrief as the team's WR2, it's easy to believe in him when you're drafting him after the 12th round. McDonald was less of a discount in his range of the ADP, but that fact is more than offset by the realistic possibility that McDonald establishes himself as the second-leading route runner in the Pittsburgh offense. McDonald has brickish hands but is huge and highly athletic, and now he has lots of experience with Roethlisberger in a passing game that has plenty of turnover after leading the league in passing yards last year.
WISH I DIDN'T
T.Y. Hilton (20 percent), Devin Funchess (27 percent), Deon Cain (15 percent), WR, IND
I'm bitter about this. These were good picks, dammit! It's not my fault! I guess I should have been more skeptical of Indianapolis' assurances that Andrew Luck's calf injury was a non-issue. Jacoby Brissett might be a decent starter, so perhaps not all is lost if Luck can't play, but I made these picks on the assumption that Luck would start, not anyone else.
Antonio Callaway (20 percent), WR, CLE
Disgusting! Total waste. I'm not taking it for a given that Callaway ever plays another game for Cleveland, so his shares could be true zeroes for me. I hate the Browns for hyping him in the offseason when they actually had him on the ****list, and I hate myself for falling for it. The good news is he was generally a pick no earlier than the 16th round, but it still sucks to get a zero when all the available information at the time said it was a good hedge against Odell Beckham's injury tendencies. I'd be ecstatic if these were all Rashard Higgins shares instead.
WISH I HAD MORE
Dalvin Cook (3 percent), RB, MIN
I balked at Cook for most of the offseason because he was priced ahead of Chubb for most of the offseason, and as much as I love Cook's talent, the Cleveland passing game would be the tiebreaker for me even before factoring in Cook's durability issues, which span several years with the hamstring in particular. But Cook is truly a star talent, a total lights-out gamebreaker and one I wish I had a bit more of. With Chubb often in the first round, I might look to get some teams with Chubb in the late first and Cook in the early second.
Kenny Golladay (3 percent), WR, DET
I suppose this is the price of my Godwin enthusiasm. I'm a firm believer in Golladay's talent, and in 0.5PPR he gains ground because of his unique touchdown upside. I don't see the addition of offensive coordinator Darrell Bevell to be a cause for doom and gloom, either. I might have to specifically target Golladay in a few final drafts.
Chris Carson (5 percent), RB, SEA
I'm probably lower on Carson's talent and especially durability than most people, and I'm definitely higher on Rashaad Penny's talent than most. Given that I was otherwise taking O.J. Howard or hammering receiver in the fifth-round range of the draft, I was necessarily fading Carson there. I really wish I hadn't – even as a stubborn skeptic about the idea that Carson is better than Penny, Carson's whole picture changes drastically for me in light of Seattle expressing the goal of getting Carson more involved as a receiver. Like I wrote about recently, Carson's pass-catching abilities really do check out and I think he'll succeed with the greater opportunity. I'm still worried about the punishment his running invites, but in best ball he simply won't be in your lineup if he leaves a game early. And if he stays healthy all year he could provide a top-15 return overall, let alone at running back specifically.
Odell Beckham (7 percent), WR, CLE
As I've stated many times now, I think Baker Mayfield has legitimate 40-touchdown upside this year, and I consider Beckham one third of the triune receiver god otherwise comprised of DeAndre Hopkins and Julio Jones. If I think that, then I need to consider Beckham a realistic candidate to be the year's top-scoring wide receiver. I do believe exactly that, so I'm disappointed that I don't have my Beckham ownership up over 15 percent.
My one rationalization for this outcome might be a sound one, but I think what happened here is that my many selections of Chubb and Smith-Schuster necessarily came at the expense of opportunities to draft Beckham. So as long as I'm not wrong about those two, hopefully my roster constructions will do well despite the Beckham shortage among them.
Rashard Higgins (7 percent), WR, CLE
I've believed for months that Higgins is a better player than Landry, so I'm stupid for not hammering more Higgins shares in the light of the bad Callaway reports. By the time the suspension was announced, Higgins went from undrafted to commonly going around the 14th or 15th-round range, where I'm still normally targeting guys like Mohamed Sanu and Marquise Brown. I'm not sure I'll see Higgins at an advantageous price from this point forward.
David Njoku (7 percent), TE, CLE
Hmmm. Is the universe trying to tell me something? Have I turned my back on the Cleveland passing game, inviting horrible retribution for my hubris? It's weird because, as is the case with Beckham and Higgins, I've always been high on the Browns passing game aside from Jarvis Landry. I suppose I lack Njoku shares because I've so singularly targeted Howard and McDonald, and they're both on the same Week 7 bye as Njoku, cutting off avenues for adding Njoku as a TE2 pick. I'll hopefully be able to remedy this in the upcoming days.