ARE YOU READY TO UPGRADE YOUR TEAM?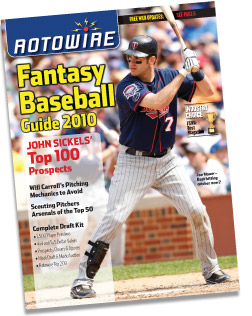 THE BASEBALL SPECIAL
1. Access through September 30, 2011
2. FREE MAGAZINE — RotoWire Fantasy Baseball Guide 2010
3. FREE In-Draft Software
4. IMMEDIATE Access (all sports)
5. For just $39.99
CHECK OUT THESE FEATURES:
Customized player rankings based on your league's categories... Stat projections and outlooks for over 1000 players... Analysis and articles from our industry experts... MLB team depth charts, playing time decisions, and player updates each day... Emailed updates for the players on your team, as they happen... Updated closer situations for each team, and projected starting pitchers for each game... In-depth statistical analysis... Award winning player news, analysis, and fantasy tools for Baseball, Football, Basketball, Hockey, Golf, NASCAR, and much, much more...
Need Assistance? Call Us Toll-Free at
888-201-3057
THE DRAFT KIT
Dominate your draft. Access all of our award-wining content and make this season your season.
1. Access through April 15, 2011
2. FREE In-Draft Software
3. IMMEDIATE Access (all sports)
4. All for $14.99