This article is part of our The Armband series.
For the first time in a long time, everything almost went to plan in Gameweek 13. That is unless you were scared off by the Sergio Aguero injury rumors the Friday before games.
Either way, big names like Aguero, Alexis Sanchez, Gylfi Sigurdsson and Zlatan Ibrahimovic all produced as expected. If you decided to captain a Liverpool midfielder (Jordan Henderson and James Milner led the way for the Reds), which I never condone, things probably didn't end as well.
There were weird stat lines like Fernando Llorente scoring the most fantasy points in just 15 minutes of action. Alvaro Negredo can be on that list as well, as the striker hadn't scored since the first match of the season.
Maybe the biggest takeaway from the weekend is that Chelsea are as good as their first-place standing. The Blues have won four straight, with the most recent coming after being down a goal against the best defense (goal wise) in the league. While they are at Man City this week, more goals should be expected from them.
And that's exactly where Gameweek 14 starts, with two of the best teams in the Premier League.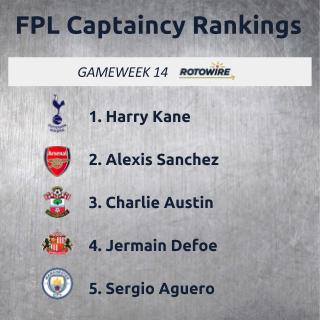 The problem is that this game can go a number of ways, namely a scoreless draw or a 3-2 barnburner. That unpredictability leads to doubts of captaining Aguero, Eden Hazard or Diego Costa. City have not allowed more than one goal at home this season, while Chelsea are coming off back-to-back road clean sheets.
Luckily, there are better options.
Swansea may have gotten their first win under Bob Bradley, but they allowed four goals in the process. The Swans still have a defensive problem and that'll show up at White Hart Lane. Harry Kane hasn't been a popular option this season, but he may be the top choice this weekend. Prior to the Chelsea match, he had scored five goals in his last four starts. Home against Swansea will surely result in a goal or two for the Englishman. If you don't like the popular route, Christian Eriksen will look to score in his second straight match, or any of Tottenham's other midfielders can be considered.
Arsenal travel to West Ham, which should produce goals, though the Hammers beat Chelsea 2-1 at home only a month ago. Still, there will be opportunities for Alexis or Theo Walcott to find the back of the net.
Bournemouth are a hard team to predict, but Liverpool should find a goal or three at Kings Park. With a couple injuries, Sadio Mane and Henderson may take on a bigger role. But hey, don't take my word for it because this will probably be the match that Georginio Wijnaldum makes his mark for Liverpool.
In the other headliner between struggling sides, Everton host Manchester United. I'd stray from both squads, including Ibra. The Toffees have one win in their last eight league matches, while the Red Devils are slightly better with one win in their last seven. A scoreless draw or 1-1 result wouldn't be surprising.
As for the rest, Crystal Palace are always good to go against, now with six straight losses and 18 goals allowed in that period. Southampton aren't great on the road, but Charlie Austin could find his seventh goal of the campaign.
Stoke City are in that same spot, scoring just two goals in their last three, but hosting a Burnley side that have scored once and allowed 13 goals in road matches this season.
We could go 2010 and captain Charlie Adam like old times, but let's not get overzealous. Marko Arnautovic is in the conversation, as is Xherdan Shaqiri. I'll back Shaqiri only because he's already had a two-goal game this season, so he has it in him.
Jermain Defoe and Victor Anichebe once again warrant the armband with Leicester coming to town. Leicester are still bad on the road, allowing 16 goals in six matches this season.
The same can be said for Matt Phillips and Salomon Rondon, who host Watford. Phillips has come out of nowhere to post two goals and three assists in the last three matches.
In the match of the day (Monday), Middlesbrough take on Hull. This looks like a great opportunity for Negredo to keep scoring, but that's only for the riskiest of fantasy bosses. Again, he was just on an 11-match scoreless drought.
The League Cup continues this week, so as usual, keep an eye on any new injuries.