This article is part of our The Armband series.
For the first time in a while, things went to plan last gameweek. Mohamed Salah led all scorers with 19 fantasy points from two goals and an assist, while Sadio Mane was close behind with a brace of his own as Liverpool easily beat Huddersfield 5-0. Of course, Tottenham, Arsenal and Man City combined for one goal, but at least Sergio Aguero scored.
The penultimate gameweek will be a little harder to pick a captain because all of the big clubs are in favorable spots. Man City no longer have to worry about Champions League, so that pushes Aguero and Raheem Sterling to the top of the line. Aguero (20 goals, eight assists) is most likely to score, but Sterling (17 goals, 10 assists) isn't far behind and has similar upside. Aguero will likely be the top captain because he's a bigger goal threat, but Sterling is on the same level, even if the odds don't show it. You could stretch for someone like Leroy Sane or Bernardo Silva, but I'd probably be more confident in an Arsenal or Chelsea player.
The Gunners return home, where they've scored 13 more goals. Brighton could take their defensive approach again, but that's no longer needed since Cardiff need at least five points from their final two matches. Pierre-Emerick Aubameyang has scored in four of his last five starts, though he converted every chance on target in that period, something that's unlikely to continue. I still believe in Alexandre Lacazette a little more since he's also creating for teammates and has much more assist potential.
It's been a while since Chelsea were in the conversation, but home against Watford is a good chance for Eden Hazard to capitalize. He has 14 shots and 14 chances created in his last five starts, and Watford gave up 10 goals in their three away matches before winning at Huddersfield.
If you need to make up some ground, backing Manchester United at Huddersfield could be the best route. They're struggling, but Huddersfield are struggling more and have allowed multiple goals in their last seven matches. I'd say Romelu Lukaku is the best choice, but who knows at this point since he has just two shots in his last four starts. This could easily be a Paul Pogba showing when he bags a brace with an assist, showing future club Real Madrid what he can do.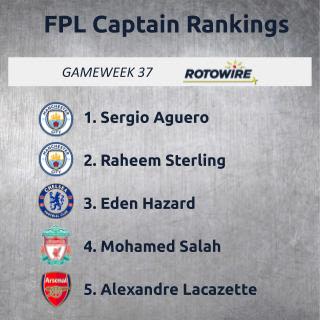 A lot of people will turn to Liverpool again, though I'm not convinced after playing at Barcelona on Wednesday (and hosting them the following Tuesday). It's also worth noting Newcastle have won four of their last five at home, so this isn't an easy matchup for Salah and Mane. If you must, Salah is still the play over Mane because he continues to get more opportunities, and that's what matters most. Spurs also had a midweek match, and I'm not sure you can trust them given recent results, scoring one goal in their last four. Bournemouth are a mess, but the Liverpool options are likely better than Son Heung-Min and Christian Eriksen.
Given the number of big-club-against-small-club matchups, this isn't a great gameweek for bottom-tier differentials. Everton are playing well at home, but Gylfi Sigurdsson still isn't a top fantasy play against Burnley. Wolves always seem to disappoint against a team in relegation, so I'd caution against using Raul Jimenez, especially since Fulham are playing well for the first time this season. West Ham could grab a goal or two against Southampton, but there isn't one guy who stands out. If anything, Crystal Palace could be a sneaky route because in addition to playing better away from home, Cardiff are in need of three points and will be pushing. That could lead to three or four goals for Palace, with Wilfried Zaha and Luka Milivojevic the logical choices to make the scoresheet.
If you have a Man City player, it's best to give him the armband, but if not, there are still five other top clubs in good situations.