This article is part of our The Armband series.
If it weren't for Liverpool and Manchester City, this would've been the most lackluster final gameweek in recent memory. Outside of the top two clubs, there's nothing to play for. The top four are already decided, with Arsenal and Man United fighting for fifth place, while all three relegated teams are known. Of course, that's counterbalanced by an exciting finish to the title race.
A win will secure another title for Man City, while a draw leaves plenty of doubt, especially since Liverpool are at home. Fortunately, the two teams with something to play for are also the best places to look for the armband. The question is if you want to throw your marbles at the City attack against Brighton or take away a simple six points for a clean sheet. Sergio Aguero has one goal in his last four starts, and it came by a few centimeters. City's muscles have clenched the last few matches, which has led to fewer goals. It's also unknown how Brighton will play because they already avoided relegation and could let loose. Either that or they continue their recent defensive tendencies in which they've allowed three goals in four matches. With teams sitting further back against City, that's led to fewer chances for Raheem Sterling, who doesn't have a shot on target in the last two. But considering Brighton have just two goals in their last six matches, going with Aymeric Laporte in hope of a clean sheet may be the safest route. Then again, if you want more than 12 points from your captain, there are other places to look.
Liverpool have dominated at home and Wolves have been a nuisance to a few top clubs this season, though Liverpool won the previous meeting 2-0 in December and Man City beat Wolves 3-0 at the Etihad a few months ago. And will there be a let down after reaching a high Tuesday against Barcelona? Either way, as long as Mohamed Salah is eligible to return from a concussion, he should be the most popular captain. He has five goals and two assists in his last six starts in all competitions and continues to create more opportunities than Sadio Mane, who managed just one shot against Newcastle last league match. I'm not sure anyone else is worth the armband for the Reds, though Trent Alexander-Arnold would be a clever differential if he combined another assist with a clean sheet.
Looking at previous years, there's no telling how to predict these matches. In the final gameweek last season, Crystal Palace and West Ham both won at home, while Bournemouth and Stoke grabbed two meaningless away wins. Betting on any of these contests is a good way to lose money. At the least, we can try.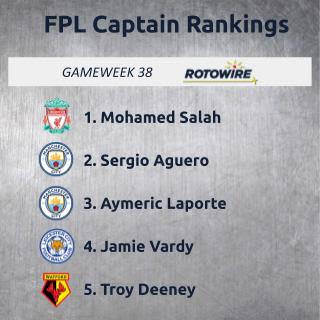 There are more favorable matchups, yet with nothing to play for, there's no guarantee to how some of the lineups will look. If you think Pierre-Emerick Aubameyang wants to win the scoring title, he's worth a shot against Burnley since he's only two goals behind Salah and even with Aguero. He's not on my radar since I already vowed not to trust Arsenal away from home. On the opposite end, I think this is a good spot for Burnley to bag a couple goals. The Gunners were in Valencia on Thursday and have given up six goals in their last two away league matches at Wolves and Leicester. That means either Ashley Barnes or Chris Wood will find the back of the net, if not both. My money is slightly on Barnes, who is averaging 0.39 more shots per 90 minutes. It's a similar situation for Leicester because Chelsea are already guaranteed a top-four place and played Eintracht Frankfurt on Thursday. Jamie Vardy is also in form with six goals in his last six starts, (t so this isn't a crazy idea. The Blues could throw out a second-tier roster and Leicester just scored three goals against Arsenal.
It's a little harder to predict the Man United (v. Cardiff) and Spurs (v. Everton) results. Ole Gunnar Solskjaer may want a win, but after drawing at Huddersfield last weekend, I'm not sure I can put faith in any of the Red Devils. The same goes for Tottenham, who reached the pinnacle with a late goal against Ajax on Wednesday. It doesn't help that Everton haven't allowed a goal in their last three matches.
The Crystal Palace-Bournemouth match could be the most fun as long as Palace don't employ their usual defensive strategy at home. Bournemouth have allowed 40 away goals and will likely have no desire to play defense after putting everything in to keeping Tottenham scoreless last match (with the help of two red cards). Andros Townsend could build on his one-goal, one-assist performance, though Wilfried Zaha makes more sense since a full 90 is more likely. It's a little less certain for Bournemouth, but no one would be surprised if Callum Wilson bagged another brace, similar to what he did last road trip to Southampton.
There are three more matches with intriguing options if you want something other than the most popular captain. Aleksandar Mitrovic is at home so he's always in play for a goal or two. The downside is that Fulham have taken a more defensive approach to close the season, which has led to five total goals scored in their last four matches. That also removes most of the upside for Salomon Rondon and Newcastle.
I feel slightly better about Southampton getting a few goals against Huddersfield. The problem is deciding between Shane Long, Danny Ings and a slew of midfielders. Either way, I think Huddersfield are prone to allowing multiple goals. They secured a point against Man United last weekend and it wouldn't be surprising if they went all out in this match, aiming to score as many as possible while leaving gaping holes in the back.
Watford are the final team in the discussion in a match against West Ham that should produce a few goals. The Hornets won the first meeting 2-0, and after Troy Deeney managed two shots and two chances created in his first start back from suspension, I think he and Gerard Deulofeu are ready for another onslaught. They're both on nine goals and five assists and will be looking for that No. 10.