Rookie Tight Ends Continue to Struggle
In 2010, then-rookie tight end Rob Gronkowski erupted for double-digit touchdowns on his way to a fifth-place finish among all tight ends. That occurrence is probably rarer than you think; in the past seven years, Gronkowski is the only rookie tight end to finish even as a No. 1 option at the position. For whatever reason, first-year tight ends simply don't produce like some other rookies.
Check out the final ranks of the top rookie tight ends since 2006.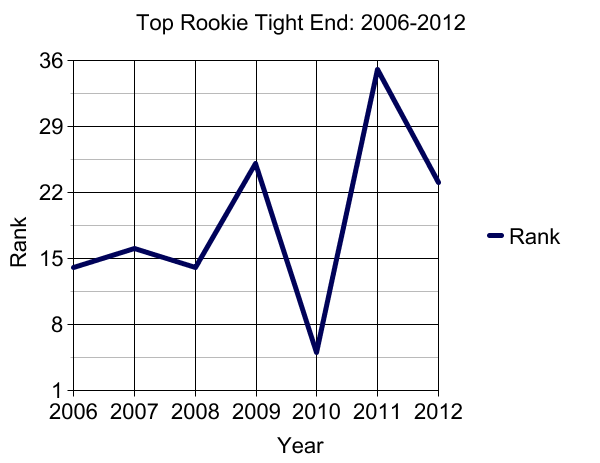 You can see that Gronkowski is an outlier in a group whose average is only 19th place. The list also includes Brandon Pettigrew, Dustin Keller, Owen Daniels, Zach Miller, Kyle Rudolph and Dwayne Allen (currently ranked 23rd in 2012).
With no rookie tight end projected to finish in the top 20 in the past two seasons, one has to wonder whether it's becoming more difficult for rookies to m
You've reached the end of our free article preview.
See below to find out how you can read the full version of this article.
Subscribe to RotoWire now and you'll be reading the full version of this article in minutes.
At RotoWire, we give our subscribers everything. That means not only will you be able to read this article, you'll be able to read ALL our articles.
Plus, you'll get all of these great benefits:
| | |
| --- | --- |
| ➤ Amazing draft kits. | ➤ Full stat projections. |
| ➤ Exclusive cheat sheets. | ➤ Customizable rankings. |
| ➤ Instant news updates. | ➤ Free multi-sport access. |
| ➤ Private expert Q&A. | ➤ And much more! |
Already Registered? Login Now
If you already have a RotoWire account, please login below with your username and password.
Forgot your password?
Click here to have your user info emailed to you.
Questions? Need Assistance?
Talk to a live person toll free at (888) 201-3057.
---