Recent RotoWire Articles Featuring Josh Tomlin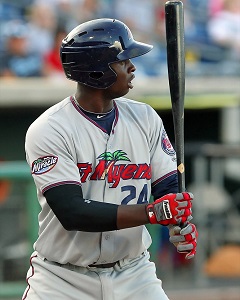 Spring Training Job Battles: An Early Look
Published February 21, 2014
Now that spring training is in full swing, Brian Pelowski looks around the league at jobs that are up for grabs. Can Miguel Sano become the Opening Day starter at third base in Minnesota?
2013 Stat Review for Josh Tomlin As compared to the top 100 relief pitchers in 2013 (min 55 in)
K/BB/HR Stats
A collection of stats that measure different skills.
Explain This
ERA/WHIP/FIP
A few general measures of a pitcher's effectiveness.
Explain This
BABIP/Strand
Balls in play avg. and % of runners left stranded.
Explain This
2014 Projected Stats Breakdown for Josh Tomlin
Overall Ratings
2014 projections compared to top pitchers in 2013.
Career Pitcher vs. Batter Stats (View All Matchup Data)
Worst Matchups for Josh Tomlin (by OPS against, min 6 AB)
Best Matchups for Josh Tomlin (by OPS against, min 6 AB)
RotoWire's Preseason Outlooks
2014
Subscribe now to see our 2014 outlook.
2012
Tomlin was surprisingly effective for the Indians after opening the season as the team's fifth starter, winning 12 games to go along with a 4.25 ERA and a sparkling 1.077 WHIP thanks to a league-leading 1.14 BB/9IP. His excellent control helped him survive a low strikeout rate (4.84 K/9IP) and his long-ball tendencies (24 allowed in his 26 starts) are the only real blemishes. Tomlin experienced elbow soreness that cut his season short in September, but is expected to be ready for the start of spring training. He'll start the season as the team's No. 3 or No. 4 starter, but it will take a lot of things to break right if he's going to have a repeat performance.
2011
Tomlin made a dozen serviceable starts for the Indians after a midseason callup but continued to struggle with the long ball, allowing 10 homers in just 73 innings. It's been an issue in his minor league career as well, and his low strikeout rate (5.3 K/9IP) means a lot of balls are being put in play against him. He'll battle for a rotation spot again this spring.