Recent RotoWire Articles Featuring Dylan Bundy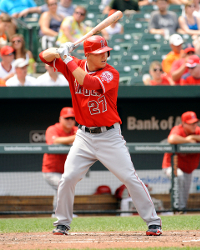 MLB Draft Kit: Tackling the NFBC Main Event
Published February 2, 2014
RotoWire's Scott Jenstad finished third overall in the NFBC Main Event last year and has had many cashes overall. One tip is that Mike Trout is the exception and not the rule to rookie production.
2014 Projected Stats Breakdown for Dylan Bundy
Overall Ratings
2014 projections compared to top pitchers in 2013.
Career Pitcher vs. Batter Stats (View All Matchup Data)
Worst Matchups for Dylan Bundy (by OPS against, min 0 AB)
Best Matchups for Dylan Bundy (by OPS against, min 0 AB)
RotoWire's Preseason Outlooks
2014
Subscribe now to see our 2014 outlook.
2013
Bundy should start the season as the top prospect on most boards after a season in which he made it all the way to the Orioles as a 19-year-old. Working on a 125-inning limit for the season, Bundy rifled off 30 scoreless innings to start the year at Low-A before advancing to Double-A in time to make a few appearances. The Orioles emptied the bullpen in marathon extra-inning games down the stretch and promoted Bundy, who made two September appearances. He throws three different fastballs, a curveball and a changeup. During his September callup, his fastball averaged 94 mph, his changeup registered at 86 mph, but he did not throw much in the way of the curveball. Look for Bundy to start the season in Double-A, while a late-season promotion is possible if he continues to breeze through the minors.
2012
Bundy is the newest addition to the organization as the No. 4 overall pick in the 2011 MLB draft. He won High School Player of the Year honors from Gatorade and Baseball America after going 11-0 with a 0.25 ERA and 158:5 K:BB over 71 innings for his Oklahoma team. He owns a high-90s fastball and a big curveball and is already one of the best pitching prospects in baseball. The Orioles give him a 40-man roster spot upon signing in August, so Bundy could move through the system quickly despite being a high school product.