Recent RotoWire Articles Featuring Jose Quintana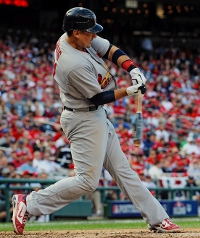 RotoWire Roundtable: Early March Top 350
Published March 5, 2014
The RotoWire rankings crew takes their first crack at their Consolidated Top 350 MLB Rankings. Allen Craig is among those with the widest disparity in his ranking.
2013 Stat Review for Jose Quintana As compared to the top 100 starting pitchers in 2013 (min 140 in)
K/BB/HR Stats
A collection of stats that measure different skills.
Explain This
ERA/WHIP/FIP
A few general measures of a pitcher's effectiveness.
Explain This
BABIP/Strand
Balls in play avg. and % of runners left stranded.
Explain This
2014 Projected Stats Breakdown for Jose Quintana
Overall Ratings
2014 projections compared to top pitchers in 2013.
Career Pitcher vs. Batter Stats (View All Matchup Data)
Worst Matchups for Jose Quintana (by OPS against, min 3 AB)
Best Matchups for Jose Quintana (by OPS against, min 3 AB)
RotoWire's Preseason Outlooks
2014
Subscribe now to see our 2014 outlook.
2013
The White Sox quietly stole Quintana away from the Yankees' organization in November, and he was in the White Sox's rotation by late May. He posted a 2.04 ERA over his first 10 appearances, but a failure to miss bats resulted in a .317 BAA and 5.32 ERA over his final 66 frames. He should have the inside track for a spot toward the back of the White Sox's rotation to open 2013, although his job security may lessen if John Danks returns healthy and Gavin Floyd remains in the organization.
2012
The White Sox added Quintana to their 40-man roster in November after he had spent five seasons in the Mets and Yankees organizations. He has a career 1.166 WHIP in 251.1 career minor league innings, which is more impressive when you consider he posted a 4.11 BB/9IP over that stretch. He possesses some deceptive secondary pitches, which could make him effective as a starter or left-handed specialist in the majors. He should start 2012 at Double-A Birmingham, with the potential to make the 25-man roster in 2013.