Recent RotoWire Articles Featuring Miguel Gonzalez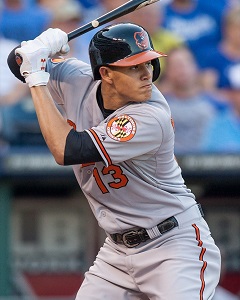 2013 Stat Review for Miguel Gonzalez As compared to the top 100 starting pitchers in 2013 (min 140 in)
K/BB/HR Stats
A collection of stats that measure different skills.
Explain This
ERA/WHIP/FIP
A few general measures of a pitcher's effectiveness.
Explain This
BABIP/Strand
Balls in play avg. and % of runners left stranded.
Explain This
2014 Projected Stats Breakdown for Miguel Gonzalez
Overall Ratings
2014 projections compared to top pitchers in 2013.
Career Pitcher vs. Batter Stats (View All Matchup Data)
Worst Matchups for Miguel Gonzalez (by OPS against, min 1 AB)
Best Matchups for Miguel Gonzalez (by OPS against, min 1 AB)
RotoWire's Preseason Outlooks
2014
Subscribe now to see our 2014 outlook.
2013
Perhaps no breakout story was as sweet as that of Gonzalez in 2012. The Orioles did not sign Gonzalez until early March and he did not appear in spring training. Gonzalez dominated Triple-A with a 5.3 K/BB ratio and a 0.72 WHIP in 44.2 innings. Gonzalez was promoted in late June and the 28-year-old rookie was Baltimore's most reliable pitcher in the second half. Gonzalez had Tommy John surgery in 2009 and threw harder than ever with his mid-90s fastball in 2012. He will have a leg up on the competition, but still needs to earn his rotation spot in spring training.