Recent RotoWire Articles Featuring Robbie Ross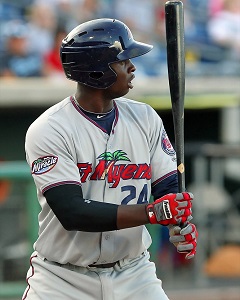 Spring Training Job Battles: An Early Look
Published February 21, 2014
Now that spring training is in full swing, Brian Pelowski looks around the league at jobs that are up for grabs. Can Miguel Sano become the Opening Day starter at third base in Minnesota?
2013 Stat Review for Robbie Ross As compared to the top 100 relief pitchers in 2013 (min 55 in)
K/BB/HR Stats
A collection of stats that measure different skills.
Explain This
ERA/WHIP/FIP
A few general measures of a pitcher's effectiveness.
Explain This
BABIP/Strand
Balls in play avg. and % of runners left stranded.
Explain This
2014 Projected Stats Breakdown for Robbie Ross
Overall Ratings
2014 projections compared to top pitchers in 2013.
Career Pitcher vs. Batter Stats (View All Matchup Data)
Worst Matchups for Robbie Ross (by OPS against, min 1 AB)
Best Matchups for Robbie Ross (by OPS against, min 1 AB)
RotoWire's Preseason Outlooks
2014
Subscribe now to see our 2014 outlook.
2013
Ross earned a spot in the Texas bullpen with a solid spring, proceeded to rack up four wins in his first seven appearances and then struggled as the season wore on. His post-break numbers (17.2 innings, 22 hits, 18:12 K:BB, 5.60 ERA) were impacted by a forearm injury that required a stint on the DL, but were also indicative of less-than-stellar peripherals catching up with him. A starter throughout his minor league career, Ross is expected to compete for a rotation spot this spring.