Recent RotoWire Articles Featuring Hyun-Jin Ryu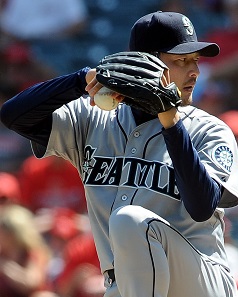 Collette Calls: The Great Divide
Published Today
Should owners consider using a larger share of their budget on pitching? Jason Collette examines the conversation about how to allocate draft day resources.
2013 Stat Review for Hyun-Jin Ryu As compared to the top 100 starting pitchers in 2013 (min 140 in)
K/BB/HR Stats
A collection of stats that measure different skills.
Explain This
ERA/WHIP/FIP
A few general measures of a pitcher's effectiveness.
Explain This
BABIP/Strand
Balls in play avg. and % of runners left stranded.
Explain This
2014 Projected Stats Breakdown for Hyun-Jin Ryu
Overall Ratings
2014 projections compared to top pitchers in 2013.
Los Angeles Dodgers Roster
Career Pitcher vs. Batter Stats (View All Matchup Data)
Worst Matchups for Hyun-Jin Ryu
Batter
Team

AB

H

HR

RBI

BB

K

SB

AVG

SLG

OPS

No matchup data available.
Best Matchups for Hyun-Jin Ryu
Batter
Team

AB

H

HR

RBI

BB

K

SB

AVG

SLG

OPS

No matchup data available.
RotoWire's Preseason Outlooks
2014
Subscribe now to see our 2014 outlook.
2013
Ryu has been regarded as one of the most dominant pitchers in Korea for the past six years. He was the 2006 MVP in the Korean Baseball Organization as a rookie, was the winning starting pitcher for the 2008 South Korean Olympic team in the gold medal game against Cuba and was a top starter for South Korea in the 2009 WBC. While he was just 9-9 last season for the Hanwha Eagles, he had a 2.66 ERA with 210 strikeouts and 46 walks in 182.2 innings. The stocky (6-foot-1, 220 pound) left-handed starter has a four-pitch arsenal with a fastball that sits at 88-91 mph, but will reach 94 mph. While several Korean players have become stars in the US, Ryu will be the first player to directly move from the KBO to MLB. As a result, it is hard to know how he will adapt to the changing environment, but he will get a chance to win a spot in a MLB rotation after the Dodgers paid a $25.7 million posting fee and then signed him to a six-year, $36 million contract in December.