2016-17 Fantasy Golf Outlook
Curran posted solid numbers during his rookie season, but his 2nd-season was even better. Curran's cuts-made percentage was 50% during his rookie season, but he upped that to nearly 67% in his second season. Oddly enough, he regressed in the top-10 and top-25 categories, yet he pocketed almost $1 million more in season two. The difference in earnings can be attributed to where he picked-up his lone runner-up finish. During his rookie season, his runner-up came at the Puerto Rico Open, while last year it came at the Memorial. Needless to say, the purse is significantly different between those two events. Curran is trending upward and may be able to keep this trajectory, but it feels a little risky at this point to take him in a salary cap format. In drafts he should go in the sixth or seventh round.
Loading Jon Curran's 2016-17 Golfer Outlook...
Recent RotoWire Articles Featuring Jon Curran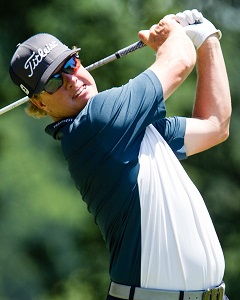 Published April 19, 2017
Charley Hoffman's bandwagon this week is quite full, but it's tough to argue against him given how he has played at TPC San Antonio in the past.