Jordan McRae Contract Information:
Signed a one-year, $111,196 contract with the Cavaliers in March of 2016. Cavaliers exercised $874,636 team option for 2016-17 season in June of 2016.
Recent RotoWire Articles Featuring Jordan McRae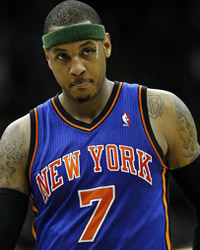 Published October 19, 2015
Carmelo Anthony is back from his knee injury, but RotoWire's Jeff Stotts warns that it's naive to think the Knicks' superstar will play all 82 regular season games.