This article is part of our The Armband series.
The holiday fixtures are over, but most teams remained in action over the last week through the FA Cup and Carabao Cup. The good news is that most of the top players were rested at some point, so everyone should be ready for Gameweek 22, though Tottenham may not feel the same having to host Chelsea and Manchester United in the matter of six days. It'd be wise to look somewhere other than that Sunday matchup for a captain, unless you think Harry Kane or Son Heung-Min finds the back of the net against a faulty back line. Son leaves for the Asian Games after this match, so this is the last time you can captain him for a few weeks.
I'd rather test my luck on teams with more favorable matchups like Chelsea (v. Newcastle) and Man City (v. Wolves), who are both at home, or even Arsenal (at West Ham) and Liverpool (at Brighton) playing away.
As usual, the only attacking player from Chelsea to consider for the armband is Eden Hazard. He's disappointed backers the last two gameweeks without a goal or assist, but he had five shots and seven chances created in that stretch. He isn't making the score sheet as regularly as earlier in the season, but he's still creating as many chances and getting as many looks on net. That will lead to production at some point, and it could come against Newcastle, who haven't held their own against top competition, losing a combined 6-0 to Liverpool and Man United in recent matches. If you don't want to trust Hazard again, a clean sheet is definitely possible for the Blues, with Marcos Alonso and Cesar Azpilicueta on the radar. If it's another scoreless draw, Alonso appears most likely to steal bonus points due to his attacking nature.
More fantasy bosses may be inclined to take a stab at Man City's roster and guess a goal scorer. Wolverhampton have played surprisingly well on the road, but have been all over the place from beating Tottenham and Liverpool (in the FA Cup) to losing 2-0 at home to Crystal Palace. City are back in form and are scoring more than three goals per match at the Etihad. Sergio Aguero is again the starting striker, with two goals and an assist in his last three starts, while Leroy Sane and Raheem Sterling appear to be the firm starters on the wings. Picking between those two is a mystery, though I'd give the slight nod to Sterling, who may be less popular given his recent performances, and he at least has 12 chances created in his last four starts. Kevin De Bruyne could return to the starting XI, but I'm not comfortable giving him the armband just yet.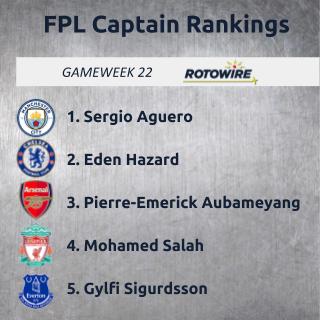 Arsenal have struggled to get points on the road, but they don't have problems scoring and West Ham have allowed multiple goals in their last three at home in league play. I'm not as confident in Pierre-Emerick Aubameyang playing away, but there's no denying his opportunities, as he has multiple shots on goal in his last four starts against teams not named Liverpool. In all, he has four goals on seven shots on target and four chances created in his last four starts. Of course, Arsenal are giving up loads of goals too, so it wouldn't be a bad idea to fade them and roll with Marko Arnautovic on the other side.
Arsenal may have the better matchup, but Liverpool have the better team and have scored 12 goals in their last four away matches not to the Etihad. The downside is that Brighton have played well at home, allowing a combined three goals to Chelsea, Arsenal and Everton in their last three. I still can't bring myself to fade Mohamed Salah, who has one goal and one assist in each of his last three starts not against Man City. Roberto Firmino may be back in the conversation for some, but I still don't feel comfortable with him on the road. I'd put Andrew Robertson and Trent Alexander-Arnold on the same level as Firmino since a clean sheet is almost as likely as Firmino finding the back of the net.
Everton may be the sneakiest of the differential plays, partly because they're struggling and partly because Bournemouth have allowed 15 goals in their last four matches in all competitions, including a 3-1 home loss to Brighton in the FA Cup. According to the numbers, Gylfi Sigurdsson is the better bet for the armband, with five shots on goal and seven chances created in his last five starts compared to three shots on goal and two chances created for Richarlison in his last five starts, though that doesn't include a goal off the bench.
Unfortunately, Cardiff and Huddersfield play each other, and unless you really like Callum Paterson, I'd avoid that matchup. Crystal Palace are slightly more enticing at home against Watford, but only slightly. Luka Milivojevic is always in the running for a penalty, but I prefer Patrick van Aanholt and Aaron Wan-Bissaka given that they've allowed one goal in their last four home matches and both are involved in the attack.
Jamie Vardy could be a popular option since Southampton have allowed 76 shots in their last five matches, the second-most in the Premier League over that span. Vardy is inconsistent and doesn't get a ton of opportunities, but he's made the score sheet in five of his last seven appearances. He's at least easier to trust than anyone from Burnley in their favorable match against Fulham. Still, Ashley Barnes is in the conversation with two goals on eight shots on target and one assist on five chances created in his last four starts. If you want to get crazy, teammate Chris Wood is in the same mold and has scored in their last two.