CSKA at Crvena Zvezda
Date: 2/21
Time: 7:00 pm CET
Game Preview
Two of the top offenses in the EuroLeague square off in a marquee Round 25 matchup as CSKA heads to Serbia to take on Crvena Zvezda.
CSKA is piloted by Mike James, who has averaged 21.0 ppg in his first season in Russia and has led the team to a 16-8 record. He's aided by a deep rotation that includes six other players who average more than 7.0 points per contest. Headlining this group is sharpshooting Darrun Hilliard, who generates 10.0 points, 2.2 rebounds and 2.0 threes per contest. Kyle Hines is the focal point of the CSKA frontcourt and has offered a flexible line of 8.6 points, 4.7 rebounds, 1.3 assists and 0.9 blocks per game thus far.
The hosts, Red Star, sit at 10-14 overall but have dropped five of their past six contests. Lorenzo Brown heads the how for the Serbian team, though he's struggled so far in February, managing just six total points over the first two games of the month. Amidst his struggles, Kevin Punter has emerged as the top offensive option for Crvena Zvezda, having eclipsed 20 points in three of the past five Rounds and recording double digits in seven of the past eight. Vladimir Stimac has been a top contributor since joining Red Star prior to Round 15, averaing 11.8 points and 5.7 rebounds across nine games.
While Red Star is sure to put up an admirable fight, they struggled against CSKA last time these teams met, losing 100-74 in Round 14. They'll look to their recently-acquired players, as well as the support of the home crowd, to help in their quest for revenge.
Injuries
CSKA Moscow
Will Clyburn - OUT - Knee
1/24 10:15 PM IST - Clyburn's recovery from a torn ACL is going as planned, according to CSKA's official Twitter account. The tram did not provide any other details regarding Clyburn's status, but it appears he has avoided any setbacks up to this point. He is still expected to miss the entire season but could be ready for Round 1 when the next campaign begins.
Mikhail Kulagin - OUT - Thigh
2/18 9:48 PM IST - CSKA Moscow ruled Kulagin out indefinitely after he recently suffered a right thigh injury, Eurohoops.net reports. Kulagin was scheduled to join the Russian national team Tuesday for EuroBasket competition, but the injury will thwart those plans. The 25-year-old will be unable to resume training for the foreseeable future, but his absence shouldn't have much of an impact for the Russian club. He's appeared in just one EuroLeague contest this season.
Andrey Vorontsevich - OUT - Ankle
2/21 3:16 AM IST - Vorontsevich (ankle) will not play Friday against Red Star, according to CSKA's official website. A two-week break between EuroLeague games was not enough for Vorontsevich to return to action in Round 25. He will have a week to rest and recover before CSKA's Round 26 matchup with Barcelona.
Crvena Zvezda mts Belgrade
Derrick Brown - OUT - Coach's Decision
12/26 8:14 AM IST - Brown is no longer part of Crvenza Zvezda's EuroLeague roster, according to euroleague.net. The team has not announced anything in regards to Brown's status, according to Mozzart Sport, but with him being replaced on the roster by Kevin Punter, he will not see action in Round 16 and may not play for Crvenza Zvezda again.
Ognjen Dobric - OUT - Finger
2/20 7:58 PM IST - Dobric is expected to miss at least the next four weeks due to a finger injury, Eurohoops.net reports. The shooting guard has filled a minor role in Crvena Zvezda's rotation this season, averaging 5.1 points and 1.7 rebounds in 13.5 minutes per game during EuroLeague. Based on the timeline laid out for his recovery from the injury, Dobric projects to miss at least six EuroLeague matches.
Kalin Lucas - GTD - Not Injury Related
2/14 7:31 PM IST - Lucas has agreed to terms with Crvena Zvezda, Emiliano Carchia of Sportando reports. Lucas averaged 21.6 ppg at his las stop, with Grand Rapids of the G League, so he will have a chance to be an impact player for his new squad the rest of the way. It remains to be seen if he will take the court in Round 25.
CSKA Moscow Probable Starters
G - Mike James
G - Howard Sant-Roos
F - Nikita Kurbanov
F - Johannes Voigtmann
C - Kyle Hines
Crvena Zvezda mts Belgrade Probable Starters
G - Lorenzo Brown
G - Billy Baron
F - Branko Lazic
F - Borisa Simanic
C - Michael Ojo
Top Picks
Mike James, CSK - Currently third in the league in scoring, James has been a consistent offensive force all year. In his first year with CSKA the 29-year-old is contributing 21.0 points, 4.3 assists, 3.4 rebounds and 2.8 threes per game.
Lorenzo Brown, RED - While Brown has struggled of late, on the whole, he's been Crvena's best player this year. He boasts overall averages of 12.8 points, 4.7 assists, 3.5 rebounds and 1.2 steals per contest.
Kevin Punter, RED - Punter has been on fire since joining Crvena in Round 17. Since his acquisition, he's averaging a team-leading 16.4 points, 1.3 rebounds, 1.9 assists, and 2.0 threes per contest.
Vladimir Stimac, RED - Now Red Star's primary inside presence with Ognjen Kuzmic off the roster, Stimac has averaged 11.8 points and 5.7 rebounds since joining the club.
Captaincy Options
Dream 11 Team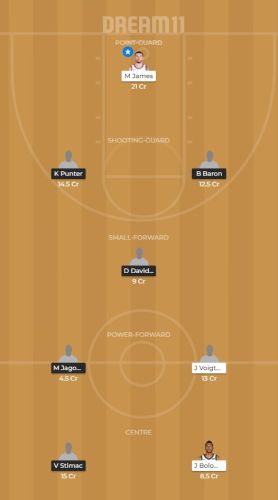 Grand League Combination
James, Punter, Stimac, Voigtmann
Small League Combination
James, Punter, Stimac, Baron
The author(s) of this article may play in daily fantasy contests including – but not limited to – games that they have provided recommendations or advice on in this article. In the course of playing in these games using their personal accounts, it's possible that they will use players in their lineups or other strategies that differ from the recommendations they have provided above. The recommendations in this article do not necessarily reflect the views of RotoWire.