This article is part of our NBA DFS Breakdown series.
Expected Score, Spreads and Efficiency

Thursday has the potential to be a fast-paced night in the NBA, as four of the six teams in action are top-11 in possessions per game. The only two teams outside of that group, the Nuggets and the Spurs, play each other. If there's one game to fade based on scoring upside alone, it's that one. Still, there are high usage players within that matchup that are interesting, and with only three games on the slate, it's hard not to end up with some piece of the pie. Two of the three games are expected to be close as well, which should keep things interesting. Even Golden State at LA is relatively close, as -8.5 in favor of the Warriors isn't exactly a blowout watch. Obviously the Warriors have tremendous upside, but as we saw in Game 2, staying engaged is a different story.
76ers at Nets
Stats through Game 2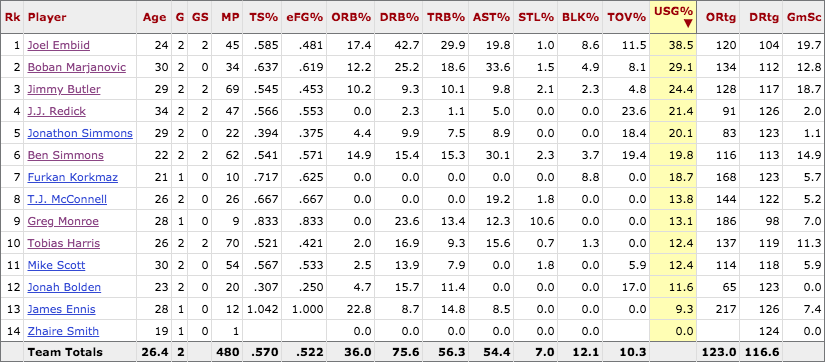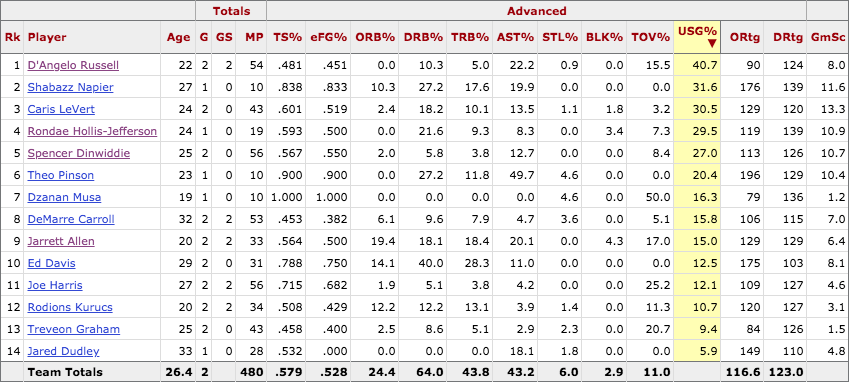 Ben Simmons' usage rate still hasn't quite recovered from Game 1's disappearing act, but I expect him to see plenty of ownership during Game 3 after his bounceback performance. Meanwhile, Joel Embiid's usage rate is sky high, and I can't imagine that changes for the remainder of the series given how little resistance Brooklyn's frontline offers. Jimmy Butler will be the other chalk option from Philly, as he's posting quality averages and a solid usage rate. If you're looking for a low-ownership option, Tobias Harris may be worth considering. He's played far below his potential, making just seven of 19 shot attempts.
D'Angelo Russell is the chalk play on Brooklyn, as he actually has a higher usage rate than Joel Embiid and has taken 11 more shot attempts than any other Nets player despite seeing the third-most minutes. If Game 3 stays competitive and he's playing during crunch time, Russell has a ton of upside. Caris LeVert and Spencer Dinwiddie should also see plenty of ownership given their usage rates. DeMarre Carroll interests me as a dart throw. He's played 53 minutes and has taken 17 shots attempts (10 of which are from three), making only five of them. If he can find a rhythm shooting the ball and continue his solid defense and rebounding, there's a good chance of him exceeding value in a big way.
Nuggets at Spurs
Stats through Game 2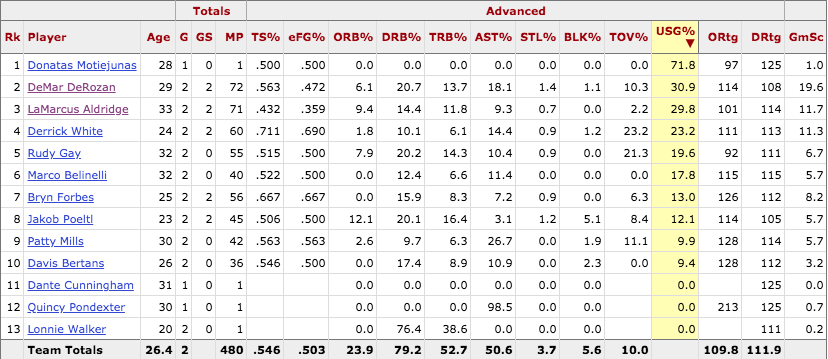 The Nuggets made a great comeback during Game 2, and it was fueled by Jamal Murray finally finding his shot. He was shooting so poorly before the end of Game 2 that he's still under 40 FG%. He'll be a popular target for Game 3, and it makes sense given his team-leading usage rate. In trying to find value on Denver, I think Will Barton is the way to go. He's just 7-of-25 from the field, but he has the second-highest usage on the team and plays an important role as a ballhandler. We can hope that coach Michael Malone has the same type of confidence in Barton as he does in Murray to turn things around.
For the Spurs, the usage rates of DeMar DeRozan and LaMarcus Aldridge stand out, and it makes sense given the lack of other All-Star-caliber talent on the roster. The two have each played 70-plus minutes and taken 35-plus shots in the series, and it's hard to imagine a scenario in which that rate decreases significantly. Derrick White represents a value option, though it's important to note he's been shooting 66.7 percent from the field, which is bound to come down. Rudy Gay interests me as a low-ownership play, but I have concerns that his minutes are too fluid with the likes of Marco Belinelli and Davis Bertans.
Warriors at Clippers
The Clippers have no injuries to report.
Stats through Game 2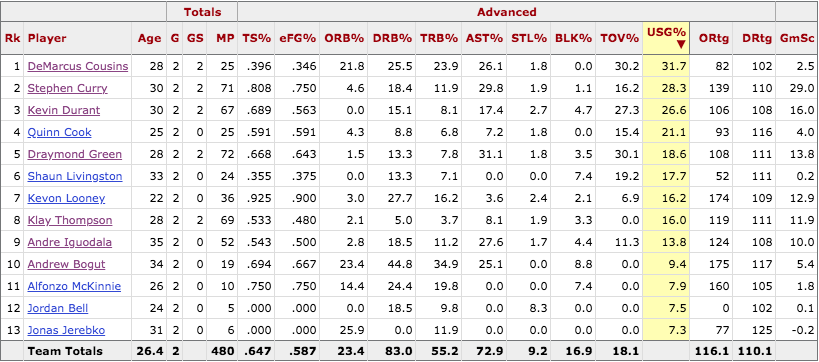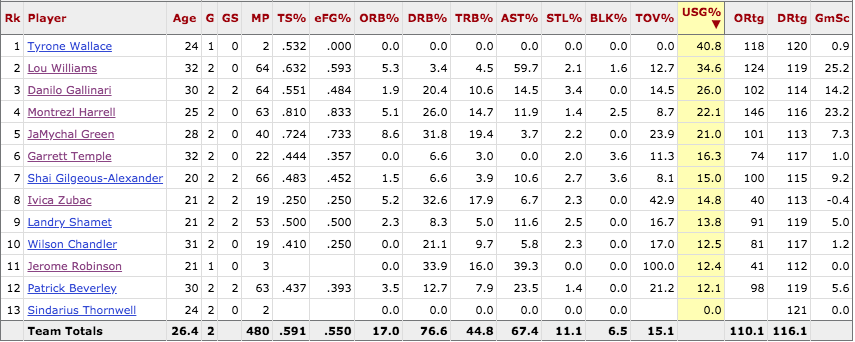 There will be plenty of buzz surrounding this game after the Warriors blew a historic 31-point lead in Game 2, and I think that will lead to high ownership rates. The biggest story for DFS users heading into Game 3 is: Who absorbs DeMarcus Cousins' available usage? Since the New Year, here's how things shook out in road games:

By this data, everyone's first reaction to jump to Draymond Green is misguided, and I can't stress how many people will be playing Green tonight. Is there a good chance he hits value? Absolutely. He puts up more fantasy points when Cousins doesn't play. Is roughly 2-3 more FP worth constructing an entire lineup around? No, not when Steph Curry is the one who sees an absurd bump in usage and performance. My belief is that a Curry/Kevon Looney or Andrew Bogut pairing has a higher value ceiling than a Green/Kevin Durant pairing. The Looney vs. Bogut decision isn't an easy one to make, but I'm not going to stress over it. In my opinion, it's a coin flip.
Lou Williams is the standout option for LA. He has the highest usage on the Clippers by a wide margin, and he's averaging 30.5 points and 10.0 assists. While his shooting might not be sustainable, he's going to keep firing. Danilo Gallinari and Montrezl Harrell are the other chalk options for the Clippers, though you might be able to snag Gallinari at an ownership discount because of his 38.7 percent shooting. Shai Gilgeous-Alexander (32.9 MPG), Landry Shamet (13 three-point attempts) and Patrick Beverley (workload and stat-sheet stuffer) are interesting value options, though my confidence level isn't particularly high in any of them.
The author(s) of this article may play in daily fantasy contests including – but not limited to – games that they have provided recommendations or advice on in this article. In the course of playing in these games using their personal accounts, it's possible that they will use players in their lineups or other strategies that differ from the recommendations they have provided above. The recommendations in this article do not necessarily reflect the views of RotoWire. Alex Barutha plays in daily fantasy contests using the following accounts: FanDuel Username: unclestosh99, DraftKings Username: Roto_Alex.