This article is part of our The Armband series.
Even with only one team on a double, Week 26 ended up being fairly easy in terms of finding a captain. No one guessed Real Salt Lake would score six at Colorado, but everyone else performed as expected, whether that was Bradley Wright-Phillips and the Red Bulls defenders or top forwards Josef Martinez and Sebastian Giovinco. Everyone we expected to do well did enough, and that's what the hope is every week.
But with another massive fixture list ahead, there will undoubtedly be some players who only start one match, in turn screwing over top armband choices. My goal is to avoid them all.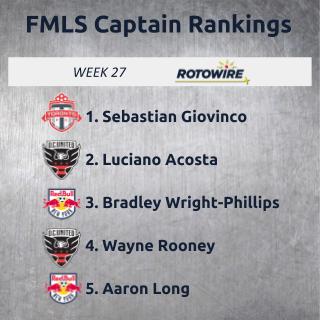 The biggest problem is that most of the teams with two matches are ones usually avoided for captaincy. Throw in that only one has two home matches (D.C.) and it makes it even more difficult. The Red Bulls (v. HOU, at MTL) will be a favorite again, but with another double, I'm not sure guys like Kaku or Wright-Phillips will start both matches. That said, just like last week you can wait until the last minute to decide with New York having the first match of the week. If Wright-Phillips is in the starting XI, he's a good bet to score well, with Aaron Long and Tim Parker close behind only because the Dynamo have lost five of their last six on the road and scored once in their last three. I'd have those three above Kaku or Daniel Royer, who are more likely to miss a match or be subbed early.
Portland (v. TOR, at NE) would be easier to trust if they hadn't been through a gauntlet the last few weeks. They've lost their last four, partly due to a schedule that included trips to D.C. and Kansas City on a short week. Getting Toronto at home is somewhat favorable, but another trip to the east coast to play New England is cruel. Diego Valeri would be a no-brainer in any other situation, but the last time he had a double, it was only disappointment with four total fantasy points.
More enticing will be D.C. United (v. PHI, v. ATL), the only team with two home matches. There's plenty of worry surrounding them because it's D.C. United and they've rarely been a good place to turn in fantasy. Of course, the addition of Wayne Rooney changed that, as they've won their last four at home by a combined 11-4 score line. The problem is that Philly and Atlanta are two of the hottest teams in MLS. The Union have won their last four overall, and three of their last four on the road. Atlanta have dropped only two points in their last five matches and Martinez had a hat trick (in Atlanta) when these teams met a month ago.
Rooney will be plenty popular, though his floor hasn't been great, scoring only five fantasy points in the last two matches, including one 2-0 win at home. I prefer Luciano Acosta because his floor has been better and his 43 fantasy points in the last four home matches are unmatched. Defensive options can be used, but not for captain purposes because clean sheets will be hard to come by for D.C.
I'm choosing to avoid most other teams on doubles, with Dallas (at SJ, v. HOU), Houston (at NYRB, at DAL), Philly (at D.C., at ORL) and San Jose (v. DAL, at VAN) all too hard to trust. Toronto (at POR, v. LAFC) is barely in the picture only because of Giovinco. The main question for Giovinco is if he'll start both matches, as the trip to Portland in the middle of the week isn't enticing. If he does, it'll be hard to go against a guy who has scored or assisted in his last nine appearances.
If you don't trust anyone with two matches, there are always the usual names with single games. Nicolas Lodeiro (v. SKC) is usually good for six or seven fantasy points in every home match, while Martinez is a guarantee to score and had a hat-trick the last time he faced D.C.