This article is part of our NBA DFS Breakdown series.
Raptors (3-2) at 76ers
Odds
Odds as accurate as 12:25 PM ET
Spread: TOR -2.0, opened -1.0
Money Line: -126, opened -115
Over/Under: 212.5, opened 213.0
The spread here is so close that we might as well move straight to the money line. The 76ers have an extremely small sample size of three games this season (including the playoffs) where they were not favored at home. Philly went 1-2 in those contests. On the other hand, Toronto was the favorite on the road in 29 games, and they won 20 of those matchups. So signs are pointing toward Toronto taking this game, but the small sample size for the 76ers' situation would make me hesitant to put money on it. And I'd have even less confidence betting the over/under. In terms of the o/u, Toronto is 23-21-1 as the road team, while Philly is 23-23 as the home squad. On the year as a whole, the Raptors' average +/- against the o/u line is -0.15, while the 76ers' is +0.78.
Stats through five games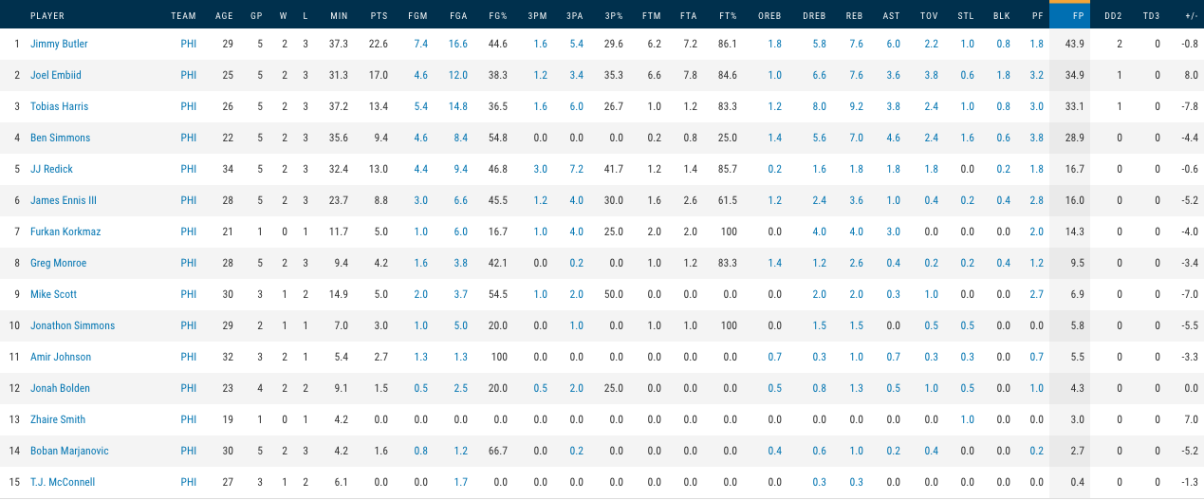 Analysis
There have been four clear contributors on both squads, with Kawhi Leonard and Jimmy Butler establishing themselves as the fantasy-point leaders of their respective squads. And only three players for each team – Leonard, Butler, Pascal Siakam, Joel Embiid, Kyle Lowry and Tobias Harris – are taking double-digit shot attempts. Those will be the chalk plays for Thursday out of this contest. DFS owners looking to be contrarian or take some risk for GPPs should consider Ben Simmons, who is underperforming relative to his regular-season numbers.
Nuggets (3-2) at Trail Blazers
Odds
Spread: POR -3.5, opened -3.5
Money Line: POR -160, opened -170
Over/Under: 215.5, opened 215.0
Both of these teams have done a good job covering the spread, with Denver 13-13 as underdogs on the road and Portland 22-17-1 as favorites at home. However, when considering outright winners, the script changes, especially for Denver. As road dogs, the Nuggets are 10-16, while the Blazers are 32-8, making Portland's money line an enticing bet. What's not an enticing bet is the over/under. On the road, the Nuggets are 20-25-1 in regards to the over/under, while the Blazers are 26-19-1. It's difficult to have confidence when one team is up and the other is down.
Stats through five games


Analysis
Nikola Jokic has been the star of this series, and he's nearly averaging a triple-double. Jamal Murray and Paul Millsap have been his right hand men, and Millsap especially is taking advantage of his size advantage against the Blazers' frontline. Unsurprisingly for Portland, Damian Lillard and C.J. McCollum are leading the charge, taking a combined 43.4 shots per game. Enes Kanter is next in line, but he can only do so much while nursing a separated shoulder. DFS owners looking for some risky value options should consider Gary Harris and Al-Farouq Aminu. They've both managed to contribute despite the former shooting 16.7 3P% and the latter shooting 17.6 3P%. If either, or both, of them find their shot from distance, they have upside of 30-to-35 fantasy points.
The author(s) of this article may play in daily fantasy contests including – but not limited to – games that they have provided recommendations or advice on in this article. In the course of playing in these games using their personal accounts, it's possible that they will use players in their lineups or other strategies that differ from the recommendations they have provided above. The recommendations in this article do not necessarily reflect the views of RotoWire. Alex Barutha plays in daily fantasy contests using the following accounts: FanDuel Username: unclestosh99, DraftKings Username: Roto_Alex.