This article is part of our NBA Roundtable series.
Welcome to another offseason edition of the RotoWire NBA Roundtable.
Each week, our NBA staff gets together to answer questions about the biggest topics of the week, both in fantasy basketball and the league overall.
This week, we look ahead to free agency, assess Zion Williamson's fantasy value, and much more.
Other than Zion Williamson and Ja Morant, which rookies will be on your fantasy radar come draft season?
Nick Whalen: With the direction the Knicks' free agency plans appear to be headed, I wouldn't be shocked if RJ Barrett finishes as a top-two fantasy rookie. It's tough to find value outside of the top three, but Darius Garland is another name to monitor, as is Brandon Clarke in Memphis.
Shannon McKeown: Depending on the Knicks' haul in free agency, RJ Barrett could be my top ranked rookie heading into fantasy draft season. He'll have an insanely high usage if the Knicks don't bring in any stars. Coby White could unseat Kris Dunn early, if not before the start of the season. Cleveland is apparently trying to mimic Portland's under-sized, defensively-challenged but offensively gifted backcourt with the pairing of Darius Garland and Colin Sexton. If they can play together, Garland could be a stud. In terms of some longshots, I'll probably target Jaxson Hayes, Brandon Clarke and PJ Williams, as they all could have a clearer path to big minutes than some other rookies.
James Anderson: Darius Garland is the guy I expect to have the most shares of. Most rookies suck, when factoring in efficiency, and this class will really drive that point home outside the top two plus Garland.
Alex Barutha: RJ Barrett, Darius Garland and Coby White. Barrett should have the reins in New York, Cleveland envisions Garland and Sexton playing together, and the Bulls hate Kris Dunn, so White should eventually see starter's minutes.
Ken Crites: I'm very interested to see how Coby White does in Chicago. I think the Bulls have given up on Kris Dunn. And White is not afraid to shoot the three – he took 6.6 per game at North Carolina.
Jeff Edgerton: I'm a big fan of Rui Hachimura. He'll have an opportunity to play on that roster right away. His skill set reminds me a lot of Giannis (Editor's note: a poor man's Giannis), and I think he'll be a sleeper ROY pick.
Alex Rikleen: It's too soon to tell, as I will need to know more about how free agency shakes out before I have a decent sense regarding which rookies' situations are most fantasy friendly. However, I can promise you this much: I won't be drafting any rookies inside the top-100. The top ADP rookies always get overhyped and over drafted, and very rarely deliver a fantasy profit.
Adam King: I'm excited to see what Michael Porter Jr can do one season removed from joining the Nuggets. His play at Summer League is certainly going to be something I watch very closely, along with what the Nuggets end up doing with Paul Millsap.
Given what we know about Zion Williamson, how early would you be comfortable taking him in early 2019-20 drafts?
Whalen: I tend to play things conservatively with rookies, so I'd wait until the latter part of the third round to pull the trigger. Williamson could obviously be a top-five fantasy asset down the road, but I think he'll face a steeper learning curve than most expect.
McKeown: Drafting today, I would want to land Williamson in the 50-60 range, which means I likely wouldn't own him. I expect Williamson to be a 4th-round pick, unless he has a monster showing at Summer League, which will vault him to late-2nd or 3rd-round range.
Anderson: I'm thinking of Zion as a fourth rounder. I expect him to be above average for his position in every category except threes and FT%.
Barutha: Somewhere in the third round. He'll probably get scooped up earlier than that in many drafts, however.
Crites: I'm always too late for hot rookies, but Williamson's steals/blocks potential make me feel good about a mid-2nd round pick.
Edgerton: I could see taking him somewhere in the third round in a 12-team league.
Rikleen: I am 100% convinced Zion will be a superstar. I would not be surprised if he makes the All-Star team as a rookie, and I will be surprised if he doesn't make All-NBA while still on his rookie contract. But LeBron James finished his rookie season ranked 47th in 9-cat. Kevin Durant finished his rookie season ranked 84th. Luka Doncic just finished 100th, or 56th in 8-cat. Even for the obvious superstars, it always takes a season or two before they join the fantasy elite. I won't take Zion inside the top-35, which means I won't be getting any shares of Zion.
King: A lot of this will depend on whether I am going with a punt build, as well as the format. In a recent mock draft, I went with Drummond and Zion in what will be a punt free throw build. Perhaps a bit of a reach but given the hype that is likely to follow him, I can see Zion going inside the top 25 in many drafts.
Who are the top five players on your personal fantasy draft board for next season?
Whalen: Giannis Antetokounmpo, James Harden, Stephen Curry, Karl-Anthony Towns, Anthony Davis
McKeown: James Harden, Giannis Antetokounmpo, Stephen Curry, Karl-Anthony Towns, Nikola Jokic, with Anthony Davis a very close No. 6.
Anderson: James Harden, Giannis Antetokounmpo, Karl-Anthony Towns, Nikola Jokic, Stephen Curry
Barutha: James Harden, Giannis Antetokounmpo, Anthony Davis, Stephen Curry, Nikola Jokic
Crites: James Harden, Giannis Antetokounmpo, Karl-Anthony Towns, Stephen Curry, Nikola Jokic
Edgerton: Giannis Antetokounmpo, James Harden, Anthony Davis, Stephen Curry, Karl-Anthony Towns and Joel Embiid (tie)
Rikleen: Giannis Antetokounmpo, Stephen Curry, James Harden, Anthony Davis, Karl-Anthony Towns
King: Anthony Davis, James Harden, Karl-Anthony Towns, Stephen Curry, Giannis Antetokounmpo
Predict where the following free agents will end up this summer: Kawhi Leonard, Jimmy Butler, Kemba Walker, D'Angelo Russell, Kevin Durant
Whalen:
Leonard: Clippers
Butler: 76ers
Walker: Celtics
Russell: Suns
Durant: Nets
McKeown:
Leonard: Raptors
Butler: Clippers
Walker: Hornets
Russell: Timberwolves
Durant: Nets
Anderson:
Kawhi: Raptors
Butler: 76ers
Walker: Hornets
Russell: Suns
Durant: Warriors
Barutha:
Leonard: Toronto
Butler: 76ers
Walker: Lakers
Russell: Suns
Durant: Nets (with Kyrie)
Crites:
Leonard: Raptors
Butler: Rockets
Kemba: Hornets
Russell: Pacers
Durant: Knicks
Edgerton:
Leonard: Clippers
Butler: Rockets
Walker: Celtics
Russell: Lakers
Durant: Warriors
Rikleen:
Leonard: Raptors
Butler: 76ers
Walker: Celtics
Russell: Pacers
Durant: Warriors
King:
Leonard: Clippers
Butler: 76ers
Walker: Hornets
Russell: Lakers
Durant: Nets
How, if at all, does Anthony Davis joining LeBron James in Los Angeles impact both players' fantasy values?
Whalen: If he stays healthy, James' value is virtually impenetrable, but Davis could face an adjustment period. Still, given the projected lack of primary options beyond the two stars, it's tough to imagine either player falling short of elite fantasy production.
McKeown: LeBron will LeBron. Davis, meanwhile, will see fewer shots. Davis will still be an absolute fantasy monster, but I would expect his scoring average to top out in the mid-20
Anderson: I don't think it impacts either player's value in a meaningful way.
Barutha: Very little. The rest of the team could end up so shallow that they'll still be extremely high-usage players. It's possible they become more efficient.
Crites: I am more worried about both players' health than I am about them sharing the ball. LeBron will be relieved to have a trusted option. But they key will be putting the right shooters around them.
Edgerton: I think this is a situation where they could complement each other quite well, but the Lakers will need to find a solution in their backcourt to balance the team out.
Rikleen: It doesn't. Their skill-sets are non-overlapping enough that I'm not moving either on my draft board due to this trade.
King: I don't think it impacts Davis much, if at all. His scoring could dip slightly but his efficiency could increase given the draw James will have on defenders. James finished last season outside the top 15 on a per game basis and while he should be better than that, he would still be a fringe-first-rounder for me.
The FanDuel Sportsbook put forth the following odds for 2019-20 NBA MVP. Do you like any of these as potential value bets?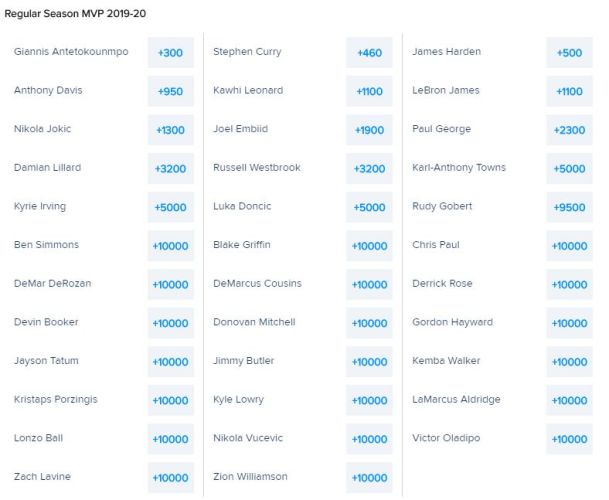 Whalen: Looking purely at value, LeBron at +1100 and Jokic at +1300 are solid bets. Towns is an interesting one, but for him to truly be in the mix the Timberwolves would probably have to win 50 games, and that's not happening.
McKeown: The Towns, Kyrie, and Mitchell odds have me salivating.
Anderson: Don't think I'd bet any of those. Giannis, Curry, Harden, AD and Kawhi are the only players I can picture winning.
Barutha: Stephen Curry (+460). Curry should see higher usage with Durant and Klay out for most of the year. Nikola Jokic (+1300) is one of the most unique players we've seen and made the All-NBA first team last season.
Crites: I'll take that action on Damian Lillard. The West is wide open. It's nice to see Jayson Tatum on the list, but he needs to shake off that sophomore slump.
Edgerton: I don't see how anyone could get past Giannis, Harden or Curry here but Embiid or Paul George are the darkhorse candidates that could come through.
Rikleen: The best values are Curry (+460) and Victor Oladipo (+10,000). With no Durant, no Klay Thompson for almost all of the season, and no real ability to bring in non-minimum players, the Warriors will become a full-time Curry show. If you could promise me he plays 70 games, I'd bet all the money I have on Curry for MVP. As for Oladipo, he could miss too much time to begin the year, but he's the clear leader of a team that could finish top-three in the East if Kawhi Leonard leaves the Raptors. He's a defensive powerhouse and a quality distributor. He isn't and shouldn't be a favorite, but he's the only heavy underdog who I could see making a serious challenge for the frontrunners.
King: It will likely be the usual suspects once again vying for the MVP award. If I had to take a bit of a flyer, I'd lean toward Kawhi or Towns. Kawhi will be dependent on how many games he plays, while Towns would need to drag the Timberwolves to the playoffs to have a real chance.