2023
Baseball Draft Assistant
Fantasy baseball software that will help you make all the right picks during your draft.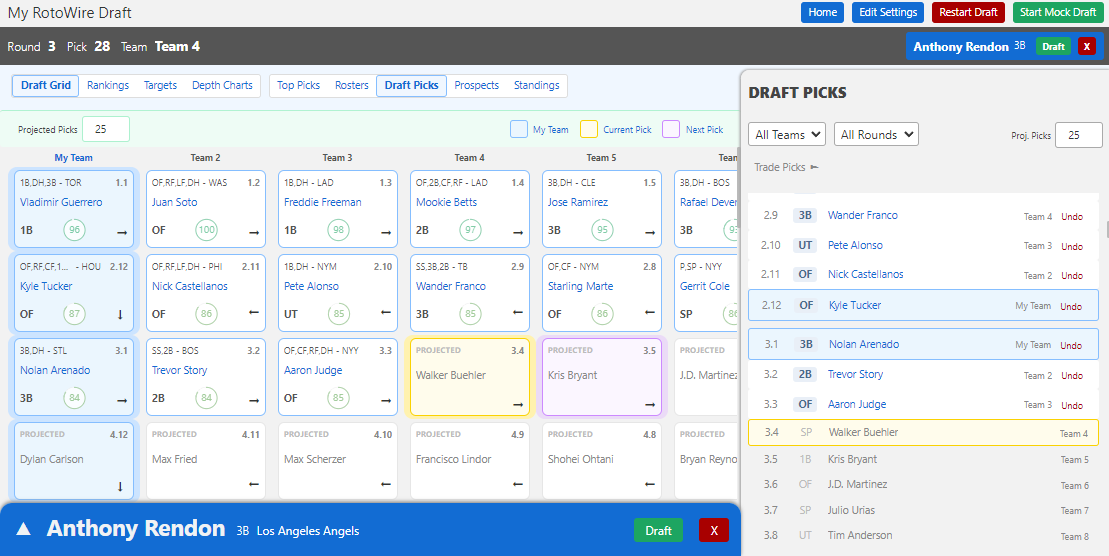 Custom Scoring
Choose your own scoring settings for rotisserie/points leagues.
Custom Auction Values
Use our software for your auction draft and customize the settings.
Custom Ranks/Values
View custom rankings or auction dollar values – with projections.
Track Every Pick
Track every pick during your draft and view all rosters.
Run Mock Drafts
Run your own mock drafts to hone in on your best possible draft strategy.
Project Future Picks
Look ahead in the draft to see who will most likely be picked before you are up to bat.
Project Scoring Category Targets
Take the guessing out of estimating the best, median, and worst category values for your stat categories in rotisserie leagues.
Edit Projections
Tweak our player projections for every stat category and instantly have your rankings updated.
Edit Draft Strategy
Weight your top picks according to our rankings, your category targets, positional availability, and positional scarcity to create your very own draft strategy.
Player News/Outlooks
Get the latest news and outlooks for every player in order to gain confidence in your drafting decisions.
Keeper League Tools
CAdd keepers to team rosters and even trade picks.
Connect to Live Draft Room (Yahoo, CBS, Fantrax, Ottoneu)
Connect our software to your live draft to automatically sync your draft picks in real time!