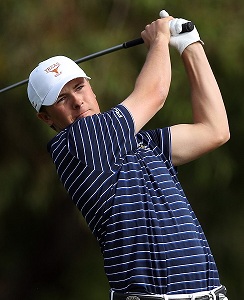 At RotoWire, we have staff writers dedicated to covering fantasy golf and we keep our information up-to-date throughout the year. It's our goal to make sure you have the advice and tools to win. Dive deep into our 2017-18 fantasy golf draft kit today and coast to victory.
Before you draft, read through our 2017–18 fantasy outlooks of nearly 200 golfers.
Check out this list of golfers who could surprise – and disappoint – this year in fantasy golf.
The top golfers ranked in order of their projected earnings for 2017–18. Check out our projected earnings now.
Check out our list of rookies to watch on the PGA Tour this season – with projected earnings.
Greg Vara highlights golfers who are likley to exceed last year's earnings.
Pete Gargano highlights international golfers who earned PGA Tour cards 2017–18.
Before you draft, check out Len Hochberg's tips and strategies for both snake and auction drafts.
Check out the golfers who earned PGA Tour cards thanks to their standout play on the Web.com Tour last season.
Len Hochberg walks you through the ins and outs of DFS golf, including stats to consider and more.
A simple way to view our top 100 golfer rankings for the 2017–18 fantasy golf season.
Latest Fantasy Golf Articles
RotoWire Fantasy Golf Columns
Here are the fantasy golf columns you can expect to read on regular basis throughout the season: