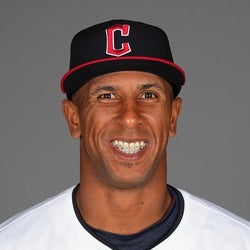 60-Day IL
Injury Elbow
Est. Return 2/1/2024
Rest-of-Season Projections
2023 Fantasy Outlook
There was no outlook written for Anthony Gose in 2023. Check out the latest news below for more on his current fantasy value.
$Signed a two-year, minor-league contract with the Guardians in December of 2022.

ANALYSIS
Gose was let go by the Guardians in mid-November but is now back with the team on a minor-league pact. He underwent Tommy John surgery in September and is set to miss the entirety of the 2023 campaign, hence the two-year contract.
Read More News
Pitching Stats
Loading Pitching Stats...
2022 MLB Game Log

Calculate Stats Over Time
Just click on any two dates.
Scoring
FanDuel
DraftKings
Yahoo DFS
Loading Pitching Game Log...
2021 MLB Game Log

Calculate Stats Over Time
Just click on any two dates.
Scoring
FanDuel
DraftKings
Yahoo DFS
Loading Pitching Game Log...
Minor League Game Log

Calculate Stats Over Time
Just click on any two dates.
Loading Minor League Pitching Game Log...
Left/Right Pitching Splits
BAA
K
BB
H
HR
Since 2021

vs Left

.171
14
3
6
2
Since 2021

vs Right

.175
23
13
11
2
2023

vs Left

0
0
0
0
0
2023

vs Right

0
0
0
0
0
2022

vs Left

.200
12
2
6
2
2022

vs Right

.196
16
12
9
2
2021

vs Left

.000
2
1
0
0
2021

vs Right

.118
7
1
2
0
More Splits

→

View More Split Stats
Home/Away Pitching Splits
ERA
WHIP
IP
K/9
BB/9
Since 2021

Home

3.77
1.33
14.1
16.3
6.3
Since 2021

Away

4.05
1.05
13.1
7.4
4.1
2023

Home

0
0
0
0
0
2023

Away

0
0
0
0
0
2022

Home

4.35
1.55
10.1
17.4
7.8
2022

Away

5.06
1.22
10.2
6.8
4.2
2021

Home

2.25
0.75
4.0
13.5
2.3
2021

Away

0.00
0.38
2.2
10.1
3.4
More Splits

→

View More Split Stats
Advanced Pitching Stats
Loading Advanced Pitching Stats...
Loading MLB Defensive Stats...
Our full team depth charts are reserved for RotoWire subscribers.
Subscribe Now
Recent RotoWire Articles Featuring Anthony Gose
See More
Past Fantasy Outlooks
2020
2018
2017
2016
2015
2014
2013
2012
2011
2010
A consensus top-70 prospect in baseball eight years ago as a dynamic outfielder, Gose transitioned to the mound in the spring of 2017. The 29-year-old lefty has bounced around a bit, never getting higher than Double-A, but he impressed in Indians camp this spring, touching 100 mph with his fastball, according to Eric Longenhagen of FanGraphs. He also has a plus curveball -- a big bender that completely buckles left-handed hitters. Gose gave up four runs and walked three in 5.2 Cactus League innings this spring, but he also showcased his upside by striking out nine over that stretch. He is not on the 40-man roster but has a chance to win a spot on the Opening Day roster during summer camp.
His transition to the mound got off to a rocky start, but the Astros saw enough from Gose to take him in December's Rule 5 draft. A converted outfielder, Gose was held back in extended spring training to begin 2017 in order to build up his arm strength. He made his professional debut as a pitcher on May 22 and lit up the radar gun with consistent high-90s fastball velocity (as high as 99 mph) while also flashing decent spin on his breaking pitch. Unfortunately, he lasted just over a month before landing on the shelf with an elbow injury. The results in his limited sample were ugly, but Gose struck out 14 in 10.2 innings with High-A Lakeland. The lefty will need to show he's healthy and pitch well enough in spring training to earn a roster spot out of camp or else Houston will have to offer Gose back to the Tigers.
Gose had a brutal 2016, hitting .209 for the Tigers in 91 at-bats with a whopping 37.6 percent strikeout rate. What's worse, he stole no bags after stealing 23 for the Tigers a year ago and was sent down to Triple-A Toledo. Things went even worse for Gose in Toledo, as he hit .185 with one home run and six steals over 206 at-bats, striking out 75 times. After failing to show up to a game in mid-July, Gose was suspended three games by the team and demoted to Double-A Erie. Sadly, Gose barely hit any better for Erie, slashing .224/.301/.365 in 173 at-bats, although he did swipe 11 bags. Once seen as an elite prospect who was a part of trades for Roy Oswalt, Brett Wallace, and Devon Travis, Gose has struggled mightily to make contact at the big league level and has lost some of the speed that once turned scouts' heads. He's headed in the wrong direction and will need a major turnaround to see another crack at the majors.
Gose has a few skills, and flashed them in 2015 as the Tigers gave him a full-time job. He is quite fast and has one of the strongest throwing arms in baseball; he isn't a complete hack at the plate, either. That said, there are a number of holes in his swing and his route running isn't the best. His overall numbers were brought down by over 200 plate appearances against lefties where he hit .202/.256/.269 and struck out 33 percent of the time. The Tigers brought in Cameron Maybin to presumably handle center field most days, but he is expected to miss the first week or two of the regular season with a wrist injury, so Gose should open the year as the starter. However, once Maybin is healthy, playing time may be tough for Gose to come by, which limits his value to deep leagues and AL-only formats.
Gose has earned big league paycheck in parts of three seasons because of his speed and defense, but he has been unable to solve big-league pitching. In 616 career plate appearances, he's struck out at a 27.6% clip. For a player with minimal pop (career .332 SLG), it's a less than ideal approach, but he walked at a career-high 9.1% rate last season. The Tigers acquired Gose for second base prospect Devon Travis in November, and his path to playing time in Detroit may be clear following the mid-summer trade of Austin Jackson and the departure of Torii Hunter in free agency. If the Tigers are content to benefit from his defense and bury him in the bottom third of their lineup, Gose may prove to be a great source of cheap steals in 2015. With a .329 OBP against right-handed pitching last season, Gose could end up on the larger side of a platoon in center field with Rajai Davis while hitting near the bottom of the potent Detroit batting order.
Gose possesses the kind of speed that scouts dream about, but he seems to have lost his way at the plate. While he posted a respectable .259 batting average in 153 plate appearances with the Blue Jays last season, Gose was the not-so-proud owner of a 3.3% walk rate and 24.2% strikeout rate. He didn't fare much better following a demotion to Triple-A Buffalo and didn't have any success upon rejoining the Blue Jays late in the season. Ultimately, 2014 may be a make-or-break year for the former top prospect, but he may be forced to open the season as a fourth outfielder if the Jays elect to place him on their Opening Day roster.
Gose became one of many prospects in the Blue Jays organization to make their debut when Jose Bautista went on the DL in mid-June. While his walk rate was solid (9.0 percent), he had trouble making contact, striking out in 31.2 percent of his at-bats. Gose is similar to teammate Rajai Davis, offering elite speed and little power, but the addition of Melky Cabrera may push Gose back to the minors for the start of the season depending on the other moves the Jays make before the start of the season.
Gose is slowly, but steadily, turning his vast athletic skills into something usable on a baseball field. He escaped the pitcher-friendly Florida State League and had a breakout season at Double-A New Hampshire with 16 homers and 70 stolen bases to go along with 62 walks in 587 plate appearances. He still strikes out way too often (154 times last year) but he's slowly developing a better approach at the plate and it's beginning to bear fruit. He's light years ahead of where he was at this time a year ago and figures to take another step forward in 2012.
Gose came to the Toronto organization in a midseason trade for Brett Wallace last year, and while he's still more athlete than ballplayer at this point he has plenty of time to develop. He showed better, albeit still limited, power in the pitcher-friendly Florida State League, notching seven homers between High-A Clearwater and High-A Dunedin. He's got plus speed but is still learning how to steal bases and really needs to learn how to control the strike zone, walking just 45 times against 132 strikeouts. The fact that he held his own in the Florida State League with that batting eye as a 19-year-old bodes well if he can turn his athletic skills into baseball skills.
The Phillies drafted Gose out of high school in the second round of the 2008 draft. Gose has outstanding speed as his 76 stolen bases last season suggest but he also is relying on his raw talent as he was caught stealing 20 times, suggesting he can do some work on getting reads off the pitcher. At the plate, Gose strikes out too much and doesn't walk enough. He'll need to improve in both areas has time given he is only 19-years-old.
More Fantasy News