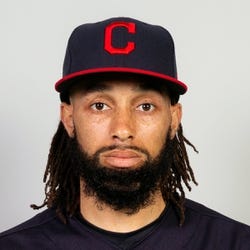 Rest-of-Season Projections
2023 Fantasy Outlook
If you're playing in a very deep league where you're desperate for steals and Hamilton has just earned a call-up, he's not a bad option for a temporary boost. For anyone else, it's likely not worth your time even reading to the end of this paragraph. When he plays, he's going to run, as seen from the fact that he stole 10 bases while coming to the plate just 23 times last season. But there's no reason to draft a player for whom 23 plate appearances is a reasonable projection, and there's no reason to alter that projection by much. Across the last four seasons, Hamilton has hit just .206/.263/.289 with three homers. He struck out 12 times last season while grabbing just one hit at the big-league level, and he hit a miserable .188/.264/.229 across 25 Triple-A contests. He's a true specialist in the Terrance Gore mold at this point in his career and, like Gore, may not even crack a big-league roster until rosters expand in September.
Read Past Outlooks
$Signed a minor-league contract with the Rays in August of 2023.

ANALYSIS
Hamilton was cut loose by the White Sox a week ago, but a right shoulder injury has kept him out of action in Triple-A since July 7. When healthy, the 32-year-old outfielder hasn't been very impressive with a .147/.261/.253 slash line across 89 plate appearances. Hamilton will be an option to fill a pinch-running role down the stretch.
Read More News
Batting Stats
2023
2022
2021
2020
2019
2018
2017
2023 MLB Game Log

Calculate Stats Over Time
Just click on any two dates.
Scoring
FanDuel
DraftKings
Yahoo DFS
Loading Batting Game Log...
2022 MLB Game Log

Calculate Stats Over Time
Just click on any two dates.
Scoring
FanDuel
DraftKings
Yahoo DFS
Loading Batting Game Log...
2021 MLB Game Log

Calculate Stats Over Time
Just click on any two dates.
Scoring
FanDuel
DraftKings
Yahoo DFS
Loading Batting Game Log...
2020 MLB Game Log

Calculate Stats Over Time
Just click on any two dates.
Scoring
FanDuel
DraftKings
Yahoo DFS
Loading Batting Game Log...
2019 MLB Game Log

Calculate Stats Over Time
Just click on any two dates.
Scoring
FanDuel
DraftKings
Yahoo DFS
Loading Batting Game Log...
2018 MLB Game Log

Calculate Stats Over Time
Just click on any two dates.
Scoring
FanDuel
DraftKings
Yahoo DFS
Loading Batting Game Log...
2017 MLB Game Log

Calculate Stats Over Time
Just click on any two dates.
Scoring
FanDuel
DraftKings
Yahoo DFS
Loading Batting Game Log...
Minor League Game Log

Calculate Stats Over Time
Just click on any two dates.
Loading Minor League Batting Game Log...
Left/Right Batting Splits
OPS
PA
HR
RBI
AVG
Since 2021

vs Left

.666
61
2
5
.196
Since 2021

vs Right

.485
99
0
6
.194
2023

vs Left

.000
0
0
0
.000
2023

vs Right

.000
2
0
0
.000
2022

vs Left

.111
10
0
0
.000
2022

vs Right

.237
13
0
0
.083
2021

vs Left

.760
51
2
5
.229
2021

vs Right

.536
84
0
6
.215
More Splits

→

View More Split Stats
Home/Away Batting Splits
OPS
PA
HR
RBI
AVG
Since 2021

Home

.576
71
2
6
.194
Since 2021

Away

.535
89
0
5
.195
2023

Home

.000
2
0
0
.000
2023

Away

0
0
0
0
0
2022

Home

.393
8
0
0
.143
2022

Away

.071
15
0
0
.000
2021

Home

.617
61
2
6
.207
2021

Away

.623
74
0
5
.232
More Splits

→

View More Split Stats
Stat Review
How does Billy Hamilton compare to other hitters?
This section compares his stats with all batting seasons from the previous three seasons (minimum 400 plate appearances)*. The bar represents the player's percentile rank. For example, if the bar is halfway across, then the player falls into the 50th percentile for that stat and it would be considered average.
* Exit Velocity and Barrels/PA % are benchmarked against 2019 data (min 400 PA) and Hard Hit Rate is benchmarked against last season's data (min 400 PA).
See here for more exit velocity/barrels stats
plus an explanation of current limitations with that data set.
BB/K

Walk to strikeout ratio

BB Rate

The percentage of plate appearances resulting in a walk.

K Rate

The percentage of plate appearances resulting in a strikeout.

BABIP

Batting average on balls in play. Measures how many of a batter's balls in play go for hits.

ISO

Isolated Power. Slugging percentage minus batting average. A computation used to measure a batter's raw power.

AVG

Batting average. Hits divided by at bats.

OBP

On Base Percentage. A measure of how often a batters reaches base. Roughly equal to number of times on base divided by plate appearances.

SLG

Slugging Percentage. A measure of the batting productivity of a hitter. It is calculated as total bases divided by at bats.

OPS

On base plus slugging. THe sum of a batter's on-base percentage and slugging percentage.

wOBA

Weighted on-base average. Measures a player's overall offensive contributions per plate appearance. wOBA combines all the different aspects of hitting into one metric, weighting each of them in proportion to their actual run value.

Exit Velocity

The speed of the baseball as it comes off the bat, immediately after a batter makes contact.

Hard Hit Rate

A measure of contact quality from Sports Info Solutions. This stat explains what percentage of batted balls were hit hard vs. medium or soft.

Barrels/PA

The percentage of plate appearances where a batter had a batted ball classified as a Barrel. A Barrel is a batted ball with similar exit velocity and launch angle to past ones that led to a minimum .500 batting average and 1.500 slugging percentage.

Expected BA

Expected Batting Average.

Expected SLG

Expected Slugging Percentage.

Sprint Speed

The speed of a runner from home to first, in feet per second.

Ground Ball %

The percentage of balls put in play that are on the ground.

Line Drive %

The percentage of balls put in play that are line drives.

Fly Ball %

The percentage of balls put in play that are fly balls.
Advanced Batting Stats
Loading Advanced Batting Stats...
Games By Position
Defensive Stats
Loading Games Played by Position...
Loading MLB Defensive Stats...
Batted Ball Stats
Loading Batted Ball Stats...
Stats Vs Upcoming Pitchers
Our full team depth charts are reserved for RotoWire subscribers.
Subscribe Now
Recent RotoWire Articles Featuring Billy Hamilton
See More
Past Fantasy Outlooks
2021
2020
2019
2018
2017
2016
2015
2014
2013
2012
2011
Billy Hamilton. His name in Billy Hamilton. And there is a million things he hasn't done, but just you wait, just you wait. Actually, don't wait because the most important thing he hasn't done is hit. Hamilton's offensive game has been in decline for some time, but 2020 was the bottom of the barrel as he posted a 3 wRC+ with a .125/.171/.219 slash line. His entire season was essentially the final game of the season when he walked, stole two bases and hit a home run, winning someone some DFS cash that day. Otherwise, he is the emptiest of steals who will hang around as a defensive replacement and pinch-running specialist. He's closer to Terrance Gore than Jarrod Dyson or Rajai Davis, and is only rosterable in the deepest of single-league formats which utilize a bench. You must have the surplus on your roster to carry this anemic bat.
Unsurprisingly, Hamilton struggled to hit for average throughout the 2019 campaign, and his stolen base total took a hit as a result. He slashed .218/.289/.275 with 15 RBI and 22 stolen bases, splitting time with the Royals and Braves. Kansas City DFA'd Hamilton in mid-August, and he managed to improve at the dish over his last 26 games of the season after being scooped up by Atlanta, hitting .268 with four stolen bases. Strikeouts continue to be a concern for the speedster, as he ended the year with a 24.6 K%. His 50 wRC+ was also the worst of his seven-year big-league career. Hamilton is a talented athlete, but it's been a struggle for teams to keep his bat in the lineup, even with his unmatched speed on the basepaths. He's likely headed for a bench role in 2020.
Last season was a poor one on the whole for pure stolen-base artists, highlighted by disappointing seasons from Hamilton and Dee Gordon. When you pay full price for someone like Hamilton, you need him to get 50-plus steals to be worth the cost, as he's already going to cost you standings points in homers and RBI, and likely won't help you in batting average. When he hits just .236 and steals 34 bags, it's an unmitigated disaster for your team. Hamilton dropped to the bottom of the order early in the season and ended up there for 111 games, as opposed to just 31 games in the leadoff spot. After being non-tendered by the Reds, Hamilton signed with the Royals -- a perfect destination for someone who otherwise might have been ticketed for a bench role. He should have regular playing time and the green light to run. While there's little reason to think he will suddenly start hitting, he could find himself leading off with Ned Yost pulling the strings.
Last year Hamilton gave back most of the small gains he made at the plate in 2016. After hitting .260 in 2016, that mark dropped back to .247 in 2017, his walk rate dropped from 7.8 percent to 7.0 percent, and he slugged a mere .335, down from .345 the previous year. He still is a major contributor in stolen bases, notching 59 last season while spending all but four games in the leadoff spot. With Jesse Winker knocking on the door, there's a chance that the Reds might start playing Hamilton less frequently, moving him down in the order or maybe even trading him to another organization. Should any of these options come into play, his stolen-base opportunities will decline, stripping Hamilton of his one true offensive contribution. If you draft Hamilton, you may not get the full complement of bags that you expected, all while getting substandard production in the other four categories.
Hamilton pushed his OBP to a career-best .321 last season -- a 47-point jump from 2015 -- and that improvement was fueled by his second straight season with an increased walk rate (7.8 percent). He also maintained his improved efficiency as a basestealer, going 58-for-66 on the heels of his 57-for-65 mark in 2015. Finally, Hamilton hit the ball on the ground more frequently last season (47.7 percent groundball rate), which allowed him to use his speed to push his batting average to a career-high .260. Health is a major issue for Hamilton, as he returned from offseason shoulder surgery to begin 2016, and proceeded to lose time due to a concussion, thumb contusion, minor knee injury and an oblique injury that eventually shut him down for good. Hamilton declared himself to be healthy in December, and the skills growth he showed last season points to a potential spike in the stolen-base department if he can avoid the injury bug.
Hamilton improved on the basepaths but regressed at the plate in 2015, and it's that latter quality that has us worried about his long-term prospects. But first, the good news: he was 57-for-65 in stolen base attempts in 114 games after getting caught 23 times in 2014. Those gains were canceled out by his performance at the plate, as his ISO dropped to a paltry .063 in 2015, giving opposing pitchers little reason to avoid challenging him in the strike zone. Thus, it's going to be extraordinarily difficult for him to raise his walk rate above 10 percent and make him an acceptable leadoff hitter. He spent more time batting ninth (226 plate appearances) than leading off (208) in 2015, and that's unlikely to change in the future. His season ended early with a shoulder injury, and that same injury has kept him out of spring games early in camp, so his status for Opening Day is in question.
If the season ended on August 31, Hamilton's rookie season would have been a rousing success. He hit for more power than expected and was hitting .267/.302/.382 with 54 stolen bases. But he collapsed in September, hitting just .123 with 19 strikeouts in 65 at-bats and had just two more stolen bases before missing the final four games with a concussion. He fell short of his projected stolen base total in part because of that September slump, but also because he was caught a whopping 23 times on the season (seven of those coming on pickoffs). As he plays more at the major league level, his success rate should improve as he learns how to read opposing pitchers better, but he also has to get on base more frequently, having walked a mere 34 times in 611 plate appearances in 2014. While we don't ever expect him to be Tim Raines, we do suspect there will be some improvement in 2015, both in his ability to get on base and being able to run more without getting caught.
True speed demons like Hamilton have among the biggest fantasy swing potentials among all players. Is he going to be like Vince Coleman and dominate a category, or is he going to be more like Dee Gordon and lose playing time and struggle to keep a major league job? Much of Hamilton's value rests in the format of your league. If you play in the NFBC or any other no-trade league, Hamilton is especially tricky to value. A full season of him in the lineup gets you half of the way there in the stolen-base category, if not more. But if you draft him, chances are you are avoiding other elite stolen base guys, as a surplus in the category gets you nowhere, plus you have to draft power-heavy hitters to make up for Hamilton's shortfall there. If Hamilton scuffles and subsequently gets demoted, your team goes from likely winning the category to falling to the back of the pack. Hamilton struck out nearly 20 percent of the time at Triple-A without being a power threat (.343 slugging percentage) - there's a good chance that strikeout rate hits 25 percent or higher at the major league level, which will make it difficult for him to hit for a decent batting average. Be very cautious with Hamilton - the burn potential is high.
After Hamilton set the minor league single-season record for stolen bases in 2012, the Reds resisted the urge to call him up for the September stretch run, instead preserving their ability to keep him off the 40-man roster for another offseason. And in fairness, Hamilton probably isn't ready to face major league pitching, nor was there a place for him to play. Those things might change by midseason 2013, especially if the Reds don't reach outside the organization to find a leadoff hitter. Hamilton did more than steal bases last year - he also learned to master the strike zone, improving his walk rate as he climbed the organizational ladder. He still has no palpable power, so that ability to get on-base will need to translate at Triple-A and then the majors to allow him to cash in on his world-class speed. He played center field in the Arizona Fall League, so that could be his ultimate position once he hits the majors, especially if the Reds are locked in on Zack Cozart at shortstop.
Two numbers stand out when looking at Hamilton's 2011 stats: 103 and 39. That's 103 stolen bases (in 123 attempts) and 39 errors. Hamilton stayed at shortstop all season after playing much of 2010 at second base, so growing pains had to be expected. But while Hamilton has great range, he hasn't received good marks for his arm or his hands, so he might not stick at shortstop. He's a very raw prospect, so even with an organizational problem at shortstop, Hamilton is not a candidate for a quick promotion. However, it's worth noting that he really came on strong at Low-A Dayton after hitting .195 through May - he just needs plenty of time at each level to develop.
Hamilton was drafted out of a Mississippi high school in the second round of the 2009 draft and started to hit his stride last year in the Pioneer League, where he hit .318/.383/.456 with a whopping 48 stolen bases in 69 games. So far he hasn't hit for power, and this production came at a pretty low level, but Hamilton's raw tools should put him on your long-term radar.
More Fantasy News