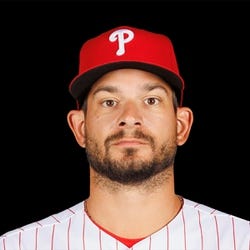 Rest-of-Season Projections
2023 Fantasy Outlook
Hand, coming off a 45-inning, 2.80-ERA campaign with the Phillies, signed a deal with Colorado late in the spring. His strikeout rate has plummeted since his days as a top closer (7.6 K/9 last season) but his veteran experience has kept him in high-leverage roles. He's relied on a combination of his fastball and slider for the last several seasons and may add a new cutter to the mix this season. The Rockies don't project to win many games, but the left-hander could have some opportunities for holds and/or saves. He may be the proven veteran option should Daniel Bard falter.
Read Past Outlooks
$Signed a one-year, $2 million contract with the Rockies in March of 2023. Traded to Atlanta in August of 2023. Atlanta declined $7 million team option for 2024 in November of 2023.

Atlanta
declined
their half of Hand's $7 million mutual option for 2024 on Sunday.
ANALYSIS
Hand posted a 7.50 ERA in 20 appearances after being acquired from Colorado at the trade deadline, so paying the $500,000 buyout was a no-brainer for Atlanta. The 33-year-old lefty also had a 4.54 ERA over 35.2 innings for the Rockies, with his combined 5.53 ERA being the worst of his MLB career.
Read More News
Pitching Stats
Loading Pitching Stats...
2023
2022
2021
2020
2019
2018
2017
2023 MLB Game Log

Calculate Stats Over Time
Just click on any two dates.
Scoring
FanDuel
DraftKings
Yahoo DFS
Loading Pitching Game Log...
2022 MLB Game Log

Calculate Stats Over Time
Just click on any two dates.
Scoring
FanDuel
DraftKings
Yahoo DFS
Loading Pitching Game Log...
2021 MLB Game Log

Calculate Stats Over Time
Just click on any two dates.
Scoring
FanDuel
DraftKings
Yahoo DFS
Loading Pitching Game Log...
2020 MLB Game Log

Calculate Stats Over Time
Just click on any two dates.
Scoring
FanDuel
DraftKings
Yahoo DFS
Loading Pitching Game Log...
2019 MLB Game Log

Calculate Stats Over Time
Just click on any two dates.
Scoring
FanDuel
DraftKings
Yahoo DFS
Loading Pitching Game Log...
2018 MLB Game Log

Calculate Stats Over Time
Just click on any two dates.
Scoring
FanDuel
DraftKings
Yahoo DFS
Loading Pitching Game Log...
2017 MLB Game Log

Calculate Stats Over Time
Just click on any two dates.
Scoring
FanDuel
DraftKings
Yahoo DFS
Loading Pitching Game Log...
Minor League Game Log

Calculate Stats Over Time
Just click on any two dates.
Loading Minor League Pitching Game Log...
Pitching Appearances Breakdown
How many pitches does Brad Hand generally throw?
What part of the game does Brad Hand generally pitch?
% Games Reaching Innings Threshold
% Games By Number of Innings Pitched
Left/Right Pitching Splits
BAA
K
BB
H
HR
Since 2021

vs Left

.214
65
30
45
3
Since 2021

vs Right

.259
93
41
102
14
2023

vs Left

.200
31
10
16
1
2023

vs Right

.317
28
12
38
5
2022

vs Left

.220
16
10
13
1
2022

vs Right

.224
22
13
24
1
2021

vs Left

.225
18
10
16
1
2021

vs Right

.240
43
16
40
8
More Splits

→

View More Split Stats
Home/Away Pitching Splits
ERA
WHIP
IP
K/9
BB/9
Since 2021

Home

4.28
1.25
88.1
8.2
3.2
Since 2021

Away

3.96
1.44
75.0
9.4
4.8
2023

Home

6.04
1.30
25.1
9.9
2.8
2023

Away

5.08
1.52
28.1
9.8
4.4
2022

Home

4.07
1.48
24.1
7.4
4.4
2022

Away

1.31
1.16
20.2
7.8
4.8
2021

Home

3.26
1.06
38.2
7.4
2.6
2021

Away

4.85
1.58
26.0
10.0
5.2
More Splits

→

View More Split Stats
Stat Review
How does Brad Hand compare to other relievers?
This section compares his stats with all relief pitcher seasons from the previous three seasons (minimum 30 innings)*. The bar represents the player's percentile rank. For example, if the bar is halfway across, then the player falls into the 50th percentile for that stat and it would be considered average.
* Exit Velocity, Barrels/BBE %, Balls Hit 95+ MPH %, and Spin Rate are benchmarked against 2019 data (min 30 IP).
See here for more exit velocity/barrels stats
plus an explanation of current limitations with that data set.
K/BB

Strikeout to walk ratio.

K/9

Average strikeouts per nine innings.

BB/9

Average walks per nine innings.

HR/9

Average home runs allowed per nine innings.

Fastball

Average fastball velocity.

ERA

Earned run average. The average earned runs allowed per nine innings.

WHIP

Walks plus hits per inning pitched.

BABIP

Batting average on balls in play. Measures how many balls in play against a pitcher go for hits.

GB/FB

Groundball to flyball ratio. The higher the number, the more likely a pitcher is to induce groundballs.

Left On Base

The percentage of base runners that a pitcher strands on base over the course of a season.

Exit Velocity

The speed of the baseball as it comes off the bat, immediately after a batter makes contact.

Barrels/BBE

The percentage of batted ball events resulting in a Barrel. A Barrel is a batted ball with similar exit velocity and launch angle to past ones that led to a minimum .500 batting average and 1.500 slugging percentage.

Spin Rate

Spin Rate is the rate of spin on a baseball after it is released. It is measured in revolutions per minute (rpm).

Balls Hit 95+ MPH

The percentage of batted balls hit that met or exceeded the 95 MPH threshold.

Swinging Strike

The percentage of pitches that result in a swing and a miss.
Advanced Pitching Stats
Loading Advanced Pitching Stats...
Loading MLB Defensive Stats...
Past Fantasy Outlooks
2022
2021
2020
2019
2018
2017
2016
2015
2014
2013
2012
2011
Hand began the season as the Nationals closer, alternating good and bad months through the trade deadline. At the time, he was sporting a 3.59 ERA and 1.15 WHIP with 21 saves. Washington shipped Hand to the Blue Jays where he was supposed to fortify a depleted bullpen, perhaps even in a closing capacity. However, Hand struggled with Toronto, posting a 7.27 ERA and 1.85 WHIP before he was released in late August. The Mets claimed him where Hand rebounded to record a 2.70 ERA and 1.28 WHIP. For the season, his 21.9% strikeout rate was its lowest since 2015 while Hand's 9.4% walk rate was its highest since 2016. Still just 32-years-old, Hand will likely get a job, but the chances of closing are slim.
The veteran left-hander had a 2.05 ERA and 0.77 WHIP with a league-leading 16 saves during the shortened season, but Cleveland declined his $10 million club option for 2021, making him a free agent. One man gathers what another man spills, as Washington swooped in with a one-year, $10.5 million deal. Hand posted a 2.78 ERA and 1.12 WHIP while going 58-for-65 in save chances after joining Cleveland, and he should be the Nationals' unquestioned closer in 2021. The southpaw had a 35.4 K% and 6.7 BB% while continuing to use the slider as his primary pitch over the past two seasons. Given the lack of locked-in, established closers around the league, a draft-day premium will placed on guys like Hand who are set it and forget closers as long as they are healthy.
Hand was electric for most of 2019 but really faded down the stretch. He had 27 saves and a 33 K-BB% while holding hitters to a .204 average through the end of July, but limped to the finish line with seven saves over the final two months, with a 13 K-BB% and a .345 BAA. Hand pitched in only three games in September and had a clean MRI in the middle of the month. It could have been just a tired arm from his usage, but the final two months were very concerning for a guy who looked like a lock for 40 saves and a fourth consecutive season with 100-plus strikeouts. He used more fastballs than sliders down the stretch, which may have been related to the arm issues, as that is a sub-optimal approach for Hand. More sliders is a good thing for him as he does not have enough fastball velocity to make it his primary pitch. Watch closely in spring training to see if the offseason has given his arm the rest it needed.
Hand began the season as the Padres' closer, posting a tidy 3.05 ERA and 1.08 WHIP with 24 saves before the All-Star break. He was then traded to Cleveland where he shared ninth-inning duties until mid-September when he became the Tribe's primary option. After posting a 2.33 ERA and 1.15 WHIP with eight saves and six holds for the Indians, Hand is ticketed to enter 2019 as the club's closer. The southpaw handles RHB better than most right-handed closers while dominating LHB as evidenced by a .661 OPS facing RHB and a .505 OPS versus LHB since 2016. If Hand has a flaw, it's his 9.3% walk rate along with a high 15.0% HR/FB the past two seasons. However, when you fan over 30% of batters faced, you can get away with a couple more walks and homers. The Indians profile as a team that should afford an above-average number of chances and Hand has no real competition for the job.
Hand grabbed control of the Padres' closer role in July, culminating his journey from failed starter in the Marlins' organization to certified relief ace. He's enjoyed a velocity bump while working in shorter spurts, and the strikeouts have ticked up as well; the left-hander ranked 14th among relievers with an 11.5 K/9. Hand's walk rate improved from 3.6 BB/9 to 2.3 last season as well, as he learned to use his packed arsenal from his starting days to taunt hitters in smaller sample sizes. Unfortunately, the fact he's enjoyed this success for the perpetually rebuilding Padres leaves him vulnerable to a sell-high trade that could demote him back to a setup gig. The skills are worth a lofty investment, but don't pay for a full season of save opportunities.
Claimed off waivers from the Marlins in early April, Hand racked up a career-high 111 strikeouts over 82 relief appearances despite previous forays in Miami as a member of the starting rotation. It was somewhat surprising the Marlins decided he didn't fit in their own stable of relievers, especially since he had demonstrated excellent splits against lefties in 2015 while spitting time between the rotation and bullpen. Nevertheless, Hand emerged as one of the top relievers in the San Diego bullpen, fanning 30.5 percent of the batters he faced and holding the opposition to a .193 batting average. In terms of his arsenal, Hand moved further away from his curveball and changeup, and instead leaned on a fastball-slider combo, throwing the latter offering 30.3 percent of the time. The slider was particularly effective for Hand, and it's fair to suggest that he's become one of the top left-handed relievers in the game over the course of the past year.
Hand shuffled between the rotation and the bullpen all season for Miami in 2015. His inconsistency prevented him from seizing the opportunities to stick as a starter. The Marlins seem to believe in Hand despite his 9-25 overall record with the team since 2011, as he's been with the organization since they drafted him in 2008. If nothing else, he should be a useful left-handed option in relief, as his splits in that role (19.2-percent K rate, 6.6-percent walk rate, 2.80 FIP) are encouraging enough to continue earning him big league paychecks. As a LOOGY, Hand may be even better, as he's held left-handed hitters to a .227/.285/.329 line over his career with the Marlins.
Hand was impressive during spring training in 2014 and parlayed that performance into a long look as a starter during the season. Ultimately, however, Hand proved to be far too inconsistent to take the ball every fifth day for the Marlins and is likely headed towards a more permanent role in the Miami bullpen. While shuffling between roles -- 16 starts and 16 relief appearances -- he posted a decent 4.38 ERA and 1.36 WHIP in 111 innings pitched. Hand offers little in terms of strikeout upside and though he was more successful last season as a start than as a reliever, his ability to bear down on left-handed batters (3.21 ERA, 1.19 WHIP and .224 BAA) could find him deployed more frequently as a situational lefty during the coming season.
Hand earned a September call-up, after sporting a 3.21 ERA and 1.35 WHIP over 17 minor league starts. He saved his best work for last, spinning 6.1 innings of two-run ball for the Marlins in his final outing of the season. Without a dominating arsenal of pitches, Hand simply must improve his control (47 walks in 89.2 minor league innings) to have success at the major league level. Though the Marlins will likely keep Hand stretched out as a starter to begin the year in 2014, his best path to time in Miami this season will likely be in the bullpen.
Hand spent the majority of his season at the Triple-A level, making just one start in the big leagues. Though he typically works in the low-90s with his fastball, Hand possesses solid strikeout ability (8.5 K/9 over 148.1 minor league innings). Still, the 23-year-old has failed to harness his control, posting a brutal 4.6 BB/9 in the minors in 2012 after he had similar control issues during a 12-start stint with the big club in 2011. Hand appears to have some work to do refining his control before Miami will give the former second-round pick another crack at the rotation.
Injuries to the big-league rotation, and a woeful lack of pitching depth in the Marlins system, forced the club to bring Hand up ahead of schedule and he posted predictably shaky numbers. His Double-A numbers don't really look like those of a top prospect either, as his strikeout rate took a steep drop, while his walk and home-run rates both rose. While he might enter spring training with a theoretical shot at a 25-man roster spot, expect Miami to keep him in the minors all of 2012.
Hand improved his control while maintaining his K/9IP rate as a 20-year-old at High-A, and as a result put himself firmly in the Marlins' future plans. He projects to have three solid pitches although none of them are exceptional, which makes him a mid-rotation starter at best in the majors, but given the way the organization's starting pitching depth has been gutted the last couple of seasons they'll take what they can get. Assuming he doesn't stumble against Double-A competition this year, Hand could get his first taste of the big leagues in 2012.
More Fantasy News