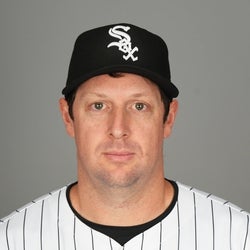 Rest-of-Season Projections
2023 Fantasy Outlook
There was no outlook written for Bryan Shaw in 2023. Check out the latest news below for more on his current fantasy value.
$Signed a one-year contract with the White Sox in May of 2023.

Escapes with save Saturday
Shaw picked up the save in Saturday's 1-0 victory over the Red Sox. He allowed two hits and struck out two in a scoreless ninth inning.
ANALYSIS
Despite surrendering two singles in the ninth inning, Shaw was able to successfully shut the door on Boston, earning his third save of the season. After 10 consecutive scoreless appearances to start September, the veteran reliever had given up an earned run in each of his previous two outings prior to Saturday. He now owns a 4.65 ERA and 1.30 WHIP across 33 appearances (40.2 innings) on the campaign.
Read More News
Pitching Stats
Loading Pitching Stats...
2023
2022
2021
2020
2019
2018
2017
2023 MLB Game Log

Calculate Stats Over Time
Just click on any two dates.
Scoring
FanDuel
DraftKings
Yahoo DFS
Loading Pitching Game Log...
2022 MLB Game Log

Calculate Stats Over Time
Just click on any two dates.
Scoring
FanDuel
DraftKings
Yahoo DFS
Loading Pitching Game Log...
2021 MLB Game Log

Calculate Stats Over Time
Just click on any two dates.
Scoring
FanDuel
DraftKings
Yahoo DFS
Loading Pitching Game Log...
2020 MLB Game Log

Calculate Stats Over Time
Just click on any two dates.
Scoring
FanDuel
DraftKings
Yahoo DFS
Loading Pitching Game Log...
2019 MLB Game Log

Calculate Stats Over Time
Just click on any two dates.
Scoring
FanDuel
DraftKings
Yahoo DFS
Loading Pitching Game Log...
2018 MLB Game Log

Calculate Stats Over Time
Just click on any two dates.
Scoring
FanDuel
DraftKings
Yahoo DFS
Loading Pitching Game Log...
2017 MLB Game Log

Calculate Stats Over Time
Just click on any two dates.
Scoring
FanDuel
DraftKings
Yahoo DFS
Loading Pitching Game Log...
Minor League Game Log

Calculate Stats Over Time
Just click on any two dates.
Loading Minor League Pitching Game Log...
Pitching Appearances Breakdown
How many pitches does Bryan Shaw generally throw?
What part of the game does Bryan Shaw generally pitch?
% Games Reaching Innings Threshold
% Games By Number of Innings Pitched
Left/Right Pitching Splits
BAA
K
BB
H
HR
Since 2021

vs Left

.248
78
39
78
3
Since 2021

vs Right

.242
84
40
88
19
2023

vs Left

.269
18
7
18
0
2023

vs Right

.241
21
8
21
3
2022

vs Left

.271
26
12
26
1
2022

vs Right

.239
26
14
32
8
2021

vs Left

.225
34
20
34
2
2021

vs Right

.245
37
18
35
8
More Splits

→

View More Split Stats
Home/Away Pitching Splits
ERA
WHIP
IP
K/9
BB/9
Since 2021

Home

3.23
1.25
94.2
7.4
3.6
Since 2021

Away

5.66
1.54
82.2
9.1
4.5
2023

Home

2.31
1.07
23.1
6.9
3.1
2023

Away

7.36
1.58
18.1
10.3
3.4
2022

Home

3.98
1.17
31.2
8.2
3.4
2022

Away

7.09
1.76
26.2
7.8
4.7
2021

Home

3.18
1.41
39.2
7.0
4.1
2021

Away

3.82
1.35
37.2
9.6
4.8
More Splits

→

View More Split Stats
Stat Review
How does Bryan Shaw compare to other relievers?
This section compares his stats with all relief pitcher seasons from the previous three seasons (minimum 30 innings)*. The bar represents the player's percentile rank. For example, if the bar is halfway across, then the player falls into the 50th percentile for that stat and it would be considered average.
* Exit Velocity, Barrels/BBE %, Balls Hit 95+ MPH %, and Spin Rate are benchmarked against 2019 data (min 30 IP).
See here for more exit velocity/barrels stats
plus an explanation of current limitations with that data set.
K/BB

Strikeout to walk ratio.

K/9

Average strikeouts per nine innings.

BB/9

Average walks per nine innings.

HR/9

Average home runs allowed per nine innings.

Fastball

Average fastball velocity.

ERA

Earned run average. The average earned runs allowed per nine innings.

WHIP

Walks plus hits per inning pitched.

BABIP

Batting average on balls in play. Measures how many balls in play against a pitcher go for hits.

GB/FB

Groundball to flyball ratio. The higher the number, the more likely a pitcher is to induce groundballs.

Left On Base

The percentage of base runners that a pitcher strands on base over the course of a season.

Exit Velocity

The speed of the baseball as it comes off the bat, immediately after a batter makes contact.

Barrels/BBE

The percentage of batted ball events resulting in a Barrel. A Barrel is a batted ball with similar exit velocity and launch angle to past ones that led to a minimum .500 batting average and 1.500 slugging percentage.

Spin Rate

Spin Rate is the rate of spin on a baseball after it is released. It is measured in revolutions per minute (rpm).

Balls Hit 95+ MPH

The percentage of batted balls hit that met or exceeded the 95 MPH threshold.

Swinging Strike

The percentage of pitches that result in a swing and a miss.
Advanced Pitching Stats
Loading Advanced Pitching Stats...
Loading MLB Defensive Stats...
Our full team depth charts are reserved for RotoWire subscribers.
Subscribe Now
Recent RotoWire Articles Featuring Bryan Shaw
See More
Erik Siegrist digs into the available talent in the AL for the final free-agent period of the season, and highlights one last elite prospect in the Rays' Junior Caminero.
Erik Siegrist checks out the free-agent pool in the AL as the Rangers get some big-name reinforcements for their playoff push, including a potential early return for Josh Jung.
Brad Johnson discusses the benefits of looking for favorable matchups as part of a successful fantasy baseball strategy, and the recent pitching of Eury Perez in Miami.
Past Fantasy Outlooks
2022
2020
2019
2018
2017
2016
2015
2014
2013
2012
Last offseason, Shaw signed a minor league contact with the organization for which he enjoyed his greatest success. He chose wisely as Shaw made Cleveland's opening day roster then went on to appear in 81 games, throwing 77.1 innings, both career bests. He logged 20 holds and a pair of saves. Shaw's 21.2 percent strikeout rate was its highest since 2017, though his 11.4 percent walk rate was his second highest, only better than 2020's short season mark. Shaw needed some help to keep his ERA at 3.49 as the associated estimators pegged it a run higher. The aid came in the form of a high 79.8 percent LOB mark. Shaw is a longshot to be in the mix for saves, but he could be useful in a format scoring saves.
Moving to Colorado is expected to hurt a pitcher's numbers, but Shaw still hasn't been close to what the Rockies wanted when they gave him three years and $27 million prior to the 2018 season. He struggled to his second consecutive season with an ERA north of 5.00 after previously posting ERAs no worse than 3.52 in his first seven big-league seasons. His 5.38 ERA in 72 frames last season may be slightly Coors-related, but neither his 18.7 K% nor his 9.3 BB% were particularly good. Heading into his age-32 season, there's little reason to believe Shaw will suddenly reverse his decline and become a high-leverage weapon for the Rockies this year. Even if he ended up on a new team, it's hard to see him adding to his 12 career saves this year and becoming a useful fantasy asset.
Yikes. A half decade of above-average performance in middle relief earned Shaw a three-year, $27 million contract with the Rockies last offseason. Unfortunately for Colorado, the Cleveland version of Shaw was nowhere to be found in Year 1 of that pact. His strikeout and walk rates both went in the wrong direction -- especially his walk rate -- resulting in his K-BB% falling from 16.3% all the way to 10.1%. Meanwhile, his home-run rate soared from 0.59 HR/9 to 1.48 HR/9, coinciding with a ridiculous 16-percentage-point jump in his opponents' hard-hit rate. He ended up making just four appearances for the Rockies in September as the team pushed for a wild-card spot. The right-hander made 70-plus appearances every year from 2013-2017, and all that mileage seems to have taken its toll. The team will give him every chance to right the ship, given how much he is owed. Shaw should be far away from fantasy teams until he shows some improvement.
Shaw parlayed his track record of good health and a career season into a three-year, $27 million deal with Colorado. His 2017 ERA was actually a career high, but all the underlying stats say Shaw was better than ever in his age-29 campaign. The right-hander shaved his walk rate from 10.2 percent to 7.1 percent and allowed just five homers in 76.2 innings thanks to a 55.9 percent groundball rate. Shaw threw his cutter more than ever before -- 88 percent of the time, up from 81.5 percent -- and what resulted was a dramatic improvement against lefty batters (.252 wOBA, .329 in 2016). Overall, Shaw was one of just 31 full-time relievers with a FIP under 3.00 (min. 50 innings). He has made 70-plus appearances in five consecutive years and has exceeded 20 holds in four straight seasons. Shaw figures to be the primary right-handed setup man in front of new Rockies closer Wade Davis.
The 2016 season for the 29-year-old right-hander will likely be remembered for giving up the game-winning run in Game 7 of the World Series, however, the reliever was also an integral part of the bullpen that helped Cleveland get to that point. Although Shaw posted a relatively underwhelming regular season line, notching a 2-5 record, 3.24 ERA, and one save in four appearances across 66.2 innings, the setup man did produce a career best 9.3 K/9 rate and AL-best 75 appearances. He also heated up in the second half of the season, posting a 2.32 ERA after the All-Star break and earning him a pivotal spot in the heart of Cleveland's bullpen throughout the playoffs. The reliever should factor heavily into the Indians' bullpen next season, as he has led all AL pitchers in appearances from 2012-2016. His durability alone should lock Shaw into the middle of the bullpen alongside Andrew Miller and Cody Allen.
Shaw took a small step back from his 2014 campaign, but still did an effective enough job in a setup role for the Indians. While the final numbers are hardly those of a dominant setup man, he managed 74 appearances out of the Cleveland bullpen and the Indians seem content to keep him in that role. Shaw's performance has declined in recent years, and his struggles against right-handed batters in 2015 are particularly troubling (.509 OPS in 2013, .493 OPS in 2014, .704 OPS in 2015). Improvement in that regard would go a long way toward keeping him in the setup role, but Zach McAllister will be waiting in the wings in case Shaw slips up.
Shaw led baseball with 80 appearances and he acquitted himself quite well with a 2.59 ERA, but he has essentially morphed into a ROOGY with a 283-point OPS platoon split. Righties managed just a .493 OPS against him and that kind of performance will keep him employed throughout the remainder of his 20s and well into his 30s if he can keep it up. As a cutter/slider guy, it's easy to understand why lefties have found more success against him and barring the addition of a pitch to neutralize them, it is likely to continue. He has always been good for a strong ERA, but without dominant strikeout rates or chances at saves, he doesn't really hold much attention in fantasy circles, especially since ERAs are remarkably volatile out of the bullpen.
Shaw crafted together a fine season in his first campaign with the Indians, appearing in 70 games out of the bullpen. He doesn't have pinpoint command or a huge strikeout rate, but Shaw may figure into the setup mix along with Cody Allen, following the offseason signing of John Axford to fill the ninth-inning role.
When Shaw earned a pair of saves in April, he opened the eyes of owners in deeper leagues as a potential option on days where J.J. Putz and David Hernandez needed rest. Unfortunately for those who took the bait, the situation never arose again. Shaw relies heavily on his cutter, a pitch that opposing hitters pound into the ground frequently despite seeing it more than 80 percent of the time. If his results the last three years between Arizona and the upper levels of the minors are any indication, the strikeout rate has a modest ceiling here, but Shaw has the ability to remain a viable option in middle relief as long as he's able to curtail his free passes (3.6 BB/9). He is now set to ply his trade in Cleveland after being included in the trade that sent shortstop prospect Didi Gregorious to the D-Backs in December.
Shaw likely parlayed his debut with the D-Backs into a job for 2012. Upon returning to Arizona in July after five appearances in June, Shaw posted a 20:5 K:BB over 24 innings before delivering four scoreless frames against the Brewers in the NLDS. Working mostly with a four-seam fastball, slider and change-up, Shaw might be able to carve out the role of seventh-inning setup man and join David Hernandez in the regular bridge to closer J.J. Putz this season.
More Fantasy News