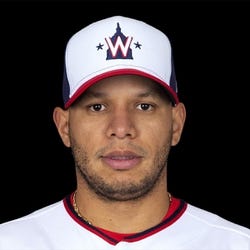 Rest-of-Season Projections
2023 Fantasy Outlook
September 4. After clubbing 21 homers the previous season, Hernandez hit his only homer of the season on September 4. His batting average and on base marks were like 2021, but a 2-mph drop in average exit velocity vanquished Hernandez's power. He did swipe 10 bags, returning to double digits for the first time since 2018. There was a time Hernandez was an on-base machine, with sneaky power and speed. Those days are gone as he'll look to latch onto a club, likely in a utility/reserve role, though his defense has declined as much as his power. If he plays regularly, Hernandez has some single-league allure, especially if he runs. However, he lacks all mixed league appeal.
Read Past Outlooks
$Signed a one-year, minor-league contract with the Mariners in April of 2023. Opted out in June of 2023.

ANALYSIS
Hernandez signed a minor-league contract with Seattle right before the start of the season and has yet to play in the big leagues this year. The 33-year-old second baseman is slashing .272/.436/.336 over 164 plate appearances in Triple-A.
Read More News
Batting Stats
2022
2021
2020
2019
2018
2017
2022 MLB Game Log

Calculate Stats Over Time
Just click on any two dates.
Scoring
FanDuel
DraftKings
Yahoo DFS
Loading Batting Game Log...
2021 MLB Game Log

Calculate Stats Over Time
Just click on any two dates.
Scoring
FanDuel
DraftKings
Yahoo DFS
Loading Batting Game Log...
2020 MLB Game Log

Calculate Stats Over Time
Just click on any two dates.
Scoring
FanDuel
DraftKings
Yahoo DFS
Loading Batting Game Log...
2019 MLB Game Log

Calculate Stats Over Time
Just click on any two dates.
Scoring
FanDuel
DraftKings
Yahoo DFS
Loading Batting Game Log...
2018 MLB Game Log

Calculate Stats Over Time
Just click on any two dates.
Scoring
FanDuel
DraftKings
Yahoo DFS
Loading Batting Game Log...
2017 MLB Game Log

Calculate Stats Over Time
Just click on any two dates.
Scoring
FanDuel
DraftKings
Yahoo DFS
Loading Batting Game Log...
Minor League Game Log

Calculate Stats Over Time
Just click on any two dates.
Loading Minor League Batting Game Log...
Left/Right Batting Splits
OPS
PA
HR
RBI
AVG
Since 2021

vs Left

.729
397
13
38
.249
Since 2021

vs Right

.630
857
9
58
.236
2023

vs Left

0
0
0
0
0
2023

vs Right

0
0
0
0
0
2022

vs Left

.690
195
0
13
.282
2022

vs Right

.600
422
1
21
.232
2021

vs Left

.767
202
13
25
.215
2021

vs Right

.660
435
8
37
.239
More Splits

→

View More Split Stats
Home/Away Batting Splits
OPS
PA
HR
RBI
AVG
Since 2021

Home

.698
618
12
44
.247
Since 2021

Away

.626
636
10
52
.233
2023

Home

0
0
0
0
0
2023

Away

0
0
0
0
0
2022

Home

.651
295
0
12
.252
2022

Away

.609
322
1
22
.245
2021

Home

.743
323
12
32
.242
2021

Away

.644
314
9
30
.221
More Splits

→

View More Split Stats
Advanced Batting Stats
Loading Advanced Batting Stats...
Games By Position
Defensive Stats
Loading Games Played by Position...
Loading MLB Defensive Stats...
Batted Ball Stats
Loading Batted Ball Stats...
Stats Vs Upcoming Pitchers
Recent RotoWire Articles Featuring Cesar Hernandez
See More
Past Fantasy Outlooks
2022
2021
2020
2019
2018
2017
2016
2015
2014
2013
2011
Following a surprising power surge in the first half of 2021, Hernandez cooled off after a midseason trade to the White Sox and now finds himself on a one-year deal with the Nationals. The veteran infielder is atop the depth chart at second base and manager Dave Martinez said at the outset of camp that he wants Hernandez leading off for his revamped Washington lineup. Hernandez is a pretty uninspiring player at this point in his career, but there is something to be said for an everyday starter who played 149 games a season ago and missed a total of four games from 2018-20. If he's able to lock down the top spot in the batting order, Hernandez could be a sneaky source of runs hitting ahead of the likes of Juan Soto and Nelson Cruz. His stolen bases have dried up in recent years, but Hernandez ranked in the 89th percentile in sprint speed last season, per Statcast.
Hernandez had been a league-average hitter over his final five seasons in Philadelphia, recording a wRC+ of exactly 100 over that stretch. He performed slightly better than that in his first season in Cleveland, as his .283/.355/.388 slash line was good for a 108 wRC+, though his overall production wasn't particularly exciting for fantasy purposes. He homered just three times and failed to even attempt a single steal after swiping an average of 15.8 bases over the previous five campaigns. There were some moderately encouraging signs in his batted-ball profile, as his 89.1 mph exit velocity and 37.3% hard-hit rate were personal bests, though neither mark is particularly exciting, and he also saw his strikeout rate jump nearly seven points to 21.8%. The veteran should remain a player who isn't embarrassing to roster next season, but he won't be an exciting option even if he steals a few more bases.
Hernandez is who he is at this point: a league-average second baseman and an everyday fixture near the bottom of the lineup. The Phillies didn't want to pay up for his final year of arbitration, but Cleveland swooped in to sign him for one year and $6.25 million. He turns 30 in May, so his best years are likely behind him, but given this landing spot, he should remain useful in deeper leagues. Hernandez's offensive profile changed in 2019, for better and for worse. He raised his batting average from .253 to .279 and cut his K% from 21.9% to 15.0%, but he also saw his BB% fall from 13.4% to 6.7%. More importantly for most fantasy owners, he also stole just nine bases after stealing at least 15 in each of the previous four seasons. Players don't usually reverse that trend in their 30s, so Hernandez might be left offering little more than a decent batting average while compiling everyday counting stats.
Hernandez's batted-ball profile started to resemble that of a power hitter in 2018, as he raised his flyball rate from 24.6% to 33.6% and increased his pull rate from 35.8% to 40.3%. However, it's probably unwise to read too much of his underlying numbers after it came to light that he played most of the second half with a broken foot. He had a career-high 13.4% walk rate but also a 21.9% strikeout rate that represented his highest mark since his small-sample 2014 season. The end result was a career-best 15 homers but a drop in all three slash categories to .253/.356/.362, good for a league-average 100 wRC+, and only five steals after he suffered the foot injury July 20. The dream scenario for Hernandez in 2019 would see him hold onto his power gains while regaining his solid batting average and some stolen bases with improved health.
Hernandez once looked like he would merely be a placeholder in the middle infield until the Phillies accelerated their rebuild, but back-to-back campaigns of at least 15 steals, averages north of .290 and OBPs above .370 may have changed his outlook with the organization. While those three areas are where Hernandez provides his greatest impact in the fantasy realm, he also showed some unexpected pop last season with 41 extra-base hits, making him at least an average contributor among second basemen in terms of power. Middle-infield prospects J.P. Crawford and Scott Kingery are both expected to get fair shakes at everyday roles at some point in 2018, but Hernandez's reliable glove and on-base skills atop the lineup offer value. The youngsters might offer more upside, but it would be unwise to dismiss the 27-year-old's chances of retaining regular at-bats throughout the season with few other proven table setters on the roster.
Hernandez showed growth in his patience, increasing his walk rate by nearly two percent and his on-base percentage from .339 in 2015 to .371 last season. He walked at just a five percent clip in the first half of the season, but a benching in late June sent a message and he walked at nearly a 16 percent clip over the second half of the season. Hernandez has minimal power but possesses great speed. His 11 triples were tied for the most in baseball. Despite that speed and his on-base skills, he managed just 17 steals on 30 attempts. Only Jonathan Villar was caught stealing more often than Hernandez, but he stole nearly four times as many bases. An improvement in efficiency could result in 20-plus steals, but there is some playing time risk, as a potential midseason promotion of prospect J.P. Crawford would force the Phillies to decide between Hernandez and Freddy Galvis at second base. .
Hernandez won a bench job with the Phillies last spring and produced when given opportunities to play early in the season. When Chase Utley went on the disabled list in June, Hernandez moved into a starting role and made enough of an impression that the team had him split time with Utley until the veteran was shipped off to the Dodgers in August. Unfortunately for Hernandez, his season ended early when he suffered a dislocated thumb and ligament damage in mid-September. Hernandez's biggest contribution in fantasy leagues was his 19 stolen bases. He has stolen over 30 bags a couple times in the minors, so the potential is there for him to make a dent in the stolen base category. He will likely open the year as the starter at second, but he'll have to hit for average and work counts to get on base because he offers little else with the bat. If he slumps, the Phillies could turn second base over to Darnell Sweeney.
Hernandez split his time between the majors and minors last season. The Phillies tried to increase his versatility by having him play third last season, but with 11 errors in 32 games in the majors and minors it is clear that Hernandez has some work to do. Hernandez's best skill is his ability to put the ball in play. He has no power, but does have decent speed despite stealing just nine total bags last season. He is out of options which should increase his chances at winning a bench job this spring. Chase Utley has managed to stay fairly healthy of late, but he does have a chronic knee condition that could flare up at any time. Hernandez would stand to benefit with increased playing time at second if something were to happen to Utley.
Hernandez got his first opportunity in the majors last season when the Phillies called him up as a short-term injury replacement. He managed to stick around after Chase Utley was sidelined with a strained oblique, and showed enough with the bat that the Phillies started looking to increase his versatility. Hernandez saw his first action in the outfield last year, and the Phillies have said they want him to also start working out a third. Hernandez does not hit for any power, but he does make pretty good contact and he has speed. He will get a chance to compete for a bench job this spring, but is likely to start the year back in the minors. He could provide some value later in the year thanks to his stolen-base ability should he get a chance at regular playing time.
Hernandez earned a late-season promotion to Triple-A last year after hitting .314/.351/.451 with two home runs for Double-A Reading. He is considered a slick fielder and he has shown some speed on the basepaths during his time in the minors. His upside with the bat is limited due to his lack of power, but he looks like he should at least have a future as a solid utility infielder.
Hernandez, who was signed out of Venezuela in 2006, was added to the Phillies' 40-man roster this winter despite being only 20 years old and not playing above short season Low-A yet. The Phillies clearly think highly of his potential, but Hernandez's lack of power makes him only a mildly interesting fantasy prospect for now. Hernandez does have good speed so if he continues to hit as he moves up the ladder his prospect star will brighten. Keep an eye on his progress.
More Fantasy News