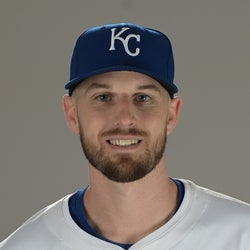 Rest-of-Season Projections
2023 Fantasy Outlook
There was no outlook written for Chris Stratton in 2023. Check out the latest news below for more on his current fantasy value.
$Signed a one-year, $2.8 million contract with the Cardinals in November of 2022. Traded to the Rangers in July of 2023.

ANALYSIS
Stratton is the secondary piece in the deal for the Rangers, who will fortify their rotation with the addition of Montgomery. Meanwhile, Stratton should work as a setup man in Texas, likely settling in behind closer
Will Smith
and
Aroldis Chapman
in the bullpen hierarchy. Playing under a $2.8 million salary in his final year of arbitration, Stratton has produced a 4.36 ERA, 1.17 WHIP and 59:17 K:BB in 53.2 innings with St. Louis. He'll likely set himself up for a nice pay raise in free agency this winter if he can finish the season on a high note with his new club.
Read More News
Pitching Stats
Loading Pitching Stats...
2023
2022
2021
2020
2019
2018
2017
2023 MLB Game Log

Calculate Stats Over Time
Just click on any two dates.
Scoring
FanDuel
DraftKings
Yahoo DFS
Loading Pitching Game Log...
2022 MLB Game Log

Calculate Stats Over Time
Just click on any two dates.
Scoring
FanDuel
DraftKings
Yahoo DFS
Loading Pitching Game Log...
2021 MLB Game Log

Calculate Stats Over Time
Just click on any two dates.
Scoring
FanDuel
DraftKings
Yahoo DFS
Loading Pitching Game Log...
2020 MLB Game Log

Calculate Stats Over Time
Just click on any two dates.
Scoring
FanDuel
DraftKings
Yahoo DFS
Loading Pitching Game Log...
2019 MLB Game Log

Calculate Stats Over Time
Just click on any two dates.
Scoring
FanDuel
DraftKings
Yahoo DFS
Loading Pitching Game Log...
2018 MLB Game Log

Calculate Stats Over Time
Just click on any two dates.
Scoring
FanDuel
DraftKings
Yahoo DFS
Loading Pitching Game Log...
2017 MLB Game Log

Calculate Stats Over Time
Just click on any two dates.
Scoring
FanDuel
DraftKings
Yahoo DFS
Loading Pitching Game Log...
Minor League Game Log

Calculate Stats Over Time
Just click on any two dates.
Loading Minor League Pitching Game Log...
Pitching Appearances Breakdown
How many pitches does Chris Stratton generally throw?
What part of the game does Chris Stratton generally pitch?
% Games Reaching Innings Threshold
% Games By Number of Innings Pitched
Left/Right Pitching Splits
BAA
K
BB
H
HR
Since 2021

vs Left

.261
91
44
81
6
Since 2021

vs Right

.240
136
39
130
15
2023

vs Left

.191
35
14
17
0
2023

vs Right

.242
46
11
52
8
2022

vs Left

.333
18
12
30
2
2022

vs Right

.268
42
13
42
2
2021

vs Left

.260
38
18
34
4
2021

vs Right

.213
48
15
36
5
More Splits

→

View More Split Stats
Home/Away Pitching Splits
ERA
WHIP
IP
K/9
BB/9
Since 2021

Home

3.87
1.29
123.1
8.4
3.2
Since 2021

Away

3.97
1.32
102.0
9.9
3.4
2023

Home

4.21
1.23
47.0
7.9
2.7
2023

Away

3.53
1.01
35.2
10.1
2.8
2022

Home

4.05
1.59
33.1
7.8
3.5
2022

Away

4.50
1.47
30.0
9.3
3.6
2021

Home

3.35
1.12
43.0
9.4
3.6
2021

Away

3.96
1.51
36.1
10.2
4.0
More Splits

→

View More Split Stats
Stat Review
How does Chris Stratton compare to other relievers?
This section compares his stats with all relief pitcher seasons from the previous three seasons (minimum 30 innings)*. The bar represents the player's percentile rank. For example, if the bar is halfway across, then the player falls into the 50th percentile for that stat and it would be considered average.
* Exit Velocity, Barrels/BBE %, Balls Hit 95+ MPH %, and Spin Rate are benchmarked against 2019 data (min 30 IP).
See here for more exit velocity/barrels stats
plus an explanation of current limitations with that data set.
K/BB

Strikeout to walk ratio.

K/9

Average strikeouts per nine innings.

BB/9

Average walks per nine innings.

HR/9

Average home runs allowed per nine innings.

Fastball

Average fastball velocity.

ERA

Earned run average. The average earned runs allowed per nine innings.

WHIP

Walks plus hits per inning pitched.

BABIP

Batting average on balls in play. Measures how many balls in play against a pitcher go for hits.

GB/FB

Groundball to flyball ratio. The higher the number, the more likely a pitcher is to induce groundballs.

Left On Base

The percentage of base runners that a pitcher strands on base over the course of a season.

Exit Velocity

The speed of the baseball as it comes off the bat, immediately after a batter makes contact.

Barrels/BBE

The percentage of batted ball events resulting in a Barrel. A Barrel is a batted ball with similar exit velocity and launch angle to past ones that led to a minimum .500 batting average and 1.500 slugging percentage.

Spin Rate

Spin Rate is the rate of spin on a baseball after it is released. It is measured in revolutions per minute (rpm).

Balls Hit 95+ MPH

The percentage of batted balls hit that met or exceeded the 95 MPH threshold.

Swinging Strike

The percentage of pitches that result in a swing and a miss.
Advanced Pitching Stats
Loading Advanced Pitching Stats...
Loading MLB Defensive Stats...
Recent RotoWire Articles Featuring Chris Stratton
See More
Past Fantasy Outlooks
2022
2021
2020
2019
2018
2017
2015
2014
2013
Stratton literally spun his way back into fantasy relevancy while pitching for the lowly Pirates. He came onto the scene in 2018 with 10 wins with unsightly ratios, but quickly faded away in 2019 and found himself shipped off to Pittsburgh, where his repertoire was tweaked and he has pitched surprisingly well. Last season, he garnered seven wins and eight saves for a terrible club and did so with some of the best fastball and curveball spin rates in the league. He doesn't throw hard, but his pitches have life -- sometimes almost too much, as they ride out of the strike zone. The Pirates will once again be terrible, but Stratton figures to have a prominent role in the late-inning bullpen to resume where he left off in 2021. He is out of options, so the club will keep him around as long as he continues this career renaissance.
Stratton fizzled out with the Giants and the Angels dumped him a little more than a month into the 2019 season, but he seems to have found his niche with the Pirates as a short reliever. He has added a couple ticks to his fastball working in shorter spurts and gets elite spin on the four-seamer. Meanwhile his curveball spin ranked in the 97th percentile, and it would make a lot of sense if he upped the usage of the curve in 2021 after he held opponents to a .105 BA and .178 xwOBA with the pitch in 2020. Walks continued to hurt him on occasion in relief (9.9 BB%), but the added swing-and-miss Stratton showed in 2020 will go a long way toward masking his flaws if he's able to keep it up. Four of his five holds last year came after Aug. 28, which highlights Stratton's rise up the bullpen ladder in Pittsburgh and points to him having a significant setup role.
Stratton got off to a tough start with the Angels, posting an 8.59 ERA and 2.08 WHIP with a 22:18 K:BB over his first seven appearances (29.1 innings), but it appears a change in scenery was just what the doctor ordered. After being dealt to the Pirates in mid-May, the 29-year-old registered a 3.66 ERA and 1.39 WHIP with 47 punchouts across 46.2 innings out of the bullpen. Stratton stranded runners 70.5 % of the time in 2019 and finished with an 8.2 K/9. Upon finding success out of the bullpen, it would be surprising to see Pittsburgh change Stratton's role for the 2020 campaign. He's a versatile arm who can pitch in a variety of situations, including in long relief and late in tight ballgames.
Some saw Stratton's 2017 performance and considered him a sleeper for 2018. In the end, his numbers regressed almost across the board. His home-run rate jumped up to 1.2 per nine innings, he struck out fewer batters (7.0 K/9) and he gave up much more hard contact than in 2017 (41.8% hard-hit rate in 2018 versus 28.4% in 2017). The 28-year-old did improve his control and showed some flashes of excellence, including a five-start stretch from late August to mid-September in which he compiled a 2.10 ERA with a complete-game shutout. His awful outings offset the strong ones, though, keeping his end-of-season ERA at 5.09. His 4.48 FIP suggests he suffered from some bad luck, but not a ton. Fortunately, he will likely maintain his spot in the rotation since he's out of options, so he should get a chance to improve, but he's risky given all the hard contact and the lack of strikeouts.
There is nothing flashy about Stratton's skill set, but he showed enough in 13 appearances (10 starts) with the Giants last year to warrant another look at the back end of the rotation in 2018. He averages under 92 mph with his fastball, but Stratton throws two quality breaking pitches (curveball and slider) which help him keep the ball on the ground. The right-hander endured some struggles against lefties last year (.355 wOBA), and they may remain tough on him until the changeup develops more, but Stratton's splits against righties (.291 wOBA) and on the road (3.86 ERA) point to some level of sustainability. Don't expect a sub-4.00 ERA over a full season, but something in the mid-4.00s range is within the realm of possibility. The WHIP is a different story; he had a sub-1.30 WHIP just once on the farm, and will continue to struggle in that category if he can't do a better job of limiting the free passes (4.3 BB/9).
Stratton got his first taste of big league action in 2016, serving as the team's long relief man when injuries struck the back end of the Giants rotation. He only logged 10 innings in the bigs, so his numbers with Triple-A Sacramento give a better idea of what kind of pitcher he is. In 20 starts with the River Cats, Stratton posted a 3.87 ERA with a 2.6 K/BB ratio. His biggest strength is his ability to keep the ball in the yard, as evidenced by his 0.4 HR/9 while pitching in the hitter-friendly PCL. With five veteran starters under contract to begin the 2017 season, Stratton will likely begin the year with Triple-A Sacramento again.
Stratton started the 2014 season as a 23-year-old at High-A San Jose, where he was hit around quite a bit. The 6-foot-3 righty posted a 5.07 ERA and a 1.40 WHIP in 99.1 innings at Low-A, featuring a low-90s fastball that occasionally dips to 89 mph. He concluded the season with 23 innings in a better pitching environment in the Eastern League with Double-A Richmond, where his ERA dipped to a middling 3.52, but his strikeout rate also dropped from 23.9% to 16.8% against more advanced hitting. The lack of strikeouts against Double-A hitters creates more concerns than the ERA stabilization alleviated. Stratton's ceiling appears to be that of a No. 5 starter, and perhaps a more likely role would be that of a middle reliever or swing man.
After suffering a scary head injury that cut his 2012 season short, Stratton came back strong in 2013, posting a 3.27 ERA in 132 innings for Low-A Augusta. The former first-round pick exhibited excellent strikeout numbers (8.4 K/9) while keeping his control in check (3.2 BB/9). Despite not pitching above the Low-A level, the 23-year-old Stratton will likely be on a fast track to the majors as his arsenal (fastball, slider, curveball, changeup) appears ready for the big leagues.
Stratton, the Giants' first-round pick in 2012 (20th overall), appeared in eight games while throwing 16.1 innings in Low-A until his season was cut short after a line drive to the head in late August. It is likely that he will begin 2013 in High-A, and there is a chance he could make it to San Francisco by 2014. Scouts have said Stratton does not have one dominant pitch, but he features a fastball between 91-95 mph along with a very good slider, improving curveball and fringe changeup.
More Fantasy News