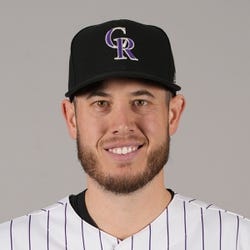 Rest-of-Season Projections
2023 Fantasy Outlook
It is somewhat amusing that while Cron hit 57 homers over the past two seasons in Denver, he never did reach the 30 plateau as he did in Tropicana Field of all places in 2018. Cron hit 22 of his 29 homers in Coors this past season with a hefty .302/.354/.601 slash line, but other stadiums were his kryptonite as he hit .214/.279/.340 away from Denver with seven homers. Fantasy managers should hope the Rockies keep Cron around as long as possible given how poorly he has hit away from Coors the past two seasons. The power will play anywhere, but this profile is much less attractive if it comes with batting average risks.
Read Past Outlooks
$Signed a two-year, $14.5 million contract with the Rockies in October of 2021. Traded to the Angels in July of 2023.

The Angels
placed
Cron on the 10-day injured list Sunday with lower back inflammation.
ANALYSIS
Cron's back injury has bothered him all season, and his most recent move to the injured list will keep him out for the rest of the year, as there is just eight days remaining in the regular season. He'll finish 2023 with 12 homers and 37 RBI alongside a .248/.295/.434 slash line through 278 plate appearances.
Mike Moustakas
(forearm) was reinstated from the injured list in a corresponding move.
Read More News
Batting Stats
2023
2022
2021
2020
2019
2018
2017
2023 MLB Game Log

Calculate Stats Over Time
Just click on any two dates.
Scoring
FanDuel
DraftKings
Yahoo DFS
Loading Batting Game Log...
2022 MLB Game Log

Calculate Stats Over Time
Just click on any two dates.
Scoring
FanDuel
DraftKings
Yahoo DFS
Loading Batting Game Log...
2021 MLB Game Log

Calculate Stats Over Time
Just click on any two dates.
Scoring
FanDuel
DraftKings
Yahoo DFS
Loading Batting Game Log...
2020 MLB Game Log

Calculate Stats Over Time
Just click on any two dates.
Scoring
FanDuel
DraftKings
Yahoo DFS
Loading Batting Game Log...
2019 MLB Game Log

Calculate Stats Over Time
Just click on any two dates.
Scoring
FanDuel
DraftKings
Yahoo DFS
Loading Batting Game Log...
2018 MLB Game Log

Calculate Stats Over Time
Just click on any two dates.
Scoring
FanDuel
DraftKings
Yahoo DFS
Loading Batting Game Log...
2017 MLB Game Log

Calculate Stats Over Time
Just click on any two dates.
Scoring
FanDuel
DraftKings
Yahoo DFS
Loading Batting Game Log...
Minor League Game Log

Calculate Stats Over Time
Just click on any two dates.
Loading Minor League Batting Game Log...
Batting Order Slot Breakdown
#1
#2
#3
#4
#5
#6
#7
#8
#9
#1
#2
#3
#4
#5
#6
#7
#8
#9
Left/Right Batting Splits
OPS
PA
HR
RBI
AVG
Since 2021

vs Left

.804
416
20
74
.252
Since 2021

vs Right

.822
1040
49
157
.269
2023

vs Left

.747
69
2
7
.254
2023

vs Right

.723
209
10
30
.246
2022

vs Left

.695
197
10
37
.208
2022

vs Right

.823
434
19
65
.280
2021

vs Left

.977
150
8
30
.311
2021

vs Right

.877
397
20
62
.269
More Splits

→

View More Split Stats
Home/Away Batting Splits
OPS
PA
HR
RBI
AVG
Since 2021

Home

.954
726
46
164
.302
Since 2021

Away

.681
730
23
67
.227
2023

Home

.734
144
5
21
.256
2023

Away

.724
134
7
16
.240
2022

Home

.955
308
22
75
.302
2022

Away

.619
323
7
27
.214
2021

Home

1.073
274
19
68
.326
2021

Away

.734
273
9
24
.235
More Splits

→

View More Split Stats
Stat Review
How does C.J. Cron compare to other hitters?
This section compares his stats with all batting seasons from the previous three seasons (minimum 400 plate appearances)*. The bar represents the player's percentile rank. For example, if the bar is halfway across, then the player falls into the 50th percentile for that stat and it would be considered average.
* Exit Velocity and Barrels/PA % are benchmarked against 2019 data (min 400 PA) and Hard Hit Rate is benchmarked against last season's data (min 400 PA).
See here for more exit velocity/barrels stats
plus an explanation of current limitations with that data set.
BB/K

Walk to strikeout ratio

BB Rate

The percentage of plate appearances resulting in a walk.

K Rate

The percentage of plate appearances resulting in a strikeout.

BABIP

Batting average on balls in play. Measures how many of a batter's balls in play go for hits.

ISO

Isolated Power. Slugging percentage minus batting average. A computation used to measure a batter's raw power.

AVG

Batting average. Hits divided by at bats.

OBP

On Base Percentage. A measure of how often a batters reaches base. Roughly equal to number of times on base divided by plate appearances.

SLG

Slugging Percentage. A measure of the batting productivity of a hitter. It is calculated as total bases divided by at bats.

OPS

On base plus slugging. THe sum of a batter's on-base percentage and slugging percentage.

wOBA

Weighted on-base average. Measures a player's overall offensive contributions per plate appearance. wOBA combines all the different aspects of hitting into one metric, weighting each of them in proportion to their actual run value.

Exit Velocity

The speed of the baseball as it comes off the bat, immediately after a batter makes contact.

Hard Hit Rate

A measure of contact quality from Sports Info Solutions. This stat explains what percentage of batted balls were hit hard vs. medium or soft.

Barrels/PA

The percentage of plate appearances where a batter had a batted ball classified as a Barrel. A Barrel is a batted ball with similar exit velocity and launch angle to past ones that led to a minimum .500 batting average and 1.500 slugging percentage.

Expected BA

Expected Batting Average.

Expected SLG

Expected Slugging Percentage.

Sprint Speed

The speed of a runner from home to first, in feet per second.

Ground Ball %

The percentage of balls put in play that are on the ground.

Line Drive %

The percentage of balls put in play that are line drives.

Fly Ball %

The percentage of balls put in play that are fly balls.
Advanced Batting Stats
Loading Advanced Batting Stats...
Games By Position
Defensive Stats
Loading Games Played by Position...
Loading MLB Defensive Stats...
Batted Ball Stats
Loading Batted Ball Stats...
Stats Vs Upcoming Pitchers
Recent RotoWire Articles Featuring C.J. Cron
See More
Past Fantasy Outlooks
2022
2021
2020
2019
2018
2017
2016
2015
2014
2013
2012
Cron played in a career-high 142 games last season. When on the field, he's been productive over his career with a 162-game average of 29 homers, a .261 average and two steals. And his batting average should be higher this season. He's already re-signed with Colorado where he'll hit in the middle of the lineup. This will be his second season after major knee surgery, so nothing should hold him back. All of his power numbers were down in 2020 from being hurt, but they rebounded. With the Rockies in a rebuild (whether they want to admit it or not), Cron's playing time and spot in the batting order should be secure, especially with Trevor Story gone. Cron is a fine -- if rather boring -- power option if a fantasy manager wants to wait a bit for his first baseman.
Cron only managed to play 13 games before requiring season-ending surgery on his sprained left knee. His .894 OPS is misleading as it was propelled by a .548 SLG, much higher than his Statcast expected level. The low xSLG and his .190 BA reflect a big drop in average exit velocity -- Cron is usually among the league leaders in that department. However, considering it was only 52 PA, nothing should be read into it. Cron's time with the Tigers came to an end and the market has been slow for a 31-year-old right-handed hitter relegated to first base or designated hitter. Cron's career 110 wRC+ warrants a regular job, but he's on the wrong side of 30 in today's penny-pinching landscape. If Cron lands a full-time gig, he'll be a source of cheap power at corner infield or utility.
Despite hitting 30 and 25 home runs the past two seasons, he's been let go rather than get a raise in arbitration at year end. The Twins (like Tampa Bay) let him go because his .780 OPS last season was about average (101 OPS+) and not worth the $7 million or more he was set to make in arbitration. Cron looked improved last season as he hit 17 home runs with a .821 OPS before the All-Star break. He suffered a thumb injury in early July and tried to play through the injury. He eventually had multiple stints on the injured list and played with a brace, but he hit just eight home runs with a .700 OPS after the All-Star break. Cron needed a surgical debridement of his right thumb in the offseason. Cron had a 1.005 OPS vs. left-handed pitching, so he can productive in a platoon role. However, he could win everyday duty after signing a one-year, $6.1 million deal with the Tigers.
Even in the current power-laden landscape, it's rare for a 30-homer hitter to be designated for assignment, but that's exactly what happened to Cron. His lack of defensive prowess hurts his real-world value, and the Rays decided he wasn't worth close to $5 million through arbitration. The good news is that the Twins decided he was worth that price tag; Minnesota traded for Cron and will likely afford him near-everyday time between first base and DH. His plate skills and batted-ball profile were nearly identical with and without the platoon edge, the main difference being a .392 BABIP vs. LHP and a .252 BABIP vs. RHP. In short, his splits aren't as exaggerated as they seem. There's still a risk he falls into a platoon role if the results aren't there on the field, but even so, Cron makes for a nice late pick at a position that fell off as a whole in 2018. He has shown he can produce, especially in the power department.
Cron has seemingly hit a wall in the major leagues and there's not much to suggest he's going to take his game to another level in his age-28 season. The quality of his contact improved in 2017 (35.8 percent hard-hit rate, 6.7 Brls/PA), but he put bat to ball with far less consistency, with his strikeout rate leaping from 16.9 percent to 25.7 percent. His OBP against right-handed pitching fell nearly 30 points to .309 as he walked just 5.9 percent of the time for the season, and he didn't show any real growth against lefties (.233 average, .290 OBP). Cron missed some time with a foot injury, was demoted several times throughout the campaign and fizzled late while serving in an everyday role. He was also a negative in the field, grading out just barely above replacement level overall. While he figures to get another chance to play regularly to begin 2018, Cron could be relegated to part-time duty with a slow start.
Cron took over as the Halos' primary first baseman but was sidelined about six weeks after breaking his hand in early July. His skills continued to trend in the right direction, as he whiffed less and walked more for the second straight season. However, his 5.4 percent walk rate is still far too low, especially if Cron wants to hit in the meat of the order. Cron's power ticked up, but it was mostly an increase in doubles as he matched 2015's home run output in 40 more plate appearances. Cron has actually had more success against right-handed pitching in his career (.789 OPS) than lefties (.694 OPS) . As such, there's room for growth if his numbers improve versus southpaws. For those who miss out on a stud first baseman early, Cron makes for a perfect fallback option with a solid floor and intriguing power upside.
Cron began the season as the team's everyday DH after undergoing wrist surgery in the offseason, but was sent back to Triple-A Salt Lake after hitting just .143 in May. The former first-round pick made another stop in the minors after struggling upon his return, but was able to rebound, finishing the season with 16 homers and a .739 OPS in 378 at-bats. Cron is still a work in progress, as his walk rate remained disappointing (4.2%) and his ISO dropped nearly 20 points (from .194 to .177) but his 20 percent strikeout rate represents nearly a four percent decrease from his first year, while his 80.3% contact rate is up from the 77.3% he tallied in 2014. Cron may not have done enough to label his season a full-fledged breakout, but he will almost certainly be back with the Angels to begin 2016, and could fill in at first base if Albert Pujols isn't ready to begin the season after undergoing foot surgery this winter.
Considered by some to be the top hitting prospect in the Angels' system entering 2014, Cron hit the ground running after making his major league debut in May, tallying slugging percentages of .548 and .552 in May and June, respectively. As quickly as it started, however, Cron's run of success seemed to end, as he did not post an OPS higher than .656 in the final three months of the season, resulting in a temporary demotion to Triple-A Salt Lake in August. He was recalled when rosters expanded in September, but was a part-time player down the stretch. Cron played to his minor league numbers in his first go around in the major leagues, providing big power (.194 ISO), but combining it with a suspect walk rate (4.0%). He also struck out far too often, whiffing 61 times in 79 games. Cron could wind up on the small side of a platoon with the left-handed hitting Matt Joyce as a DH tandem in 2015, and the 25-year-old should spell Albert Pujols at first base when Pujols needs a day without defensive responsibilities, but it remains to be seen if he will be given enough playing time to prove that he was worthy of his prospect status.
Cron saw his power numbers dip sharply after being promoted to Double-A Arkansas at the beginning of the 2013 season, as he slugged just .428 after slugging .516 with High-A Inland Empire in 2012. This, coupled with a remarkably low walk rate (4.1%), led to a pedestrian .746 OPS for the season. Cron makes enough contact (14.7% strikeout rate in 2013) that he may be able to offset his lack of plate discipline, but if he can't get his power numbers back to 2012 levels, he may struggle going forward. It should be noted, however, that the park effects at Arkansas suppress offense, specifically power. Cron hit well during his time in the Arizona Fall League, hitting .413 with five homers in 80 at-bats, and remains one of the best prospects in the Angels' system. He is expected to begin his 2014 season back in Arkansas, but he may quickly move to Triple-A Salt Lake and try to force his way into the picture in Anaheim with the departure of Mark Trumbo.
Cron was the 17th overall pick in the 2011 draft and had an impressive showing at High-A Inland Empire last season after tearing up the rookie league the year before. He hit 27 homers and only struck out 72 times in 557 plate appearances for Inland Empire, but the Angels have to be concerned that he only managed to draw 17 walks all year. As promising of a talent as Cron is, he may stall out if he doesn't improve his plate discipline in the coming years. If he's able to do that, the sky is the limit for the 6-foot-4, 225-pound, 23-year-old slugger.
The Angels selected Cron with the 17th pick in the 2011 draft. Though he didn't finish 2011 due to a knee injury, he posted a 1.000 OPS in 159 plate appearances in the rookie league. Cron should recover from his injury by the start of the season and open the season at Low-A Cedar Rapids in the Midwest League. While he is one of the Angels' better prospects, the offseason signing of Albert Pujols blocks his long-term path. As a result, he could be most valuable to the team as a trade chip if his development takes place as expected.
More Fantasy News