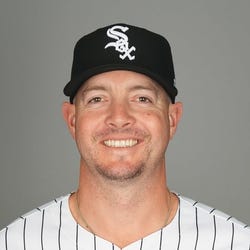 Rest-of-Season Projections
$Signed a one-year, $10 million contract with the Phillies in December of 2021.

Knebel was transferred to the 60-day injured list Sunday and won't return this season after being diagnosed with a tear in his right shoulder capsule,
Matt Gelb of The Athletic
reports.
ANALYSIS
Knebel was already on the 15-day IL, but there had been hope that he would be able to return this season before he received the latest diagnosis of his shoulder injury. He'll receive stem-cell treatment in an effort to avoid surgery, though the issue could linger into the 2023 campaign. The Phillies' bullpen is left shorthanded, as closer
Seranthony Dominguez
(triceps) landed on the IL on Sunday.
Read More News
Pitching Stats
Loading Pitching Stats...
2022
2021
2020
2019
2018
2017
2022 MLB Game Log

Calculate Stats Over Time
Just click on any two dates.
Scoring
FanDuel
DraftKings
Yahoo DFS
Loading Pitching Game Log...
2021 MLB Game Log

Calculate Stats Over Time
Just click on any two dates.
Scoring
FanDuel
DraftKings
Yahoo DFS
Loading Pitching Game Log...
2020 MLB Game Log

Calculate Stats Over Time
Just click on any two dates.
Scoring
FanDuel
DraftKings
Yahoo DFS
Loading Pitching Game Log...
2019 MLB Game Log

Calculate Stats Over Time
Just click on any two dates.
Scoring
FanDuel
DraftKings
Yahoo DFS
Loading Pitching Game Log...
2018 MLB Game Log

Calculate Stats Over Time
Just click on any two dates.
Scoring
FanDuel
DraftKings
Yahoo DFS
Loading Pitching Game Log...
2017 MLB Game Log

Calculate Stats Over Time
Just click on any two dates.
Scoring
FanDuel
DraftKings
Yahoo DFS
Loading Pitching Game Log...
Minor League Game Log

Calculate Stats Over Time
Just click on any two dates.
Loading Minor League Pitching Game Log...
Left/Right Pitching Splits
BAA
K
BB
H
HR
Since 2021

vs Left

.154
29
18
19
2
Since 2021

vs Right

.229
42
19
30
4
2023

vs Left

0
0
0
0
0
2023

vs Right

0
0
0
0
0
2022

vs Left

.163
17
12
13
1
2022

vs Right

.241
24
16
20
3
2021

vs Left

.140
12
6
6
1
2021

vs Right

.208
18
3
10
1
More Splits

→

View More Split Stats
Home/Away Pitching Splits
ERA
WHIP
IP
K/9
BB/9
Since 2021

Home

2.16
1.08
33.1
8.4
3.2
Since 2021

Away

3.89
1.35
37.0
9.7
6.1
2023

Home

0
0
0
0
0
2023

Away

0
0
0
0
0
2022

Home

2.82
1.25
22.1
8.9
3.6
2022

Away

4.03
1.48
22.1
7.7
7.7
2021

Home

0.82
0.73
11.0
7.4
2.5
2021

Away

3.68
1.16
14.2
12.9
3.7
More Splits

→

View More Split Stats
Advanced Pitching Stats
Loading Advanced Pitching Stats...
Loading MLB Defensive Stats...
Recent RotoWire Articles Featuring Corey Knebel
See More
Past Fantasy Outlooks
2022
2021
2020
2019
2018
2017
2016
2015
2014
The West Coast seems like a good place to rehabilitate one's market value and that's exactly what Knebel did with the Dodgers in 2021. He missed all of 2019 following Tommy John surgery and struggled in his small sample on the field with the Brewers in 2020 (6.08 ERA, 1.73 WHIP). While it certainly wasn't all smooth sailing last season -- Knebel missed multiple months with a lat strain -- he was excellent when on the field and essentially doubled his salary, landing a one-year, $10 deal with the Phillies for 2022. He could be in line for another, even-bigger payday next winter if he's able to stay on the field and particularly if he's able to return to form similar as an elite closer similar to years past. The numbers say he's right back there to his pre-injury dominance with his filthy fastball-curveball combo. It's no lock he even gets the closer role, but Knebel is only 30 years old and the best man for the job as the Philadelphia roster currently stands.
Knebel missed the entire 2019 season after undergoing Tommy John surgery, and although he underwent the procedure that April, the delayed start to the 2020 campaign allowed him to make it back for Opening Day. He did not have his usual velocity early on, though, and allowed a run in five of his first nine appearances before landing back on the injured list. He was able to make it back for the final couple weeks of the campaign, and -- with him hitting 96 mph on the radar gun again -- allowed just two earned runs over his final 6.2 innings. A dominant reliever in 2017 and 2018, Knebel was set to earn a pretty penny in arbitration, and the Brewers decided to ship their former closer to the Dodgers. The champs are banking on Knebel picking up where he left off and pitching like his old self again, but they will likely be counting on him filling only a middle-relief role and not a back-end spot.
It appeared Knebel would open 2019 as the Brewers' closer, but an elbow injury late in the spring led to Tommy John surgery and cost him the entire campaign. That procedure takes over a year to recover from, but Knebel has made good progress. While he is not expected to be ready for Opening Day, he should be good to go sometime in May. Josh Hader thrived as the closer last season, but Knebel's injury forced him into that role a bit, and it's arguable Hader is more effective when not limited to one spot. If manager Craig Counsell decides to use Hader more liberally, a healthy Knebel would likely be the primary closer. Health and role are both viable concerns, but Knebel has a proven track record, posting a 2.54 ERA, 1.13 WHIP, and 14.7 K/9 over his last two healthy seasons. Knebel can be counted on in the ratio and strikeout categories, and if he winds up with the closer's role again -- or even shares it with Hader -- he could provide value in saves as well.
It was an up-and-down 2018 campaign for Knebel, but he ended it on a high note. He opened the year as the closer, but an early-April injury sidelined him over a month, and he struggled for the next three months before losing the ninth-inning role in August. Things got so bad that month that the Brewers optioned him to Triple-A in late August in an effort to iron things out. The move paid off, as after Knebel was recalled, he allowed just one earned run over 25 appearances before the Brewers were eliminated from the playoffs. While Knebel's ratios dipped last year due to the midseason struggles, he still averaged just a tick under 97 mph on his fastball and posted a similar strikeout rate to his dominant season before, providing plenty of reason for optimism. Jeremy Jeffress thrived last year while closing in Knebel's absence, but given his history, chances are it's Knebel who opens 2019 as the closer in Milwaukee.
The 2017 campaign kicked off with Knebel filling a setup role for the Brewers, but it did not take him long to assume the ninth-inning duties from an ineffective Neftali Feliz. Once he became the closer, Knebel provided a massive boost in saves for fantasy owners, locking up 39 contests from mid-May through season's end. Knebel let more runners reach base than would have been desired, but he allowed just six home runs and posted an elite 14.9 K/9 over the entire season, so he was frequently able to escape danger. He was one of the most productive relievers in baseball last year, and the numbers mentioned in the previous sentence give him sound job security. There is no question he will open the 2018 season as the Brewers' closer as long as he is on the Opening Day roster, and his strikeout potential will make him a trendy target for fantasy players.
Knebel was sharp in 2015 but couldn't pick up where he left off, as an oblique injury resulted in his season debut being delayed until June. He had trouble getting started as well, allowing five runs in his first eight appearances, and he never quite managed to settle in. Knebel managed 38 strikeouts in just 32.2 innings, but he finished with a brutal 4.4 BB/9 and often paid for issuing so many free passes. He now owns a mediocre 4.03 ERA in three major league seasons despite a sharp 10.5 K/9. Knebel is just 25 in 2017 and has a high ceiling if he can rein in his control (3.5 career BB/9). But walks often come around to bite the pitchers who concede them, and Knebel is in no way immune. The Brewers seem willing to bet on his stuff winning out over his past results. He will enter spring training as the favorite to be the primary setup man after the Brewers acquired Neftali Feliz to fill their open closer's role.
The Brewers thought they were receiving a prospect pitcher when they got Knebel from the Rangers, but he instead proved to be one of their better bullpen arms in the present. Despite lackluster numbers with Triple-A Colorado Springs, Knebel pitched well with the Brewers, accumulating 58 strikeouts in 50.1 innings to go with a 3.22 ERA and 1.21 WHIP. His 4.09 FIP is a bit troubling, but his mid-90s fastball and good slider should help him maintain his success in the majors. The 23-year-old could see more high-leverage situations if his success continues, and he could even be in line for saves with the trade of Francisco Rodriguez to Detroit in November.
Knebel is an explosive right-handed relief pitching prospect, featuring a mid-90s fastball and a plus curveball. He came to Texas from Detroit in the Joakim Soria trade, but was shut down less than a month later with a sprained UCL. In 54 innings last season between Double-A, Triple-A and the majors, Knebel recorded 74 strikeouts with 17 walks, demonstrating why he profiles as a high-leverage option. He pitched 8.2 innings with the Tigers prior to the trade, but was not featured in the major leagues with Texas, but that should change early in 2015 if he is fully healthy. Traded to Milwaukee in January, Knebel could emerge to take on a prominent late-inning role with the Brewers if his elbow woes are no longer an issue.
The Tigers selected Knebel with the 39th overall pick of the 2013 draft. A closer out of Texas, Knebel was immediately inserted into the same role for Low-A West Michigan after the draft last summer. He dominated the lower level, picking up 15 saves with a 0.87 ERA and 41:10 K:BB ratio in 31 appearances. With good size (6-foot-3, 210 pounds), a strong arm (his fastball tops out at 98 mph) and a wipeout slider, Knebel has the goods to be a closer at the major league level one day. The 22-year-old righty will have to prove himself at the higher levels of the minors to start the 2014 campaign, but he's considered to be on the fast track to the majors. Once he does arrive to the show, Knebel will have an opportunity to work high-leverage innings late in games, perhaps making his case to replace Joe Nathan upon the conclusion of Nathan's deal with the Tigers after the 2015 campaign.
More Fantasy News