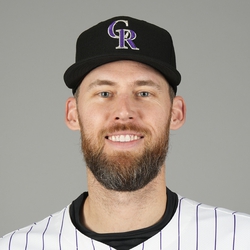 Out
Injury Forearm
Est. Return 2/1/2024
Rest-of-Season Projections
2023 Fantasy Outlook
Bard didn't lose any velocity during his age-37 season. In fact, he averaged a career best 98 mph on his sinker, which he implemented last year as his primary pitch to replace his historically less effective fastball. This translated to a career best 1.79 ERA, 51.7% groundball rate and 34 saves, which were sixth-most in the league. Bard threw the sinker often against left-handed batters, who hit just .174 against him last season compared to .319 in 2021. Some ratio regression is likely in store for 2023, as Bard's .221 BABIP was extremely low. His 2.86 FIP and 3.17 SIERA suggest a likelier ERA outcome. Still, Bard's career year earned him a 2-year extension from the Rockies. After finishing with the second highest team save share in the league last season at 79.1%, he's likely to earn the majority of saves in Colorado again as long as he's performing.
Read Past Outlooks
$Signed a two-year, $19 million contract extension with the Rockies in July of 2022.

ANALYSIS
The veteran right-hander presumably picked up the injury Tuesday versus the Dodgers when he allowed a run on a hit and two walks over one inning. Bard finished this season with a 4.56 ERA, 1.70 WHIP and 47:49 K:BB in 49.1 innings and is under contract for 2024 at $9.5 million.
Read More News
Pitching Stats
Loading Pitching Stats...
2023 MLB Game Log

Calculate Stats Over Time
Just click on any two dates.
Scoring
FanDuel
DraftKings
Yahoo DFS
Loading Pitching Game Log...
2022 MLB Game Log

Calculate Stats Over Time
Just click on any two dates.
Scoring
FanDuel
DraftKings
Yahoo DFS
Loading Pitching Game Log...
2021 MLB Game Log

Calculate Stats Over Time
Just click on any two dates.
Scoring
FanDuel
DraftKings
Yahoo DFS
Loading Pitching Game Log...
2020 MLB Game Log

Calculate Stats Over Time
Just click on any two dates.
Scoring
FanDuel
DraftKings
Yahoo DFS
Loading Pitching Game Log...
Minor League Game Log

Calculate Stats Over Time
Just click on any two dates.
Loading Minor League Pitching Game Log...
Pitching Appearances Breakdown
How many pitches does Daniel Bard generally throw?
What part of the game does Daniel Bard generally pitch?
% Games Reaching Innings Threshold
% Games By Number of Innings Pitched
Left/Right Pitching Splits
BAA
K
BB
H
HR
Since 2021

vs Left

.240
96
62
75
11
Since 2021

vs Right

.192
100
48
64
5
2023

vs Left

.196
17
28
11
2
2023

vs Right

.211
30
21
24
3
2022

vs Left

.174
39
16
21
2
2022

vs Right

.147
30
9
14
1
2021

vs Left

.319
40
18
43
7
2021

vs Right

.208
40
18
26
1
More Splits

→

View More Split Stats
Home/Away Pitching Splits
ERA
WHIP
IP
K/9
BB/9
Since 2021

Home

3.82
1.42
96.2
10.1
5.4
Since 2021

Away

3.89
1.42
78.2
10.1
5.9
2023

Home

6.94
2.01
23.1
9.3
10.4
2023

Away

2.42
1.42
26.0
8.0
7.6
2022

Home

1.97
1.06
32.0
9.8
4.2
2022

Away

1.59
0.92
28.1
10.8
3.2
2021

Home

3.48
1.35
41.1
10.7
3.5
2021

Away

8.14
2.01
24.1
11.5
7.4
More Splits

→

View More Split Stats
Stat Review
How does Daniel Bard compare to other relievers?
This section compares his stats with all relief pitcher seasons from the previous three seasons (minimum 30 innings)*. The bar represents the player's percentile rank. For example, if the bar is halfway across, then the player falls into the 50th percentile for that stat and it would be considered average.
* Exit Velocity, Barrels/BBE %, Balls Hit 95+ MPH %, and Spin Rate are benchmarked against 2019 data (min 30 IP).
See here for more exit velocity/barrels stats
plus an explanation of current limitations with that data set.
K/BB

Strikeout to walk ratio.

K/9

Average strikeouts per nine innings.

BB/9

Average walks per nine innings.

HR/9

Average home runs allowed per nine innings.

Fastball

Average fastball velocity.

ERA

Earned run average. The average earned runs allowed per nine innings.

WHIP

Walks plus hits per inning pitched.

BABIP

Batting average on balls in play. Measures how many balls in play against a pitcher go for hits.

GB/FB

Groundball to flyball ratio. The higher the number, the more likely a pitcher is to induce groundballs.

Left On Base

The percentage of base runners that a pitcher strands on base over the course of a season.

Exit Velocity

The speed of the baseball as it comes off the bat, immediately after a batter makes contact.

Barrels/BBE

The percentage of batted ball events resulting in a Barrel. A Barrel is a batted ball with similar exit velocity and launch angle to past ones that led to a minimum .500 batting average and 1.500 slugging percentage.

Spin Rate

Spin Rate is the rate of spin on a baseball after it is released. It is measured in revolutions per minute (rpm).

Balls Hit 95+ MPH

The percentage of batted balls hit that met or exceeded the 95 MPH threshold.

Swinging Strike

The percentage of pitches that result in a swing and a miss.
Advanced Pitching Stats
Loading Advanced Pitching Stats...
Loading MLB Defensive Stats...
Our full team depth charts are reserved for RotoWire subscribers.
Subscribe Now
Recent RotoWire Articles Featuring Daniel Bard
See More
Past Fantasy Outlooks
2022
2021
2014
2013
2012
2011
2010
2009
After performing well as Colorado's closer in his return to the majors in 2020, Bard opened last year in the role after avoiding arbitration with the Rockies. He logged 20 saves in 28 chances, but struggled all season long, failing to post an ERA under 3.97 or WHIP better than 1.35 during any month. He finished with a poor 5.21 ERA and 1.60 WHIP over 65.2 innings and ceded the closer role to Carlos Estevez in late-August. Bard was given many opportunities to work through his struggles, but he simply couldn't overcome them in his age-36 season. On the plus side, the veteran is still able to throw 97-mph and his 11.0 K/9 was his highest mark in the category since his rookie year in 2009. Bard's experience in high-leverage makes him an ideal trade candidate before he hits free agency in 2023. Pencil him in for a handful of saves, but don't expect much more than that as his best years are likely behind him.
Bard returned to the majors in 2020 for the first time since 2013, and he impressed with the Rockies. He led the team in saves as he was perfect on his six chances. Although the closer for the 2021 campaign is still up in the air, Bard would appear to be the favorite heading into the season after posting a 3.65 ERA and 27:10 K:BB over 24.2 innings in 2020. The right-hander's average fastball velocity increased greatly to 97.1 mph in his first season back in the big leagues, and he had a slightly above-average 25.5 K% and 12.4% swinging-strike rate. Those numbers aren't quite what you'd expect out of most closers, and pitchers who handle the ninth inning for the Rockies tend to have a short shelf life. Bard will be 36 in June, and it remains to be seen whether he can sustain his production over a larger sample. However, he holds some fantasy value as the most likely closer for Colorado heading into 2021.
Bard spent less than a week with the Red Sox last April, but otherwise battled injuries and ineffectiveness in the minors for the remainder of the season. He walked 27 in 15.1 innings in the minors before the Red Sox had seen enough. The Cubs scooped him up in September in the hopes of taking a chance on a reliever who put together an outstanding run a few years ago, but his control looks like it's gone. He was non-tendered by the team in December.
We never really got a clear answer for what caused Bard's train to come off its tracks. The conversion from reliever to starter is the inciting incident that led to the mess his 2012 season became, but those conversions happen all the time. Heck, the Red Sox did it in-season with Franklin Morales. What about Bard's transition, which started in the offseason with plenty of time to prepare, caused him to become the "Wild Thing?" As bad as he was in Boston, Bard was even worse following his demotion to Triple-A Pawtucket. In 32 innings with the PawSox, Bard walked 29 batters and hit another 10. There is much outside speculation that having John Farrell back in the organization will help all the pitchers who seem to have lost their way, including Bard. Getting Bard back to being the effective setup reliever he was prior to 2012 is one of the team's many offseason priorities.
Bard had several individual meltdowns during the season, including a couple of high-profile ones during Boston's dramatic September collapse, leading to a worrisome 3.33 ERA. He maintained his strikeout and hold numbers, but questions started to creep in about his ability to be a full-time closer -- he has 12 blown saves in the past two seasons, which takes on added importance after Boston lost closer Jonathan Papelbon to Philadelphia in the free-agent market. While he's known mostly for his high-90s fastball, Bard can throw enough pitches to be a starter. He entered professional baseball as a starter, before the organization moved him to the bullpen. Red Sox general manager Ben Cherington acquired Andrew Bailey and Mark Melancon to handle the late innings, and the plan is to deploy Bard as a starter heading into spring training.
Close observers know all about Bard by now. He throws wall-to-wall heat and misses bats as one of the league's premier setup men. His 32 holds led the American League and ranked third in MLB, behind a couple of relievers from San Diego, who pitched at an airport. Bard was a dominant pitcher in 2010, getting both righties and lefties out while limiting batters to a .159 average with runners on. As Jonathan Papelbon enters the final year of his contract, Bard has no more than a year to wait to become Boston's closer. That could happen sooner if the Red Sox decide to trade Papelbon, who has made it known for a long time he's looking to make a splash as a free agent.
Bard started the 2009 season at Triple-A Pawtucket, then emerged as Boston's leading option as a setup guy to closer Jonathan Papelbon. He struck out 63 batters in 49.1 innings, using a blistering fastball, augmented by a slider he's developed along the way. His walk rate ticked up with the move up to the bigs, but the Red Sox have the utmost confidence in him. He'll open the 2010 season as he finished last year as Boston's set up man. With Papelbon nearing free agency and making noise about getting big bucks, the Red Sox could be grooming Bard for the closer's role in 2012, when Papelbon becomes a free agent.
Bard was extremely successful in his first full season out of the bullpen, making the leap from Low-A Greenville to Double-A Portland. Bard struck out 107 batters in 77.2 innings and limited batters to a .173 batting average. The organization worked on his mechanics and had him work with sports psychologist and former pitcher Bob Tewksbury on the mental aspects to overcome a disastrous 2007 season. He'll work on his secondary pitches this season while with Portland, and could eventually return to being a starter.
More Fantasy News