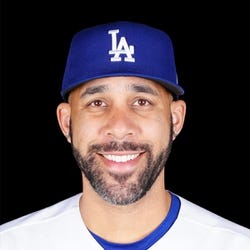 Rest-of-Season Projections
2023 Fantasy Outlook
There was no outlook written for David Price in 2023. Check out the latest news below for more on his current fantasy value.
#

Overall
$Signed a seven-year, $217 million contract with the Red Sox in December of 2015. Traded to the Dodgers in February of 2020.

ANALYSIS
Price spent the past two seasons with the Dodgers and primarily worked out of the bullpen, and he had a 2.45 ERA, 1.17 WHIP and 37:9 K:BB across 40.1 innings during 2022. This doesn't appear to be a formal retirement, but a year off at 37 years could very well be the end of his 14-year MLB career.
Read More News
Pitching Stats
Loading Pitching Stats...
2022
2021
2020
2019
2018
2017
2022 MLB Game Log

Calculate Stats Over Time
Just click on any two dates.
Scoring
FanDuel
DraftKings
Yahoo DFS
Loading Pitching Game Log...
2021 MLB Game Log

Calculate Stats Over Time
Just click on any two dates.
Scoring
FanDuel
DraftKings
Yahoo DFS
Loading Pitching Game Log...
2020 MLB Game Log

Calculate Stats Over Time
Just click on any two dates.
Scoring
FanDuel
DraftKings
Yahoo DFS
Loading Pitching Game Log...
2019 MLB Game Log

Calculate Stats Over Time
Just click on any two dates.
Scoring
FanDuel
DraftKings
Yahoo DFS
Loading Pitching Game Log...
2018 MLB Game Log

Calculate Stats Over Time
Just click on any two dates.
Scoring
FanDuel
DraftKings
Yahoo DFS
Loading Pitching Game Log...
2017 MLB Game Log

Calculate Stats Over Time
Just click on any two dates.
Scoring
FanDuel
DraftKings
Yahoo DFS
Loading Pitching Game Log...
Minor League Game Log

Calculate Stats Over Time
Just click on any two dates.
Loading Minor League Pitching Game Log...
Left/Right Pitching Splits
BAA
K
BB
H
HR
Since 2021

vs Left

.274
33
11
45
4
Since 2021

vs Right

.254
62
24
72
10
2023

vs Left

0
0
0
0
0
2023

vs Right

0
0
0
0
0
2022

vs Left

.271
13
2
16
2
2022

vs Right

.224
24
7
22
4
2021

vs Left

.276
20
9
29
2
2021

vs Right

.270
38
17
50
6
More Splits

→

View More Split Stats
Home/Away Pitching Splits
ERA
WHIP
IP
K/9
BB/9
Since 2021

Home

3.27
1.20
63.1
8.4
1.8
Since 2021

Away

3.73
1.50
50.2
6.4
3.9
2023

Home

0
0
0
0
0
2023

Away

0
0
0
0
0
2022

Home

1.77
1.03
20.1
9.7
1.8
2022

Away

3.15
1.30
20.0
6.8
2.3
2021

Home

3.98
1.28
43.0
7.7
1.9
2021

Away

4.11
1.63
30.2
6.2
5.0
More Splits

→

View More Split Stats
Advanced Pitching Stats
Loading Advanced Pitching Stats...
Loading MLB Defensive Stats...
Recent RotoWire Articles Featuring David Price
See More
Past Fantasy Outlooks
2022
2021
2020
2019
2018
2017
2016
2015
2014
2013
2012
2011
2010
2009
2008
After opting out of the 2020 season, Price spent much of 2021 -- his first active campaign with the Dodgers -- as a reliever, coming out of the bullpen for 28 of his 39 appearances. He did his best work as a starter, however, holding opponents to a .234 average in that role versus the .318 average he surrendered as a reliever. The veteran southpaw is no longer capable of missing many bats, as he registered a paltry 23.4 percent chase rate and career-worst 7.1 K/9 on the campaign, and it's no surprise that his fastball has lost a couple ticks in comparison to his prime seasons. He'll be 36 years old at the start of the 2022 campaign, so it seems likely that he'll increasingly need to rely on experience and pitching savvy to find success. Price's most obvious role moving forward is as a long reliever, though Los Angeles may ask him to make an occasional start if the need arises.
Price joined the Dodgers in the blockbuster Mookie Betts trade, but he opted out of the 2020 season due to concerns tied to the COVID-19 pandemic. His contract runs through the 2022 campaign, however, so he'll have an opportunity to contribute to his new team over the next two years. While Price has spent his career in the American League, he has made 37 appearances (36 starts) against National League teams in interleague play, compiling a 15-12 record, 3.42 ERA and 9.4 K/9. The Dodgers should be fine with that level of production from the veteran, who figures to slot in no higher than No. 3 in their rotation. It remains to be seen whether a full season off the mound will result in more rust or rejuvenation for Price, and the left-hander's 2019 campaign ended with minor wrist surgery, so fantasy managers will need to balance risk with potential reward when deciding how aggressive to get for the 35-year-old.
On July 14, Price was sporting a 3.16 ERA and 1.15 WHIP with 102 strikeouts and 24 walks in 88.1 innings. It went south fast for the veteran southpaw, as he registered a 9.47 ERA and 2.05 WHIP, allowing seven homers in his final 19 frames. After a string of poor outings, Price was placed on the IL on Aug. 8 with a cyst in his left wrist. He received a cortisone shot to alleviate the pain, then returned for an abbreviated start Sept. 1, which turned out to be the last of his 2019 campaign. It's unclear if Price's struggles after the break were a result of the cyst, but his numbers certainly point that way. He had surgery to remove the cyst and expects to have a normal offseason. Based on his first-half success, it's likely Price still has something left in the tank. At 34 years old with an elbow that can flare up at any time, he's a health risk, and after being traded to the Dodgers, it's likely that his innings will be capped. That said, with risk and a perceived lacked of upside comes a discount and potential reward.
Price had the ability to opt out of his contract this winter, but declined to do so after Boston put a ring on it. There were times in 2018 when Price was booed by the home crowd, and then there were moments of brilliance, including his showings in the ALCS and World Series where he absolutely dominated the Astros and Dodgers. The pitcher we saw late was vintage Price -- in his final 94 innings, including the postseason, he had a 2.59 ERA and 91:28 K:BB. He doesn't throw upper 90s any longer, but he can throw three pitches for strikes and his changeup is a weapon when he is up in the count and forces hitters to expand their zones to protect. The run environment of the home park and the AL East as a whole make it very tough for him to lower his ERA, but Blake Snell showed anything is possible. While he may not be a staff building block any longer in mixed leagues, Price can still flash ace stuff and should still command heavy interest on draft day.
Elbow soreness surfaced for Price in spring training, and the initial expectation was that he would open the season on the DL and return soon after Opening Day, but Price did not debut in 2017 until the final week of May. Blister and fingernail woes arose in June and July before he returned to the DL with more elbow soreness prior to the non-waiver trade deadline. Price rehabbed back to the 25-man roster and closed 2017 as a reliever, which included two appearances out of the bullpen during the ALDS against Houston. In addition to 6.2 scoreless frames in the postseason, Price fared well overall when he was on the mound in 2017, with a 3.38 ERA and 1.19 WHIP along with a 76:24 K:BB in 74.2 innings. An offseason of rest should afford him a clean bill of health when spring training begins, but Price enters Year 3 of his seven-year deal with Boston having plenty of concern about his ability to shoulder a 200-inning workload again.
Price's final numbers were respectable -- 3.99 ERA and 228 strikeouts in a league-high 230 innings -- but not worth $30 million a year. He struggled with command at times, allowing a career-high 30 homers and his highest WHIP since 2009. When his season started slowly, there was the sense he'd come around. When he didn't, there was talk of reduced fastball velocity, reminding us that Price is entering his 30s and may be losing some mustard. Then his leg kick wasn't as high as it used to be. When the velocity and the mechanics came back, there was always something -- poor command, too many hits, inability to put hitters away, a shaky bullpen -- conspiring against him. He eventually pitched better in the second half and still wound up with a BB/9 below 2.00 for the fourth straight year. A spring arm injury provided a significant scare and will inevitably suppress his cost, but Price is expected to avoid surgery.
The perception was that Price didn't really get going until he was traded to Toronto. But it's tough to say that his Detroit performance was at all lagging: 2.53 ERA, 1.11 ERA, 8.5 K/9 and 4.8 K:BB ratio in 146 IP. He was great. He simply went from great to elite after the trade: 2.30 ERA, 1.01 WHIP, 10.5 K/9, and 4.8 K:BB ratio in 74 IP. It's hard to say you were unheralded in a 2nd-place Cy Young season, but it seemed that Price wasn't given as much attention as the other aces in the league. Maybe it's the 435 IP of 3.29 ERA in 2013-14 that dinged his image as a fantasy stud, but the skills in those seasons were right in line with those from 2012 and 2015, both of which saw him lead the AL in ERA. He offers a measure of reliability at a position where volatility reigns supreme. Buy, buy, buy!
In the surprise move of the 2014 trade deadline, Price was shipped from Tampa to Detroit. In 23 starts for the Rays, Price went 11-8 with a 3.11 ERA, 1.05 WHIP, 189 strikeouts and 23 walks in 170.2 innings. He had a couple of rough starts after joining Detroit, but the results were similar. His 271 strikeouts ranked first in the majors and easily eclipsed his previous career high of 218 strikeouts. Price's fastball no longer sits in the 95-mph range it did earlier in his career, but he has offset that dip by developing one of the more effective cutters in the league. Price will return to the Tigers for at least one more season before hitting free agency. Leaving the pitcher-friendly confines of Tropicana, not to mention Tampa's usual stellar defense, could result in a slight dip in Price's peripheral stats over the course of a full season, but Detroit will provide more run support than the star southpaw is accustomed to seeing, which will lead to plenty of wins. Entering his age-29 season, Price will be the Tigers' ace and the ace of many fantasy squads.
Coming off the AL Cy Young Award in 2012, expectations could not have been higher for the southpaw Price. While his win total declined from 20 to 10 and he missed over a month of the season with a triceps injury, his overall numbers were about on par with his excellent past few seasons. In just 27 starts, he tied for the lead in the AL with four complete games. Though his strikeout percentage dipped slightly, he took a big step in improving control, with 1.3 BB/9 and a 5.59 K/BB ratio, both tops in the AL. He finished the season with a 10-8 record and 3.33 ERA and he continued his run of dominance over AL East opponents, going 6-3 over 14 starts. Entering the 2014 season at age 28, Price remains one of the top fantasy options on the mound and is the true ace of his pitching staff.
After a small step back in production in 2011, Price flipped the switch in 2012 en route to the AL Cy Young award. Even with a struggling Rays offense, he dominated, going 20-5 with a 2.56 ERA and 205 strikeouts in 31 starts. He also posted a 10-2 record with a 2.51 ERA against AL East opponents, which has been a drain on his value in the past. He has an outstanding fastball that averaged out at 95.5 mph in 2012 and for the first time in his career threw more two-seam than four-seam fastballs. At 27, Price is still just entering the prime years of his career, and he should be drafted as a top starting pitcher in 2013.
Many will point at the loss of seven wins (19 to 12) and the modest raise in ERA (2.72 to 3.49) and think Price had a down season after an outstanding 2010. The truth is overall he improved in many areas when looking past some of the obvious stats. He improved his K/9IP rate slightly while walking almost one fewer batter per 9IP. As far as his skill set he has a lethal, bat-breaking fastball that routinely works in the mid-90s. The fastball is so good he throws it over 70 percent of the time and even when batters know it's coming, they often miss. Price's next best pitch is his slider which has a ton of knee-buckling action and he has a curve and a change-up he can throw in as well. Hope on draft day other owners look at his win and ERA stats and prepare to snag Price once the elite starting pitchers are off the board.
Price turned in one of the league's most dominating pitching performances last season, finishing 19-6 in his second year in the rotation. He had a 2.72 ERA and struck out 188 batters over 208.2 innings. Price finished second to Felix Hernandez in the Cy Young vote, earning four first-place votes. His success last season can be attributed to raising his K/9IP rate by almost one and increasing his average fastball (95.3 mph) by more than two miles per hour. His "out" pitch is a nasty slider that has a lot of late breaking movement, baffling right-handed hitters. Price enters the season as a top-10 pitching option looking to build on last year's success.
Price finished his rookie campaign with mixed results. After starting the season in the minors, he won 10 games for the Rays, but sported a 4.42 ERA and a 1.348 WHIP. On the positive side, he held opposing batters to a .241 average and improved his control as the year went on (1.51 K/BB in the first half, 2.39 in the second half) suggesting an improvement in his numbers should be in line for this year. Despite being a lefty, he was equally effective on both left-handed hitters (.242 BAA) and right-handed batters (.236). Plan on him taking the next step this season once he learns to trust his stuff and cuts down on the walks.
Price had a great season at three levels in the minors for Tampa Bay in 2008, and was a relief star in the postseason; despite that bullpen success, the Rays reiterated over the winter that they had no plans to recast him as a closer. With the trade of Edwin Jackson to Detroit, Price likely begins 2009 as the Rays' fourth starter, barring injury or an awful spring. Given Price's great fastball and his impressive repertoire of other pitches (remember his total dismantling of Jason Varitek in the ninth inning of ALCS Game 7?), he could be very successful with one of baseball's best defensive clubs behind him.
Price had gone 11-0, 2.59 in 17 regular season starts (133 innings) for Vanderbilt before the Rays took him with the first overall pick in the 2007 draft. Given that workload, the Rays did not give Price any game action after he signed in August, although he threw a few bullpens in the minors and also saw Instructional League action. Price has everything you want in a pitching prospect: size, velocity, command, a great body, intelligence and confidence. He'll start 2008 at either High-A or Double-A for the Rays; although they won't push to promote him to the bigs this season, if Price shows he's ready, they won't stop him, either.
More Fantasy News