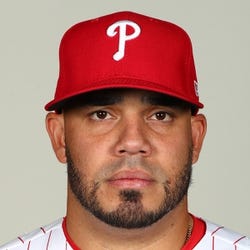 Out
Injury Elbow
Est. Return 2/1/2024
2023 Fantasy Outlook
There was no outlook written for Jose Alvarez in 2023. Check out the latest news below for more on his current fantasy value.
$Signed a one-year, $1.15 million contract with the Giants in March of 2021. Giants exercised $1.5 million team option for 2022 in November of 2021.

Undergoes Tommy John surgery
ANALYSIS
Alvarez has been sidelined since early July due to elbow inflammation, and the Giants announced last week that the southpaw would likely require Tommy John surgery. He officially underwent the procedure Wednesday and will likely be sidelined until at least 2024 due to the lengthy recovery process associated with the surgery.
Read More News
Pitching Stats
Loading Pitching Stats...
2022
2021
2020
2019
2018
2017
2022 MLB Game Log

Calculate Stats Over Time
Just click on any two dates.
Scoring
FanDuel
DraftKings
Yahoo DFS
FantasyDraft
Head2Head
Loading Pitching Game Log...
2021 MLB Game Log

Calculate Stats Over Time
Just click on any two dates.
Scoring
FanDuel
DraftKings
Yahoo DFS
FantasyDraft
Head2Head
Loading Pitching Game Log...
2020 MLB Game Log

Calculate Stats Over Time
Just click on any two dates.
Scoring
FanDuel
DraftKings
Yahoo DFS
FantasyDraft
Head2Head
Loading Pitching Game Log...
2019 MLB Game Log

Calculate Stats Over Time
Just click on any two dates.
Scoring
FanDuel
DraftKings
Yahoo DFS
FantasyDraft
Head2Head
Loading Pitching Game Log...
2018 MLB Game Log

Calculate Stats Over Time
Just click on any two dates.
Scoring
FanDuel
DraftKings
Yahoo DFS
FantasyDraft
Head2Head
Loading Pitching Game Log...
2017 MLB Game Log

Calculate Stats Over Time
Just click on any two dates.
Scoring
FanDuel
DraftKings
Yahoo DFS
FantasyDraft
Head2Head
Loading Pitching Game Log...
Minor League Game Log

Calculate Stats Over Time
Just click on any two dates.
Loading Minor League Pitching Game Log...
Pitching Appearances Breakdown
How many pitches does Jose Alvarez generally throw?
What part of the game does Jose Alvarez generally pitch?
% Games Reaching Innings Threshold
% Games By Number of Innings Pitched
Left/Right Pitching Splits
BAA
K
BB
H
HR
Since 2020

vs Left

.237
26
13
36
2
Since 2020

vs Right

.229
37
18
41
3
2022

vs Left

.240
7
6
6
2
2022

vs Right

.289
8
3
11
1
2021

vs Left

.220
16
6
26
0
2021

vs Right

.214
26
13
27
2
2020

vs Left

.444
3
1
4
0
2020

vs Right

.200
3
2
3
0
More Splits

→

View More Split Stats
Home/Away Pitching Splits
ERA
WHIP
IP
K/9
BB/9
Since 2020

Home

3.33
1.30
46.0
7.0
2.3
Since 2020

Away

2.23
1.19
40.1
6.0
4.2
2022

Home

6.00
1.78
9.0
10.0
5.0
2022

Away

4.26
1.58
6.1
7.1
5.7
2021

Home

3.03
1.16
32.2
6.3
1.7
2021

Away

1.69
1.06
32.0
5.3
3.7
2020

Home

0.00
1.38
4.1
6.2
2.1
2020

Away

4.50
2.00
2.0
13.5
9.0
More Splits

→

View More Split Stats
Stat Review
How does Jose Alvarez compare to other relievers?
This section compares his stats with all relief pitcher seasons from the previous three seasons (minimum 30 innings)*. The bar represents the player's percentile rank. For example, if the bar is halfway across, then the player falls into the 50th percentile for that stat and it would be considered average.
* Exit Velocity, Barrels/BBE %, Balls Hit 95+ MPH %, and Spin Rate are benchmarked against 2019 data (min 30 IP).
See here for more exit velocity/barrels stats
plus an explanation of current limitations with that data set.
K/BB

Strikeout to walk ratio.

K/9

Average strikeouts per nine innings.

BB/9

Average walks per nine innings.

HR/9

Average home runs allowed per nine innings.

Fastball

Average fastball velocity.

ERA

Earned run average. The average earned runs allowed per nine innings.

WHIP

Walks plus hits per inning pitched.

BABIP

Batting average on balls in play. Measures how many balls in play against a pitcher go for hits.

GB/FB

Groundball to flyball ratio. The higher the number, the more likely a pitcher is to induce groundballs.

Left On Base

The percentage of base runners that a pitcher strands on base over the course of a season.

Exit Velocity

The speed of the baseball as it comes off the bat, immediately after a batter makes contact.

Barrels/BBE

The percentage of batted ball events resulting in a Barrel. A Barrel is a batted ball with similar exit velocity and launch angle to past ones that led to a minimum .500 batting average and 1.500 slugging percentage.

Spin Rate

Spin Rate is the rate of spin on a baseball after it is released. It is measured in revolutions per minute (rpm).

Balls Hit 95+ MPH

The percentage of batted balls hit that met or exceeded the 95 MPH threshold.

Swinging Strike

The percentage of pitches that result in a swing and a miss.
Advanced Pitching Stats
Loading Advanced Pitching Stats...
Loading MLB Defensive Stats...
Recent RotoWire Articles Featuring Jose Alvarez
Past Fantasy Outlooks
2022
2020
2019
2018
2017
2016
2015
2014
Home run prevention is one of Alvarez's best skill, but last season he took it to another level, surrendering just two long balls in 64.2 innings. Considering he fanned only 42, Alvarez needed to limit four-baggers. His 2.37 ERA and 1.11 WHIP seem impressive, but they were buoyed by a .251 BABIP, well below his career mark of .301. The Giants deployed Alvarez in lower leverage scenarios, collecting a modest eight holds for a club winning 107 games. Alvarez's groundball nature should minimize homers, but he'll be hard-pressed to repeat last season's exploits. Even so, the Giants picked up his 2022 club option. Without the likelihood of gathering saves, and a low strikeout rate, Alvarez is fantasy option in just the deepest of leagues, and even then, he's a huge ratio risk.
Alvarez pitched respectably in his first season in Philadelphia after coming over from the Angels in exchange for Luis Garcia. He wasn't able to repeat his 2.71 ERA from 2018, but his 3.36 ERA for the Phillies was generally good enough to get the job done. The southpaw struggled against right-handed batters, letting them hit .328/.385/.475, but he held fellow lefties to a .236/.277/.382 slash line. While he's clearly good enough to play a role in a big-league bullpen, his fantasy upside is minimal. Nothing about his 4.21 FIP or 20.0 K% suggests that he's about to work his way into the ninth-inning role and improve upon his three career saves. There's a downside as well for those who play in leagues deep enough where even decent middle relievers get rostered, as Alvarez's inability to get righties out could cost him a job when the three-batter minimum gets implemented this season.
Alvarez's reward for a career-best season was a trade to Philadelphia where he'll add a veteran lefty presence to an improving bullpen. In 2018, Alvarez posted his third straight year with double-digit holds for the Angels, allowing just three homers in 63 innings, fueling his personal lowest ERA. He'll be hard-pressed to repeat that in Citizen's Bank Park, a venue more generous with respect to the long ball. On the other hand, his new home digs inflate strikeouts a little more than Angels Stadium, so that combined with the move to the Senior Circuit should add a few more punchouts to his ledger. Curiously, left-handed batters hit Alvarez for more power than righties, while right-handed swingers sport a much higher batting average. Look for Alvarez to be deployed in a high-leverage setup role, making him useful in deeper leagues scoring holds.
For the first time since 2014, Alvarez wasn't the most heavily-deployed arm out of the Angels' bullpen. That can likely be chalked up to his poor first half, as the 28-year-old struggled to a 5.40 ERA across 30 innings prior to the All-Star break, mostly thanks to his 59.4 percent strand rate and troublesome 1.7 HR/9. He spent the second half shuttling between Triple-A Salt Lake and the majors, posting an impressive 1.45 ERA thanks to much-improved home run and strand rates in a limited sample with Los Angeles (18.2 innings). Alvarez saw a slight increase in his strikeout rate from 2016, though it still sat at a humble 8.3 K/9. He also saw his walk rate drop for a third consecutive season to an impressive 2.2 BB/9. Given the Angels don't have any other proven left-handed options to use out of their bullpen, Alvarez should once again see his fair share of innings in 2018, which will likely amount to a respectable number of holds.
Alvarez found himself as one of the most heavily-used arms out of the Angels' bullpen once again in 2016. The left-hander's first half of the season was a bit shaky, as he held a 4.38 ERA and 1.59 WHIP at the beginning of July. This led to a brief stint in the minors, but upon his return later in the month, the 27-year-old showed vast improvement. The Angels currently don't have many better options in an overall weak bullpen, meaning the job security for Alvarez is pretty strong. However, his relatively modest strikeout rate (8.0 K/9) and horrific home/road splits (1.13 ERA at home vs. 6.39 ERA on the road) mean he likely won't be thrust into a bigger role. He's a consideration in leagues that count holds, but that's about the extent of Alvarez's fantasy appeal.
Alvarez recorded just two outs for the Angels in 2014 due to injury concerns, but was able to become a useful piece of the bullpen last season after snagging a longman role in spring training, finishing the year with a 3.49 ERA in 67 innings. Alvarez wound up facing more righties than lefties last season after initially being thought of as a lefty specialist, and was able to keep the ball on the ground (51%) and limit homers (five in 67 innings) while notching a BB/9 rate just above 3.0. While Ramos' ability to work hitters from both sides of the plate will likely make him an important part of the bullpen once again in 2016, he tallied just seven holds despite seeing the heaviest workload of his career, which makes him more valuable to the Halos than to fantasy owners.
The Angels acquired Alvarez from the Tigers in March for backup infielder Andrew Romine, seizing an opportunity to add depth to what was then a shaky bullpen when Jose Iglesias was ruled out for the season due to stress fractures in his legs. After tossing 38.2 innings with the Tigers in 2013 and posting a 5.82 ERA in 14 games (six starts), Alvarez spent most of his time last season at Triple-A Salt Lake, where he notched a 6.75 ERA in 30.1 innings over six starts. It's expected that Cesar Ramos, who was acquired from the Rays in November, is going to be the top lefty out of the bullpen, but Alvarez's experience as a starter could give him the opportunity to compete for the final spot in the rotation, as Tyler Skaggs is expected to miss the entire season after having Tommy John surgery in August.
Alvarez made his major league debut in 2013, making 14 appearances while splitting time between the Tigers' rotation and bullpen. The 25-year-old southpaw failed to impress, finishing the season 1-5 with a 5.82 ERA, 1.50 WHIP and 31:16 K:BB ratio in 38.2 innings. Despite the rocky debut in the majors, Alvarez flashed potential while pitching for Triple-A Toledo last season. In 21 appearances (20 starts) for the Mud Hens, Alvarez went 8-6 with a 2.80 ERA and 115:25 K:BB ratio over 128.2 innings. With a fastball that typically sits in the high-80s to low-90s range, Alvarez doesn't overpower hitters, but he's shown the ability to mix four additional above-average pitches (cutter, changeup, curveball and slider) to keep hitters off balance. The Tigers' rotation is full heading into 2014, which should earmark Alvarez for a spot as a lefty specialist and/or long man out of the bullpen, but he is one step closer to the rotation after Detroit traded Doug Fister to Washington in December.
More Fantasy News