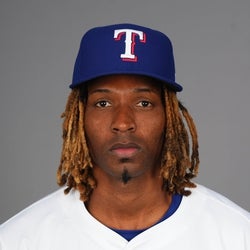 Rest-of-Season Projections
2023 Fantasy Outlook
Urena was mostly terrible last season for the Rockies, but he did post a 3.51 ERA over six starts in the final month and perhaps that was enough to convince the club to re-sign him to a one-year, $3.5 million contract. The 31-year-old was, unsurprisingly, much better on the road than at home, but he wasn't great in either situation and his career-long problems against left-handed batters continued. Urena should open 2023 in the Rockies' rotation, but his leash figures to be short and he's not worth your attention in fantasy leagues.
Read Past Outlooks
$Signed a one-year contract with the White Sox in August of 2023.

Tosses quality start in loss
Urena did not factor into the decision, allowing four hits and three walks over six scoreless innings in Sunday's 2-1 loss to the Padres. He struck out three.
ANALYSIS
Urena finished the season on a high note, working his way through the Padres lineup without difficulty. The right-hander finished his season with a 6.45 ERA and 1.61 WHIP across 44.2 innings with 29 strikeouts. Urena is expected to look for a new contract in free agency this winter.
Read More News
Pitching Stats
Loading Pitching Stats...
2023
2022
2021
2020
2019
2018
2017
2023 MLB Game Log

Calculate Stats Over Time
Just click on any two dates.
Scoring
FanDuel
DraftKings
Yahoo DFS
Loading Pitching Game Log...
2022 MLB Game Log

Calculate Stats Over Time
Just click on any two dates.
Scoring
FanDuel
DraftKings
Yahoo DFS
Loading Pitching Game Log...
2021 MLB Game Log

Calculate Stats Over Time
Just click on any two dates.
Scoring
FanDuel
DraftKings
Yahoo DFS
Loading Pitching Game Log...
2020 MLB Game Log

Calculate Stats Over Time
Just click on any two dates.
Scoring
FanDuel
DraftKings
Yahoo DFS
Loading Pitching Game Log...
2019 MLB Game Log

Calculate Stats Over Time
Just click on any two dates.
Scoring
FanDuel
DraftKings
Yahoo DFS
Loading Pitching Game Log...
2018 MLB Game Log

Calculate Stats Over Time
Just click on any two dates.
Scoring
FanDuel
DraftKings
Yahoo DFS
Loading Pitching Game Log...
2017 MLB Game Log

Calculate Stats Over Time
Just click on any two dates.
Scoring
FanDuel
DraftKings
Yahoo DFS
Loading Pitching Game Log...
Minor League Game Log

Calculate Stats Over Time
Just click on any two dates.
Loading Minor League Pitching Game Log...
Pitching Appearances Breakdown
How many pitches does Jose Urena generally throw?
What part of the game does Jose Urena generally pitch?
% Games Reaching Innings Threshold
% Games By Number of Innings Pitched
Left/Right Pitching Splits
BAA
K
BB
H
HR
Since 2021

vs Left

.322
67
62
163
18
Since 2021

vs Right

.250
92
45
115
20
2023

vs Left

.304
15
11
31
5
2023

vs Right

.257
14
11
19
8
2022

vs Left

.329
34
28
68
5
2022

vs Right

.234
29
15
41
6
2021

vs Left

.325
18
23
64
8
2021

vs Right

.261
49
19
55
6
More Splits

→

View More Split Stats
Home/Away Pitching Splits
ERA
WHIP
IP
K/9
BB/9
Since 2021

Home

6.33
1.66
113.2
5.9
3.9
Since 2021

Away

4.97
1.52
128.2
5.9
4.1
2023

Home

6.91
1.60
28.2
6.9
3.8
2023

Away

5.63
1.63
16.0
3.9
5.6
2022

Home

6.14
1.66
44.0
6.3
3.9
2022

Away

4.08
1.49
53.0
5.4
4.1
2021

Home

6.15
1.71
41.0
4.8
4.0
2021

Away

5.58
1.53
59.2
6.8
3.6
More Splits

→

View More Split Stats
Stat Review
How does Jose Urena compare to other starting pitchers?
This section compares his stats with all starting pitcher seasons from the previous three seasons (minimum 120 innings)*. The bar represents the player's percentile rank. For example, if the bar is halfway across, then the player falls into the 50th percentile for that stat and it would be considered average.
* Exit Velocity, Barrels/BBE %, Balls Hit 95+ MPH %, and Spin Rate are benchmarked against 2019 data (min 120 IP).
See here for more exit velocity/barrels stats
plus an explanation of current limitations with that data set.
K/BB

Strikeout to walk ratio.

K/9

Average strikeouts per nine innings.

BB/9

Average walks per nine innings.

HR/9

Average home runs allowed per nine innings.

Fastball

Average fastball velocity.

ERA

Earned run average. The average earned runs allowed per nine innings.

WHIP

Walks plus hits per inning pitched.

BABIP

Batting average on balls in play. Measures how many balls in play against a pitcher go for hits.

GB/FB

Groundball to flyball ratio. The higher the number, the more likely a pitcher is to induce groundballs.

Left On Base

The percentage of base runners that a pitcher strands on base over the course of a season.

Exit Velocity

The speed of the baseball as it comes off the bat, immediately after a batter makes contact.

Barrels/BBE

The percentage of batted ball events resulting in a Barrel. A Barrel is a batted ball with similar exit velocity and launch angle to past ones that led to a minimum .500 batting average and 1.500 slugging percentage.

Spin Rate

Spin Rate is the rate of spin on a baseball after it is released. It is measured in revolutions per minute (rpm).

Balls Hit 95+ MPH

The percentage of batted balls hit that met or exceeded the 95 MPH threshold.

Swinging Strike

The percentage of pitches that result in a swing and a miss.
Advanced Pitching Stats
Loading Advanced Pitching Stats...
Loading MLB Defensive Stats...
Recent RotoWire Articles Featuring Jose Urena
See More
Past Fantasy Outlooks
2021
2020
2019
2018
2017
2016
2015
2014
Urena was one of the many Miami players caught up in the team's COVID-19 outbreak and didn't pitch until early September. He was later denied a chance to pitch in the playoffs when he suffered a fractured forearm in the regular-season finale. The 29-year-old made five starts and had a 5.40 ERA, 1.50 WHIP and 15:13 K:BB over 23.1 innings, compiling an 0-3 record. Urena was shifted to the bullpen during the 2019 campaign, and the Marlins could test their luck with that move again next season. The right-hander still features a fastball over 95 mph, but his strikeout and walk rates (16.3% and 8.3%, respectively) over the past two years don't offer much upside. It remains unclear whether the Marlins plan to keep him in the starting rotation or push him back to the bullpen for 2021, but he hasn't had much success in either role since 2018.
Urena worked both out of the rotation and the bullpen for the Marlins, with terrible results. The numbers in the rotation were bad, and the numbers in his limited time in the bullpen were even worse. He throws hard, but that is where the fun ends. His strikeout rate was in the bottom 10th percentile last season, and he gave up a lot of hard contact because his fastball lacks movement. If the Marlins are able to teach him a new pitch or change his repertoire up so he is not so reliant upon his fastball, it's possible he could have better results. Perhaps simply because of his 86th-percentile fastball velocity (95.8 mph), Miami was intent on giving him the ball in high-leverage spots down the stretch, so he can't be completely ruled out for saves, but he certainly won't be getting those chances based on merit without major changes in his profile.
Urena is the ultimate fantasy tease. Most of his underlying metrics are fine, and he throws 96 mph. However, the missing link, especially for fantasy, is the swing and miss. He generates a paltry 6.2% SwStr% on his four-seamer, a pitch he throws nearly 60% of the time. Urena sports a healthy 13.5% SwStr% on his slider and 12.3% SwStr% with his changeup, so perhaps a change in usage or sequencing could help improve a weak 18.3% strikeout rate. From a fantasy standpoint, there's breakout potential if something clicks. Betting on a groundball hurler with good control and a 96-mph fastball seems like a winning proposition. However, at least initially, Urena is best utilized as a streamer, especially for home games. Keep in mind his low strikeout total is particularly detrimental in leagues with an innings maximum.
Going by traditional (i.e. outdated) measures, Urena had a great season, but the underlying numbers paint a far less rosy picture. While he led the Marlins in wins and ended up with a very respectable 3.82 ERA over 169.2 innings, his FIP was nearly a run and a half worse at 5.20 (5.29 xFIP, 5.19 SIERA). Urena averaged just 6.0 K/9 while walking 3.4 per nine, resulting in the fourth-worst K-BB percentage among qualified starters. He had a 4.54 ERA outside of the pitcher-friendly confines of Marlins Park, and while Urena can flash impressive spin to go with mid-90s fastball velocity, there's little evidence to suggest a significant uptick in strikeouts is coming in future seasons (8.2 percent swinging-strike rate, 58.7 percent first-pitch strike rate, 28.8 percent O-Swing percentage). The biggest thing Urena has going for him is safety in the rotation, with the Marlins needing capable arms to eat innings in the first year of a rebuild.
Urena split time between Triple-A and the majors in 2016, as he was sent down and recalled by the Marlins on multiple occasions. While Urena made 12 starts and 28 overall appearances for Miami, his performance in the big leagues this season was relatively unspectacular. The 25-year-old earned a 6.13 ERA and 4.72 FIP in 83.2 innings of work. His struggles resulted in part from his inability consistently generate strikeouts, resulting in a disappointing 6.2 K/9 rate. The Miami right-hander also had fairly extreme splits, as righties slashed .236/.320/.405 off him while lefties were able to slash .298/.359/.506 in 2016. Urena is still young at 25 years old, so there is certainly still a chance that he will improve upon his first couple of stints in the big leagues. Urena likely won't be in the Marlins' rotation to start the season, but he has a good chance to be a spot-starter and the first guy asked to fill in if one of Miami's starters goes down with an injury.
As he had the previous three seasons, Urena moved up in the Marlins organization. Due to injuries, however, he made more appearances in the major leagues than was originally expected for him. The right-hander had his fair share of struggles in his first showing in the majors, going 1-5 with a 5.25 ERA, 1.59 ERA, and 1.12 K/BB. He did see success while pitching with Triple-A New Orleans, though, posting a career best 2.66 ERA while going 6-1 in 11 starts. The Marlins have plenty of young pitchers, but if the 24-year-old can carry that success he saw in the minors to the majors, he could find a spot as a long reliever with the Marlins or even push for a rotation spot with a strong spring.
Another year, another step up the Marlins' ladder for Urena, who collected 162 innings with a 3.33 ERA, 1.14 WHIP and 13 wins for Double-A Jacksonville during his fourth professional season. Urena continues to show exemplary control for a 23-year-old (1.61 BB/9 in 2014) while striking out a career-best 121 batters last season. Urena tends to work to contact with his mid-90s heater but is effective at keeping in the ball in the yard. Still, he's unlikely to find much growth in his strikeout potential until a more effective secondary offering is established. Urena will likely take his superb command to Triple-A in 2015, but will be hard pressed to find opportunity in the majors this season with the Marlins possessing talented rotation options both in the big leagues and in the high minors.
Urena racked up a 3.73 ERA in 27 games (26 starts) at High-A Jupiter during his age-21 as he continued his climb up the ranks in the Marlins' pitching-rich farm system. The right-hander has modest strikeout ability -- registering 107 punchouts in 149.2 inning pitched last season -- but has already shown plus control, walking just 1.8 BB/9 over his past two seasons. Urena touches the mid-90s with the heater and also boasts an improving slider that will need further work to become a valuable offering. He is likely to start 2014 at Double-A and could have a shot to make his big league debut when rosters expand in September.
More Fantasy News