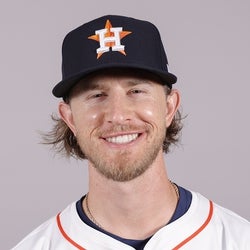 Rest-of-Season Projections
2023 Fantasy Outlook
Hader's 2022 was a roller coaster. He started the year by extending a scoreless appearance streak that began in 2021 to 40 games, which tied the longest streak in MLB history. A month later, he endured the worst stretch of his career, permitting 13 earned runs and 5 homers over an 8-game span. This was unexpected from Hader, who has been dominant throughout his career and only gave up 8 runs in all of 2021. Hader's struggles continued after his trade to San Diego, as his ERA ballooned to 6.52 and was given a break from closing. Fortunately, the southpaw fixed his mechanics and found his command to get back on track over the final month and change, including the postseason. The mechanical tweaks unlocked more velocity, as Hader hit triple-digits for the first time in his career. Hader has maintained a top 10 strikeout rate among qualified relievers in each of the past five seasons. Don't let a few bad outings deter you from drafting him as one of the top 3 closers in 2023.
Read Past Outlooks
$Signed a one-year, $14.1 million contract with the Padres in January of 2023.

Hader picked up the save Thursday against Washington, striking out two in a perfect ninth inning.
ANALYSIS
Hader continued his dominant season Thursday, setting the Nationals down in order while recording two more strikeouts. The left-hander has allowed just one earned run in his last 16 innings, striking out 19 in that span. Hader's ERA is down to 0.86 with a 0.76 WHIP and 29:9 K:BB through 21 innings this season.
Read More News
Pitching Stats
Loading Pitching Stats...
2023
2022
2021
2020
2019
2018
2017
2023 MLB Game Log

Calculate Stats Over Time
Just click on any two dates.
Scoring
FanDuel
DraftKings
Yahoo DFS
Loading Pitching Game Log...
2022 MLB Game Log

Calculate Stats Over Time
Just click on any two dates.
Scoring
FanDuel
DraftKings
Yahoo DFS
Loading Pitching Game Log...
2021 MLB Game Log

Calculate Stats Over Time
Just click on any two dates.
Scoring
FanDuel
DraftKings
Yahoo DFS
Loading Pitching Game Log...
2020 MLB Game Log

Calculate Stats Over Time
Just click on any two dates.
Scoring
FanDuel
DraftKings
Yahoo DFS
Loading Pitching Game Log...
2019 MLB Game Log

Calculate Stats Over Time
Just click on any two dates.
Scoring
FanDuel
DraftKings
Yahoo DFS
Loading Pitching Game Log...
2018 MLB Game Log

Calculate Stats Over Time
Just click on any two dates.
Scoring
FanDuel
DraftKings
Yahoo DFS
Loading Pitching Game Log...
2017 MLB Game Log

Calculate Stats Over Time
Just click on any two dates.
Scoring
FanDuel
DraftKings
Yahoo DFS
Loading Pitching Game Log...
Minor League Game Log

Calculate Stats Over Time
Just click on any two dates.
Loading Minor League Pitching Game Log...
Pitching Appearances Breakdown
How many pitches does Josh Hader generally throw?
What part of the game does Josh Hader generally pitch?
% Games Reaching Innings Threshold
% Games By Number of Innings Pitched
Left/Right Pitching Splits
BAA
K
BB
H
HR
Since 2021

vs Left

.151
56
12
16
1
Since 2021

vs Right

.171
159
43
61
11
2023

vs Left

.056
10
2
1
0
2023

vs Right

.140
22
8
8
1
2022

vs Left

.209
23
5
9
1
2022

vs Right

.230
58
16
34
7
2021

vs Left

.133
23
5
6
0
2021

vs Right

.125
79
19
19
3
More Splits

→

View More Split Stats
Home/Away Pitching Splits
ERA
WHIP
IP
K/9
BB/9
Since 2021

Home

2.54
0.92
71.0
13.6
3.4
Since 2021

Away

3.15
1.12
60.0
16.2
4.2
2023

Home

0.82
0.45
11.0
10.6
3.3
2023

Away

2.38
1.24
11.1
15.1
4.8
2022

Home

4.61
1.17
27.1
13.8
3.3
2022

Away

5.96
1.41
22.2
15.5
4.4
2021

Home

1.38
0.86
32.2
14.3
3.6
2021

Away

1.04
0.81
26.0
17.3
3.8
More Splits

→

View More Split Stats
Stat Review
How does Josh Hader compare to other relievers?
This section compares his stats with all relief pitcher seasons from the previous three seasons (minimum 30 innings)*. The bar represents the player's percentile rank. For example, if the bar is halfway across, then the player falls into the 50th percentile for that stat and it would be considered average.
* Exit Velocity, Barrels/BBE %, Balls Hit 95+ MPH %, and Spin Rate are benchmarked against 2019 data (min 30 IP).
See here for more exit velocity/barrels stats
plus an explanation of current limitations with that data set.
K/BB

Strikeout to walk ratio.

K/9

Average strikeouts per nine innings.

BB/9

Average walks per nine innings.

HR/9

Average home runs allowed per nine innings.

Fastball

Average fastball velocity.

ERA

Earned run average. The average earned runs allowed per nine innings.

WHIP

Walks plus hits per inning pitched.

BABIP

Batting average on balls in play. Measures how many balls in play against a pitcher go for hits.

GB/FB

Groundball to flyball ratio. The higher the number, the more likely a pitcher is to induce groundballs.

Left On Base

The percentage of base runners that a pitcher strands on base over the course of a season.

Exit Velocity

The speed of the baseball as it comes off the bat, immediately after a batter makes contact.

Barrels/BBE

The percentage of batted ball events resulting in a Barrel. A Barrel is a batted ball with similar exit velocity and launch angle to past ones that led to a minimum .500 batting average and 1.500 slugging percentage.

Spin Rate

Spin Rate is the rate of spin on a baseball after it is released. It is measured in revolutions per minute (rpm).

Balls Hit 95+ MPH

The percentage of batted balls hit that met or exceeded the 95 MPH threshold.

Swinging Strike

The percentage of pitches that result in a swing and a miss.
Advanced Pitching Stats
Loading Advanced Pitching Stats...
Loading MLB Defensive Stats...
Our full team depth charts are reserved for RotoWire subscribers.
Subscribe Now
Recent RotoWire Articles Featuring Josh Hader
See More
Past Fantasy Outlooks
2022
2021
2020
2019
2018
2017
2016
2015
2014
Hader continues to miss plenty of bats, as his 15.7 K/9, 21.7 SwStr% and .126 batting average against were best among qualified relievers while his 34.8 K-BB% ranked second. He tied for fifth in the league with 34 saves in 35 chances while posting a career best 1.23 ERA. After three straight seasons with at least 1.0 HR/9, he finally minimized the long ball with only three home runs allowed in 58.2 innings. Milwaukee was very strict with Hader's usage, limiting all 60 of his appearances to one inning or less with most in save situations or tie games. Hader added a changeup back to his pitch mix that he used 6.7% of the time, but still relied heavily on his fastball and slider while improving his velocity. Hader is getting pricier with two years of arbitration remaining until he's a free agent. A trade is possible if Milwaukee falls out of playoff contention, but he should be one of the top closers off the board.
Hader was literally unhittable to start last season, as he did not allow even one hit over his first 12 appearances. The wheels came off a bit after that, though, and he finished with easily the worst ERA of his career. He still struck out batters with the best of them, averaging over 14 K/9, and recorded 13 saves in just 21 appearances. Hader's fastball remains puzzling, and he threw his slider more last season after having issues with the long-ball the year before. Hader remains an elite late-inning option, but he is getting pricey; and with Devin Williams in tow, the Brewers could elect to trade Hader over the offseason to restock their farm system. He would presumably be the favorite to close wherever he finds himself come Opening Day, but he would be a dominant co-closer or eighth-inning man as well.
Hader seemed destined to reprise the versatile late-inning role he occupied in 2018, but when both Corey Knebel and Jeremy Jeffress were injured in the spring he was needed to close games. Hader did that about as well as anybody, picking up more saves in 2019 than just two pitchers. He had some issues with the long ball, but he also improved his K:BB and posted minuscule ratios for the third straight year. In most cases those numbers would make Hader a lock to close, but it could be argued he is more valuable pitching in several situations instead of just one, and manager Craig Counsell could use him as such and let Knebel be the primary closer. Hader strikes out batters at a historic pace, using mainly a fastball that comes in from an angle that baffles hitters. That alone makes him an elite relief option, and he should be treated as a top closer even if he isn't getting all the saves for the Brewers.
Hader developed into the best left-handed reliever in the game, and was a huge boon for fantasy owners, putting up useful numbers in the five standard roto categories and elite numbers in some. His 46.7 K% led qualified relievers by a notable margin (Edwin Diaz ranked second at 44.3%). Calls for Hader to be stretched out as a starter need to end -- he is extremely valuable in his current role and threw his fastball 79.5% of the time while utilizing his slider 20.3% of the time. It is not a starter's pitch mix, and he is at his best when throwing max effort. The real question when it comes to fantasy roster building is how many saves we can expect from Hader. Corey Knebel and Jeremy Jeffress are very capable in the ninth inning, so while Hader will undoubtedly be left in to close a couple games per month, he shouldn't be expected to top last year's total. "Finding the next Josh Hader" is a far better movie title than an expectation. Draft the real thing.
Hader entered last season as arguably the top left-handed starting pitching prospect in the game, but he got off to a slow start at the Triple-A level as he struggled to harness his electric stuff. While he was not ready to join the starting rotation in 2017, the Brewers did decide he was good enough to pitch out of the bullpen and called him up as a reliever in June. The move turned out to be a stroke of genius, as he overpowered opposing hitters, particularly of the left-handed variety, who combined to hit .140 while posting just one extra-base hit against Hader. It's almost certain he won't be able to pitch in the same manner as last year, when he mainly needed only his mid-90s fastball to get opponents out, but his slider can be devastating as well. The Brewers will at least consider using Hader as a starter again, but his stuff may not play as well in that role, and the team could decide he is plenty useful as one of the best left-handed relievers in the league. That could maximize his value for the 2018 Brewers, but would also put a cap on his fantasy upside.
Hader has rocketed through the upper levels of the minors over the past two seasons, rising from High-A in 2014 to Triple-A in 2016 -- he was even considered for a spot start with the Brewers late in the season, but it never came to fruition. The lanky lefty struck out a ludicrous 161 batters over just 126 innings across Double-A and Triple-A, proving his pitches aren't only capable of fooling the raw youngsters of the lower minors. There are still questions surrounding the quality of his changeup and command, and at 6-foot-3 and 185 pounds, many of the same concerns that surrounded Chris Sale's future durability as a young prospect have resurfaced with Hader. Despite those worries, Hader's prospect stock has ballooned over the past two seasons as he has turned into one of the gems of the Brewers' restocked farm system. He should finally be allowed to test out his plus fastball and plus slider against big league hitters sometime this summer.
A 19th-round pick in 2012, Hader was barely on the prospect radar before the Brewers acquired him as part of last summer's Carlos Gomez trade. Hader was sharp in Double-A, as he posted a 3.03 ERA in 104 innings between the Brewers and Astros systems, but he really shined in the Arizona Fall League, where had one of the best performances of any pitcher, posting a 0.56 ERA with 19 strikeouts in 16 innings. Hader has an unorthodox delivery and there are questions about his durability, but he has shown huge upside over the past calendar year or so and he's now one of the top prospects in the Brewers' system. Beginning the 2016 season as a 22-year-old, Hader will probably start in Triple-A. The Brewers have a glut of fringey starters right now, so a lot would have to happen for Hader to arrive in the major leagues in 2016, with mid-2017 seeming like a better estimated time of arrival.
Acquired from Baltimore in the 2013 Bud Norris trade, Hader earned a promotion to Double-A last season as a 20-year-old after posting outstanding numbers in the hitter-friendly California League. In 22 games (15 starts) with High-A Lancaster, the 6-foot-3, 160-pound lefty went 9-2 with a 2.70 ERA, 1.11 WHIP and 112:38 K:BB over 103.1 innings. While his big league future as a starter or long man out of the bullpen remains unclear due to his skinny frame and potential for breaking down deeper in outings, how Hader performs this season -- likely in Double-A with a potential promotion to Triple-A if things go well -- should better determine his path to the majors.
Hader, a 19-year-old left-handed starter, was acquired by the Astros in the trade that sent Bud Norris to Baltimore. Between both clubs, he accumulated 22 starts in Low-A ball, posting a 2.77 ERA with a 95:54 K:BB ratio over 107.1 innings while earning South Atlantic League All-Star honors. Hader needs to work on the command of his three pitches - a low-90s fastball, changeup and curve - but he has plenty of time to do that as he grows into his 6-foot-3, 160-pound frame. He has the stuff to advance quickly through the Astros' system, but he's likely a few seasons away from contributing in Houston.
More Fantasy News