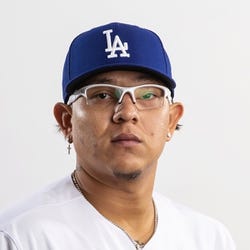 Out
Injury Personal
Est. Return 10/6/2023
Rest-of-Season Projections
2023 Fantasy Outlook
By ERA, it appears Urias improved on 2021's fine campaign. However, Urias' skills took a small step back, best shown by an 18.1 K-BB percentage mark, down from the 21.1 percent posted the prior season. Urias also yielded more homers last season, but a .229 BABIP and 86.6 percent LOB mark rescued his surface stats, pushing his actual 2.16 ERA well below his 3.71 FIP, 3.81 xFIP and 3.66 SIERA. The Dodgers' defense was no doubt a factor, but Urias also benefited from Lady Luck. Urias' pitch mix again featured a four-seam fastball used a little less than half the time along with a curveball, changeup and occasional sinker. His secondary pitches were just a little less effective in 2022 than in 2021, but the difference can be attributed to variance. Urias deserves points for durability, reliability and team context. Just beware of paying ace prices, as his formulaic projections will peg his ERA closer to last season's estimators.
Read Past Outlooks
$Signed a one-year, $14.25 million contract with the Dodgers in January of 2023.

Placed on administrative leave
Major League Baseball placed Urias on administrative leave Wednesday following his arrest Sunday on suspicion of felony domestic violence,
Fabian Ardaya of The Athletic
reports.
ANALYSIS
Urias previously received a 20-game suspension in 2019 under MLB's domestic violence policy and could be facing a longer ban in the wake of his arrest. An impending free agent, the 27-year-old has likely already made his final appearance in a Dodgers uniform regardless of where MLB's investigation into the incident ultimately leads. Urias is set to appear in court in Los Angeles on Sept. 27.
Read More News
Pitching Stats
Loading Pitching Stats...
2023
2022
2021
2020
2019
2018
2017
2023 MLB Game Log

Calculate Stats Over Time
Just click on any two dates.
Scoring
FanDuel
DraftKings
Yahoo DFS
Loading Pitching Game Log...
2022 MLB Game Log

Calculate Stats Over Time
Just click on any two dates.
Scoring
FanDuel
DraftKings
Yahoo DFS
Loading Pitching Game Log...
2021 MLB Game Log

Calculate Stats Over Time
Just click on any two dates.
Scoring
FanDuel
DraftKings
Yahoo DFS
Loading Pitching Game Log...
2020 MLB Game Log

Calculate Stats Over Time
Just click on any two dates.
Scoring
FanDuel
DraftKings
Yahoo DFS
Loading Pitching Game Log...
2019 MLB Game Log

Calculate Stats Over Time
Just click on any two dates.
Scoring
FanDuel
DraftKings
Yahoo DFS
Loading Pitching Game Log...
2018 MLB Game Log

Calculate Stats Over Time
Just click on any two dates.
Scoring
FanDuel
DraftKings
Yahoo DFS
Loading Pitching Game Log...
2017 MLB Game Log

Calculate Stats Over Time
Just click on any two dates.
Scoring
FanDuel
DraftKings
Yahoo DFS
Loading Pitching Game Log...
Minor League Game Log

Calculate Stats Over Time
Just click on any two dates.
Loading Minor League Pitching Game Log...
Pitching Appearances Breakdown
How many pitches does Julio Urias generally throw?
What part of the game does Julio Urias generally pitch?
% Games Reaching Innings Threshold
% Games By Number of Innings Pitched
Left/Right Pitching Splits
BAA
K
BB
H
HR
Since 2021

vs Left

.193
118
14
78
20
Since 2021

vs Right

.228
359
89
312
46
2023

vs Left

.181
27
6
17
6
2023

vs Right

.271
89
18
95
18
2022

vs Left

.178
35
3
23
6
2022

vs Right

.204
131
38
104
17
2021

vs Left

.210
56
5
38
8
2021

vs Right

.222
139
33
113
11
More Splits

→

View More Split Stats
Home/Away Pitching Splits
ERA
WHIP
IP
K/9
BB/9
Since 2021

Home

2.84
0.95
228.0
9.0
1.7
Since 2021

Away

3.28
1.11
250.0
9.0
2.1
2023

Home

2.79
0.90
67.2
9.4
1.1
2023

Away

7.07
1.51
49.2
8.3
2.9
2022

Home

2.43
0.89
77.2
8.2
2.0
2022

Away

1.94
1.02
97.1
8.8
2.2
2021

Home

3.27
1.04
82.2
9.5
2.1
2021

Away

2.71
1.00
103.0
9.4
1.7
More Splits

→

View More Split Stats
Stat Review
How does Julio Urias compare to other starting pitchers?
This section compares his stats with all starting pitcher seasons from the previous three seasons (minimum 120 innings)*. The bar represents the player's percentile rank. For example, if the bar is halfway across, then the player falls into the 50th percentile for that stat and it would be considered average.
* Exit Velocity, Barrels/BBE %, Balls Hit 95+ MPH %, and Spin Rate are benchmarked against 2019 data (min 120 IP).
See here for more exit velocity/barrels stats
plus an explanation of current limitations with that data set.
K/BB

Strikeout to walk ratio.

K/9

Average strikeouts per nine innings.

BB/9

Average walks per nine innings.

HR/9

Average home runs allowed per nine innings.

Fastball

Average fastball velocity.

ERA

Earned run average. The average earned runs allowed per nine innings.

WHIP

Walks plus hits per inning pitched.

BABIP

Batting average on balls in play. Measures how many balls in play against a pitcher go for hits.

GB/FB

Groundball to flyball ratio. The higher the number, the more likely a pitcher is to induce groundballs.

Left On Base

The percentage of base runners that a pitcher strands on base over the course of a season.

Exit Velocity

The speed of the baseball as it comes off the bat, immediately after a batter makes contact.

Barrels/BBE

The percentage of batted ball events resulting in a Barrel. A Barrel is a batted ball with similar exit velocity and launch angle to past ones that led to a minimum .500 batting average and 1.500 slugging percentage.

Spin Rate

Spin Rate is the rate of spin on a baseball after it is released. It is measured in revolutions per minute (rpm).

Balls Hit 95+ MPH

The percentage of batted balls hit that met or exceeded the 95 MPH threshold.

Swinging Strike

The percentage of pitches that result in a swing and a miss.
Advanced Pitching Stats
Loading Advanced Pitching Stats...
Loading MLB Defensive Stats...
Our full team depth charts are reserved for RotoWire subscribers.
Subscribe Now
Recent RotoWire Articles Featuring Julio Urias
See More
Past Fantasy Outlooks
2022
2021
2020
2019
2018
2017
2016
2015
2014
Urias' 20 wins last season were three more than anyone else in MLB, and he got it done by posting a 21.1 K-BB% (eighth in NL) over 185.2 innings (seventh in NL) for a 106-win Dodgers team. The southpaw would go on to add 15 frames in the postseason, allowing four homers but also pitching to a 15:3 K:BB. Two of his four appearances in the playoffs came out of the bullpen, and of course he played hero in relief during the Dodgers' 2020 World Series run, perhaps leaving some lingering questions about his long-term role. It wouldn't be the worst thing in the world if he eventually replaced Kenley Jansen in the closer role for the Dodgers, but for the time being Urias will continue on in the rotation. The training wheels are fully off and lefty will still be just 25 years old for most of the 2022 campaign.
Urias will forever be entrenched in the minds of Dodgers fans as the pitcher who earned the World Series save that broke the organization's 32-year championship drought. The outing was a fitting culmination to a dominant playoff run in which the southpaw earned four wins, allowed three earned runs and struck out 29 over 23 innings. Urias wasn't quite as effective in the regular season, but he nonetheless showed plenty of promise with a 3.27 ERA and 1.15 WHIP over 11 appearances (10 starts). His 20.1 K% was well below his career norm, but Urias succeeded by again limiting hard contact and keeping home runs to a minimum (0.82 HR/9 -- a tick above his stellar 0.68 HR/9 career mark). Now fully healthy entering his age-24 season, Urias will have a chance to blossom in the middle of the Los Angeles rotation. If he can build upon his postseason magic, Urias could achieve that long-anticipated breakout.
The shine of Urias' prospect status has faded, both due to results and his domestic battery situation that led to a suspension last season. He pitched just shy of 80 innings last year, most of them in relief with decent results in a hybrid role, but far from the expectations of him as he rapidly ascended from the minor leagues. The 79.1 innings marked the third-highest total of his pro career, so it is tough to picture him spending a full season in the rotation coming on the heels of an injury in 2018 and his usage in 2019. Still just 23, he has the repertoire to be a quality starting pitcher, but he needs to start building up his innings this year to shed the durability question marks. In 123 career MLB innings as a starter, he has a 3.66 ERA, 1.36 WHIP and 125:49 K:BB. That's a pretty fair projection, both the good and the bad, for what will hopefully be his first 100-plus inning season in the majors.
The long road back from anterior capsule surgery culminated in Urias making three relief appearances for the Dodgers in September and seven more appearances in the postseason. It's a small sample obviously, but the lefty's fastball velocity was right back up to where it was before the surgery, as was the swing and miss dominance (12:1 K:BB in 10.1 total innings with the big-league team). The Dodgers have made it clear that Urias will build back up as a starter in 2019. While we may be looking at 100 or so major-league innings from Urias in a best-case scenario, the per-inning numbers should be of extremely high quality. Remember that this is a player who was almost universally renowned as the top pitching prospect in the game at one point. He posted a 25% strikeout rate and 3.17 FIP in 77 innings with the Dodgers as a 19-year-old in 2016. Go ahead and stash him in leagues with deep benches.
While he did not break camp with the big club a year ago, it did not take long for Urias to reach the majors, and it appeared he was ready to hold down a spot in the big-league rotation after giving up just two earned runs over his first three starts with the Dodgers. However, he struggled in two starts after that, which may have been the first sign that trouble was on the horizon. The Dodgers sent him back down, and just a few weeks later he started experiencing shoulder soreness, which ultimately required surgery and cut short his 2017 campaign. Urias will be out at least until the summer of 2018 -- and possibly all season -- so he won't have much appeal in single-season leagues. He was once considered the best left-handed pitching prospect in the game, and Urias will not turn 22 until August, so he still holds plenty of long-term value so long as he is able to make a full recovery from his injury.
Urias showed exactly what all the fuss was about in 77 sporadic innings. He was up and down from the minors four times, in and out of the bullpen, and averaged fewer than five innings per start, but the poise and composure Urias showed was in line with that of a seasoned veteran. He struck out a quarter of the batters he faced, deploying a healthy four-pitch mix with each secondary offering getting used at least 13 percent of the time. He was essentially platoon-neutral with his righty OPS actually 15 points lower despite a .376 BABIP. Only four of 10 appearances in the second half were five innings or longer, but it's hard not to be impressed with the 1.99 ERA he had in 40.2 innings. Urias is likely to have another finely-curated workload in 2017, but after 122 frames last year, he could push 150 this time around. Perhaps starting in the bullpen is the best way for the Dodgers to get him to the finish line and have him available for a potential playoff run.
Urias just turned 19 in August, but despite his youth, he's on the cusp of the big leagues after making it all the way to Triple-A last year. Overall between multiple levels, Urias tallied 80.1 innings and posted a 3.81 ERA and excellent 88:22 K:BB. The ERA was severely impacted by his final three outings of the season in which Urias surrendered 15 runs in just 5.1 innings. Prior to that, his ERA sat at 2.28. Likely he was a bit tired down the stretch and off mechanically as a result, so we shouldn't hold his poor finish against him too much. Urias has never topped 90 innings in a season as the Dodgers continue to treat his development with extreme caution, so don't expect much more than 120 innings out of him this season. How many of those innings come at the big league level remains to be determined, but it's probably best to not count on a big league debut until September 2016 at the earliest. We also probably won't see him approaching 200 big league innings until the 2018 season. Urias remains arguably baseball's #1 pitching prospect.
It may sound crazy to expect Urias to dominate against Double-A hitters in 2015 as an 18-year-old, but it's no more outlandish than the idea of him dominating High-A hitters as a 17-year-old, and that's exactly what he did last season with Rancho Cucamonga. Urias is one of the most advanced teenage arms of all time. He posted a 2.36 ERA and a 109:37 K:BB ratio in 87.2 innings in 2014, and was extra filthy in the second half, putting up a 1.20 ERA with 62 strikeouts in his final 45 innings of the season. The Mexican lefty already possesses a plus fastball and an unfair curveball that could border on double-plus, and he made strides last season with his changeup, which now looks like a potential third plus offering if he can command it better. To say that an 18-year-old's floor is a No. 3 starter on a contending team may sound insane, but it's hard to argue the contrary in Urias' case. A stellar first half at Double-A in 2015 may force the Dodgers' hand and earn him a promotion to Triple-A before his 19th birthday.
Urias emerged as one of the organization's top prospects last season, tossing 54.1 innings of 2.48 ERA ball as a 17-year-old for Low-A Great Lakes. It's quite rare to see someone so young have this level of success in full-season ball, so there is reason to be excited about his long-term upside. That said, he is still very young, and at a listed 5-foot-11, 160 pounds, he doesn't exactly have the mound presence of Randy Johnson. The Dodgers are expected to take their time with Urias, so it would be a surprise to see him finish 2014 at a level above High-A.
More Fantasy News