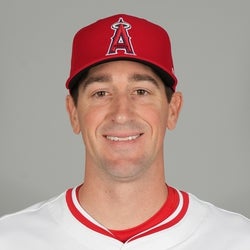 Rest-of-Season Projections
2023 Fantasy Outlook
Hendricks' pitch-to-contact style has seemingly caught up with him the last two season. After registering a then career-worst 4.77 ERA in 2021, he posted a 4.80 ERA in 2022 before getting shut down in August with a capsular tear in his shoulder. The righty ultimately made 16 starts, logging 84.1 innings and striking out 65 batters. That equates to a 7.04 K/9, which is in line with his 7.40 K/9 career mark. In an era where pitchers have consistently thrown harder with an emphasis on missing bats, Hendricks has always been an exception. He had plenty of success prior to 2021, so it will be interesting to see if he can regain that form once he's healthy. It's possible that the league has figured out Hendricks, but fantasy managers can likely take a chance on him at a discount in drafts.
Read Past Outlooks
$Signed a four-year, $55.6 million contract extension with the Cubs in March of 2019. The Cubs exercised the $16 million club option for 2024 in November of 2023.

ANALYSIS
The veteran right-hander posted a 4.78 ERA between the 2021 and 2022 campaigns, but he rebounded last season with a 3.74 ERA, 1.20 WHIP and 93:27 K:BB in 137 innings. Hendricks will enter 2024 with a secure spot in the middle of Chicago's rotation, though his fantasy ceiling is capped by his low strikeout numbers.
Read More News
Pitching Stats
Loading Pitching Stats...
2023
2022
2021
2020
2019
2018
2017
2023 MLB Game Log

Calculate Stats Over Time
Just click on any two dates.
Scoring
FanDuel
DraftKings
Yahoo DFS
Loading Pitching Game Log...
2022 MLB Game Log

Calculate Stats Over Time
Just click on any two dates.
Scoring
FanDuel
DraftKings
Yahoo DFS
Loading Pitching Game Log...
2021 MLB Game Log

Calculate Stats Over Time
Just click on any two dates.
Scoring
FanDuel
DraftKings
Yahoo DFS
Loading Pitching Game Log...
2020 MLB Game Log

Calculate Stats Over Time
Just click on any two dates.
Scoring
FanDuel
DraftKings
Yahoo DFS
Loading Pitching Game Log...
2019 MLB Game Log

Calculate Stats Over Time
Just click on any two dates.
Scoring
FanDuel
DraftKings
Yahoo DFS
Loading Pitching Game Log...
2018 MLB Game Log

Calculate Stats Over Time
Just click on any two dates.
Scoring
FanDuel
DraftKings
Yahoo DFS
Loading Pitching Game Log...
2017 MLB Game Log

Calculate Stats Over Time
Just click on any two dates.
Scoring
FanDuel
DraftKings
Yahoo DFS
Loading Pitching Game Log...
Minor League Game Log

Calculate Stats Over Time
Just click on any two dates.
Loading Minor League Pitching Game Log...
Pitching Appearances Breakdown
How many pitches does Kyle Hendricks generally throw?
What part of the game does Kyle Hendricks generally pitch?
% Games Reaching Innings Threshold
% Games By Number of Innings Pitched
Left/Right Pitching Splits
BAA
K
BB
H
HR
Since 2021

vs Left

.265
152
66
204
34
Since 2021

vs Right

.267
138
29
219
25
2023

vs Left

.225
53
16
63
6
2023

vs Right

.286
40
11
75
7
2022

vs Left

.291
37
16
50
12
2022

vs Right

.226
29
8
35
3
2021

vs Left

.287
62
34
91
16
2021

vs Right

.271
69
10
109
15
More Splits

→

View More Split Stats
Home/Away Pitching Splits
ERA
WHIP
IP
K/9
BB/9
Since 2021

Home

4.80
1.36
211.2
6.8
2.0
Since 2021

Away

4.01
1.21
190.2
6.1
2.3
2023

Home

4.16
1.32
71.1
6.7
1.6
2023

Away

3.29
1.08
65.2
5.5
1.9
2022

Home

4.91
1.30
47.2
7.6
2.1
2022

Away

4.66
1.28
36.2
6.4
3.2
2021

Home

5.24
1.41
92.2
6.5
2.2
2021

Away

4.28
1.28
88.1
6.5
2.1
More Splits

→

View More Split Stats
Stat Review
How does Kyle Hendricks compare to other starting pitchers?
This section compares his stats with all starting pitcher seasons from the previous three seasons (minimum 120 innings)*. The bar represents the player's percentile rank. For example, if the bar is halfway across, then the player falls into the 50th percentile for that stat and it would be considered average.
* Exit Velocity, Barrels/BBE %, Balls Hit 95+ MPH %, and Spin Rate are benchmarked against 2019 data (min 120 IP).
See here for more exit velocity/barrels stats
plus an explanation of current limitations with that data set.
K/BB

Strikeout to walk ratio.

K/9

Average strikeouts per nine innings.

BB/9

Average walks per nine innings.

HR/9

Average home runs allowed per nine innings.

Fastball

Average fastball velocity.

ERA

Earned run average. The average earned runs allowed per nine innings.

WHIP

Walks plus hits per inning pitched.

BABIP

Batting average on balls in play. Measures how many balls in play against a pitcher go for hits.

GB/FB

Groundball to flyball ratio. The higher the number, the more likely a pitcher is to induce groundballs.

Left On Base

The percentage of base runners that a pitcher strands on base over the course of a season.

Exit Velocity

The speed of the baseball as it comes off the bat, immediately after a batter makes contact.

Barrels/BBE

The percentage of batted ball events resulting in a Barrel. A Barrel is a batted ball with similar exit velocity and launch angle to past ones that led to a minimum .500 batting average and 1.500 slugging percentage.

Spin Rate

Spin Rate is the rate of spin on a baseball after it is released. It is measured in revolutions per minute (rpm).

Balls Hit 95+ MPH

The percentage of batted balls hit that met or exceeded the 95 MPH threshold.

Swinging Strike

The percentage of pitches that result in a swing and a miss.
Advanced Pitching Stats
Loading Advanced Pitching Stats...
Loading MLB Defensive Stats...
Our full team depth charts are reserved for RotoWire subscribers.
Subscribe Now
Recent RotoWire Articles Featuring Kyle Hendricks
See More
Past Fantasy Outlooks
2022
2021
2020
2019
2018
2017
2016
2015
2014
It was a tale of three seasons for Hendricks. He started with a 7.54 ERA and 1.76 through his first five outings. Hendricks then posted a 2.89 ERA and 1.20 WHIP over his next 18 starts, spanning 112 innings. Unfortunately, he finished with a 7.96 ERA and 1.51 WHIP over his final nine games. All told, 2021 was the worst season of Hendricks' career, marred by a 16.7 K%, the lowest of his career. Hendricks' fantasy calling card has been durability and reliability, providing a solid innings floor, paving the way for drafting risky, upside arms. Durability is still a plus, but after last season, Hendricks' reliability is debatable. At minimum, it's no longer safe to pair Hendricks with a high strikeout guy with spotty control. Hendricks' value has always been more about what he buffers for the rest of a fantasy staff. Without that buffer, he's a ratio risk without the strikeout parachute.
Yu Darvish had the better overall season, but Hendricks was once again stellar for the Cubs in 2020, and it was the latter who started Game 1 of the team's Wild Card series. Hendricks does not rack up strikeouts like Darvish or other top pitchers across the league, which keeps him a bit below the radar. He posted a 7.1 K/9 in 2020 and hasn't topped 8.0 K/9 since 2016. Hendricks instead relies on excellent command and the ability to effectively mix up his pitches to keep hitters off balance. Throughout his seven-year MLB career, Hendricks has never had an ERA higher than 3.95 or a WHIP higher than 1.19. That type of consistency makes Hendricks an extremely valuable fantasy asset, even if he doesn't miss as many bats as other frontline starters. Heading into his age-31 season, Hendricks will aim to eclipse 200 innings for the first time, which was a stated goal before the 2020 season was condensed.
Durability, reliability and consistency define Hendricks' career. He's compiled at least 30 starts and 177 innings in four of the past five seasons. It would be 31 and 180-plus if the Cubs didn't shut him down and let him pitch on the last day of the 2019 season. While there's nothing overly egregious in Hendricks' 2019 indicators, his xFIP and SIERA were well over 4.00. This may signal some skills erosion and an impending ERA correction, but his 10.3% swinging-strike rate was his career best and his 16.2 K-BB% was his highest since 2016. Hendricks' velocity and pitch mix were the same as usual, so while ERA estimators are usually telling, this could be an exception. The good thing is Hendricks' lack of strikeouts keeps his acquisition cost low, so the risk implied by 2019's xFIP and SIERA is baked into the cost. Hendricks remains an option to buffer ratios while we chase strikeouts elsewhere.
Hendricks had one rocky month (7.03 ERA in June) but was otherwise very good in 2018, finishing as a top-30 starting pitcher in terms of earned value. He threw a career-high 199 innings and induced a ton of weak contact -- his opponents' soft-contact rate was among the highest in the league. Hendricks' changeup graded out as the absolute best among qualified starters by FanGraphs' Pitch Values. His fastball averages a mere 86.9 mph, but because of the movement and deception, the pitch graded out as above average. He's never going to be a huge strikeout pitcher with his arsenal (7.6 K/9 for career), but Hendricks is one of the smartest players in baseball and he's proven effective with the way he mixes his pitches and approaches certain hitters differently. He still has a good defense behind him and a good offense powering him, so Hendricks should once again be a coveted arm on draft day.
Even though his ERA rose by nearly a run last season, Hendricks solidified himself as the Cubs' ace while Jon Lester and Jake Arrieta saw their numbers plunge following the team's World Series-winning campaign. With a fastball that sits in the mid-to-high-80s, Hendricks isn't a prototypical top-of-the-rotation arm, but his brilliance lies in his ability to stay ahead of hitters in the count, avoid mistakes and eat innings efficiently. Those attributes rarely yield lofty strikeout totals for the right-hander, but Hendricks is capable of netting fantasy owners above-average production in wins, ERA and WHIP so long as the offense and defense supporting him remain strong. Staying healthy was an issue for Hendricks in 2017 and prevented him from justifying his draft-day price, but he was sensational upon returning from right hand tendinitis in late July and presents little risk heading into spring training. He turned in a 2.19 ERA and 3.79 K/BB after the All-Star break, both of which were roughly in line with his 2016 marks.
Hendricks took another step forward in 2016 and established himself as one of the best starters in the National League. Concerns about his strikeout rate in 2015 were erased as he improved his swinging-strike rate to a career-high 10 percent, while maintaining the pinpoint control he's shown throughout his time as a professional. While he does not overpower opposing hitters, Hendricks locates his offerings exceptionally well, and he consistently works ahead in the count by pounding the strike zone early (his 68.6 percent first-strike rate tied him with Johnny Cueto as the MLB leader among qualified starters). His changeup continues to be his best pitch, and that offering generated the fourth-most swinging strikes among all changeups league-wide last season. Even though his skills appear to be stable, Hendricks' ERA seems almost certain to rise, but he could stay below the 3.00 mark if the defense behind him continues to rank as the league's best.
Hendricks saw a substantial gain in strikeout rate last year, from 5.3 K/9 to 8.4, despite zero increase in his swinging-strike rate. Called strikes were the stark difference in his profile, as his called strike rate jumped six percentage points to 38-percent, third-highest among qualified starters. He shifted to a sinker-changeup focus and he buries both pitches low & away to righties and lefties for called strikes: sinker for righties, change for lefties. Hendricks also exploits the biggest general change in the strike zone as a means to gain a lot of these strikeouts: the lower third. He threw 52-percent of his pitches in the lower third, 13th-highest among the 78 qualified starters. He leveraged the framing of Miguel Montero and David Ross as well, posting an 8.8 K/9 (24-percent K rate) with them. The strikeouts will likely decline without some added swing-and-miss, but his groundball lean and penchant for strikes should enable him to maintain solid value.
Hendricks has put a lot of innings on his young arm, but if you're going to pitch as well as he has, 180 innings seems appropriate. He blew threw the minors in less than four years, dominating at every stop, before he got the call from the Cubs last year, when he finished 7-2 with a 2.46 ERA and 1.08 WHIP in 13 starts. Hendricks' excellent control (15 walks in 80.1 innings) contributed to his strong results, but his strikeout rate was poor. He had good strikeout rates in the minors, so there is hope that he can improve in that area. If he does, Hendricks will become much more useful to fantasy owners.
The Dartmouth-educated Hendricks was the Cubs' Minor League Pitcher of the Year when he went 13-4 with a 2.00 ERA between Double-A Tennessee and Triple-A Iowa. Even better was the outstanding 128:34 K:BB ratio in 166.1 innings. Given his success on the field and between the ears, it looks like he could be spending time in Chicago this season.
More Fantasy News